These are the first things to turn off on the LG G4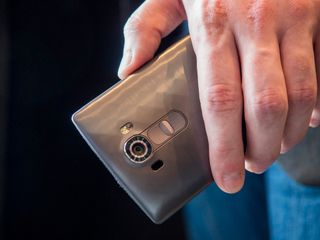 We really do hate starting out on a new phone with a negative, but sometimes it just has to be done. And such is the case with the new LG G4. There are a few features that you're probably going to want to do without, and sooner, rather than later.
So with that, these are the first few things we'd turn off on the LG G4.
Turn off Quick Shot
Sometimes phones can be a little too helpful. LG's new Quick Shot feature is one such time. We've long been able to double-press the volume-down key to quickly launch the camera app. It's a great feature from LG as your finger's probably resting right there on the back of the phone anyway. But new with the LG G4 is the ability to immediately snap a picture when you use Quick Launch to open the camera app. That results in all sorts of great pictures of the sidewalk, our legs — or worse.
Here's how to turn it off: Go to the General section of the main settings menu. Then choose Shortcut Key. And then at the bottom uncheck "Quick Shot."
Turn off the bleeps
We're not sure who decided we have to have an audible beep when tapping just about anywhere on a phone — and perhaps they've never been stuck in a room with someone who doesn't know how to turn off this feature. The LG G4 (unsurprisingly) also suffers from this malady. Every button press. Ever icon. Every symbol. Just about every time you touch the screen something's going to go "bleep." (That's in the same family as the "bloops" that Samsung just did away with.)
The good news is you can kill the bleeps. The bad news is they're buried about as far down on the menu system as possible. Go to the main settings menu, then "Sound & Notifications." Then scroll down to "More." And then tap on "Sound effects." Now uncheck "Touch sound."
Your friends will thank you. Your enemies will thank you even more.
Change the settings to list view
Do this first, actually. Go into the settings. Hit the three-dot overflow menu button. Choose "List view." And do it for no other reason than the fact that this is completely unacceptable in 2015. Thou. Shalt. Not. Scroll.
Does not bode well for the UI..... Posted from my Nexus 5 via Android Central App

Even Phil would admit it may be too soon to hone our opinion of the UI based on the habits of even a very gifted user. Even so some of this is the convenience buttons not the UI per se. If hate UI then NOVA or ROM anyway. The hadware and design seem sound.

It really doesn't look any better than the G3, and the G3 was just not that good. Oh well.

It definitely looks better than the G3. I'm just nit-picking here. But they're good nits to pick.

Dude, this phone is a step up from the G3. Much better display and a CPU/ GPU optimized for QHD. Posted via the Note 4 or Tab S 10.5

What exactly is optimized? The Adreno 330 handled QHD too. The Adreno 418 in the S808 is basically an updated Adreno 330. Since Qualcomm doesn't release architecture information for GPUs, we have to go by their performance claims of a 20% improvement over the Adreno 330. Adreno 430 in the S810 is approx. 80% faster than the older 330. The CPUs are ARM reference designs, i.e. unmodified architecturally. When you see Kryo cores and a next gen Adreno in the S820, then you can say it's optimized for ... well, Qualcomm. Dual-core A57s, quad-core A53s. Yes, all 6 can run in parallel (via Global Task Scheduling), but only 2 are high-performance cores. Memory bus-width in the S805 is 128-bit (2x64), while the S808/S810 move down to 64-bit (2x32), so only the S810 w/ DDR4 has the same amount of memory bandwidth as the S805. Is that optimized for QHD? Hmm ...

what was better than the g3 at the time? Nothing, g3 still kicks ass

m8, note 3 Posted via the Android Central App

I would day the G3 easily beats the M8. And I would still take it over a Note 3 as well. [add signature here]

So you tried the g3? If so, what about it wasn't good? Posted via the Android Central App

Looks fine to me. What's wrong with the scrolling? Posted via the Android Central App

It just looks like a throwback to bygone years and would irritate the hell out of me. But that's just me. LOL

Lol. LG loves getting some inspiration from Samsung. It's almost as though they've become the Samsung of 1- 2 years ago as far as flagships are concerned with everything from removable batteries, leather backs and expandable storage to bloop touch sounds. It looks like G4' UI is getting some serious inspiration from Touchwiz as well as usual. This is gonna be an excellent device though with a ton of functionality and the display looks to be on point! How about a high-end G note, LG? Posted via the Note 4 or Tab S 10.5

I miss actual articles, these click through lists are out of control.

You have, ya know, read the other G4 stuff we did today, right?

If they could just make the 'view all' view the default, it wouldn't be so egregious.

It took about 72 more clicks to leave that comment than it does to click "View all." :)

He is just nit picking :)

Fair enough. But those are 72 well worth clicks (plus how many clicks this comment takes) if it means never having to click view all again

@coduisprime, these articles are great for people who are considering or actually buying the phone. Android Central is doing a great job of keeping people informed. Google+ All Day Everyday

I read using the official app. There's no click through here. Just sayin. Dang straight this was "Posted via the Android Central App"

I also hate touch sounds on a phone even on keyboard, so I switch off sounds like that as the first thing in device ownership and use. But I have seen people who absolutely hate not hearing that feedback or vibration from the capacitive device when the interact with it. Different strokes for different folks I suppose. Posted via AC App from Note 4

I hate not having hapatic feedback, but that's a physical sensation, not a sound. The only sounds I want my phone to make are alarms, and and media coming out of the headphone jack

I'm the exact opposite. I can't tell you how much I hate haptic feedback. But I do like the keyboard sounds. (On low volume though. I can't stand when I'm sitting in a room and people are tapping away when the keyboard clicks are super loud.) I don't like the other added sounds, but I do seem to find myself typing faster when I hear the clicks.

I turn off all sounds on my phone. Once I saw "Taken" I make my wife and kids turn off sounds on their phones too. Not that I have an unusual set of skills but people have unusual sets of emotional issues and I don't want them to be hiding trying to call me or the police and be found because of the stupid sounds the phone made.

STOCKANDROID! Posted via the Android Central App

I'm guessing that texting app isn't great like the g3's....but textra is too good anyway. Posted via Android Central App

Love Textra, but I just got a notification that they're shifting to a pay-for-pro model (removes ads). I buy apps all of the time, but it's a bummer for an app that's been free for so long.

If it ends up going that way then I'll buy it in a heartbeat. I love textra Posted via the Note 4 or Tab S 10.5

I still have the beeps on my Note 4. Take that, society. Posted via the Android Central App

Wish I could tell my S4 "Thou. Shalt. Not. Scroll" ... Stupid Interface

Why is there an article telling people what features to turn off? How about letting them decide that for themselves? I would expect this from Nexus-or-nothing sheeple.

How about letting someone decide to write this article? --- This message brought to you via the sarcasm keyboard available for download at the Google Play Store.
LG-G2 on Lollipop.

Why is your icon of an evil penguin with a shotgun claiming to "pwn n00bs"?
Why not let the n00bs decide themselves whether they want to be pwned or not? Posted via Android Central App

4:47 with high usage/screen on time with about 45 percent battery left. I hope my assumptions are correct ;)

I think the Quick shot is a great feature. You can always delete the photo of the sidewalk. You can't ever get the moment back that you just missed capturing.

First thanks for the list view. I just got a LG 2 and am thankful you pointed that out. Quick question why does everyone rag on the LG stock seemingly more than other brands like Samsung or Asus launchers? I also think LG deserves some credit because their lollipop version is way more appealing that the kit Kat version, that's just my opinion. I think this phone is the one to get for the want a spare battery and SD card crowd, and the leather looks way better than the early pics

Because they're mostly idiots.
But seriously, people complain about everything. Especially about phones they don't own or never will own. Its a sport. --- This message brought to you via the sarcasm keyboard available for download at the Google Play Store.
LG-G2 on Lollipop.

I believe there was a similar article for the S6's as well. Those damn "bloops". Lol. Cool to hear that a commentor above was the opposite. And uses it on low volume. You can always tell the users who do not read Android sites due to that sound. sent via NoNexus' missing carrier pigeon.

Choose list view but thou shalt not scroll. This does not compute. --- This message brought to you via the sarcasm keyboard available for download at the Google Play Store.
LG-G2 on Lollipop.

Look at the gif he is referring to the words scrolling about at the top Posted via the Android Central App

I'm thinking in these countries they come from the general public likes to hear the sounds of annoyance and changing things for the sake of changing things. I don't use iPhone stuff but I'm very glad that the thought process of it's design are Western. I honestly believe that if the iPhone was designed out of the United States it would probably not be as popular. All it would take is a bunch of carrier and OEM unremovable apps, unnecessary sounds, and unnecessary steps to get stuff done, and the iPhone would decline. You shouldn't have to turn off a ton of stuff just to enjoy your phone. Via Nexus 6: "Takin updates for granted."

A great person once told me "opinions are like assholes-everyone has one and they all stink".

At first I would of said LG is the best phone I ever had but I don't like to be told what,when,where and how Im supposed to do things and lately I have been with this phone

one thing i hate is i turn the sounds off like keypad and when i do battery pull they go back to how it was and my clock goes back to 24 hour
Android Central Newsletter
Get the best of Android Central in in your inbox, every day!
Thank you for signing up to Android Central. You will receive a verification email shortly.
There was a problem. Please refresh the page and try again.