The beauty and frustration of using Android Auto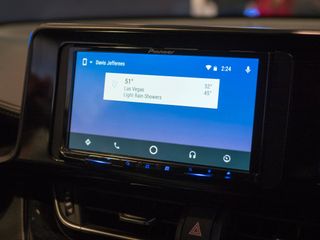 Android Auto is a wonderful way to get the important parts of your phone — navigation, music, phone calls, and (limited) notifications — onto your car's head unit or as a simplified interface on your phone. It's super cool, and miles ahead of every car manufacturer's built-in dash interface. Having said that, Android Auto isn't without its pitfalls.
I've been using Android Auto since late 2015 on both a Pioneer 4100NEX and Sony XAV-AX100 and with six different Android phones from various manufacturers. In this time, I've gotten very comfortable with having all of my important phone features in an easy to tap format to use while driving. But I've also had my share of issues.
I got 99 problems...
Android Auto is rather complex and some problems have cropped up for me over the past two years. This applies to Android Auto being projected onto car head units, not the interface running on a phone.
Android Auto requires a few components to all work together correctly to actually get an image from your phone onto the head unit. Those pieces are:
A compatible head unit
The USB cable from the head unit to your phone
The wiring of your phone's USB port
The Android Auto application on your phone
The latest version of Google Play Services installed on your phone
If any of those pieces misbehave, you're in for a bad time. What's worse is that all of those pieces mean it's hard to diagnose exactly which one is causing the problems. Worse still, just because Android Auto is working perfectly when you leave your house doesn't mean you won't have problems when you're driving down a highway. I can't count the number of times I've been driving when all of a sudden, my music stops, my head unit is back to its standard interface and my phone is unresponsive.
Buy Sony XAV-AX100 In-Dash Receiver
And no solutions
I get that technology is hard at times, and I can sympathize with Google trying to come up with a solution that it can update on its own when smartphone manufacturers refuse to update phones. But that doesn't help me when I'm just trying to safely drive to an open mic night and my navigation system goes out 8 times in 20 minutes. Any technology related to driving needs to be rock solid, and over the past two years, I've come to the conclusion that using Android Auto on a head unit isn't.
I haven't used a car that came with Android Auto in its stock head unit, but Google's product support forums are filled with issues for those as well. There doesn't seem to be one single culprit behind the connection issues, just like with the third-party head units. Again, no tech is perfect, but when a user just spent $1,000 on a head unit — or worse, tens of thousands of dollars on a car — it's only right for everything to work. Especially when the technology is supposed to keep people safe while they're barreling down the highway.
There may be some hope coming, but it will require even more money from the user. Wireless Android Auto units are on their way, and these will eliminate two of the five pieces that go into projecting Android Auto onto a head unit. But I'm not ready to call these new head units a magical fix until people start getting them installed and get some real world use. On a more subjective matter, none of the wireless Android Auto head units are appealing to me since none have a volume knob or hardware forward/back buttons. It will also be a few years until new cars come equipped with wireless Android Auto.
Again, Android Auto is miles (pun intended) better than any interface that comes loaded on head units. And when it works, it's fantastic. Over the last two years, I had a mostly seamless experience using Android Auto. But on a tool I need to use when I'm driving, any hiccup could be life threatening. I'm currently monitoring Google's support forums for solutions, but if there isn't a solution in the next few months I'm going to move back to a dumb head unit, aux input, a good car mount and the Android Auto app on my phone. The Kenwood unit I'm looking at is simple, has a nice big volume knob, and won't cause my phone to crash while I'm driving down the highway.
Buy Kenwood DPX502BT In-Dash Deck
Do you use Android Auto?
Have you had your fair share of Android Auto issues? Sound off in the comments below and let me know if you were able to fix them!
Get the Android Central Newsletter
Instant access to breaking news, the hottest reviews, great deals and helpful tips.