The beauty and frustration of using Android Auto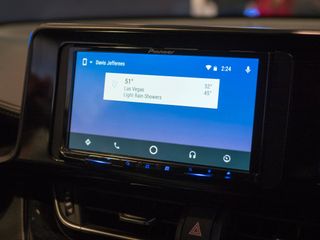 Android Auto is a wonderful way to get the important parts of your phone — navigation, music, phone calls, and (limited) notifications — onto your car's head unit or as a simplified interface on your phone. It's super cool, and miles ahead of every car manufacturer's built-in dash interface. Having said that, Android Auto isn't without its pitfalls.
I've been using Android Auto since late 2015 on both a Pioneer 4100NEX and Sony XAV-AX100 and with six different Android phones from various manufacturers. In this time, I've gotten very comfortable with having all of my important phone features in an easy to tap format to use while driving. But I've also had my share of issues.
I got 99 problems...
Android Auto is rather complex and some problems have cropped up for me over the past two years. This applies to Android Auto being projected onto car head units, not the interface running on a phone.
Android Auto requires a few components to all work together correctly to actually get an image from your phone onto the head unit. Those pieces are:
A compatible head unit
The USB cable from the head unit to your phone
The wiring of your phone's USB port
The Android Auto application on your phone
The latest version of Google Play Services installed on your phone
If any of those pieces misbehave, you're in for a bad time. What's worse is that all of those pieces mean it's hard to diagnose exactly which one is causing the problems. Worse still, just because Android Auto is working perfectly when you leave your house doesn't mean you won't have problems when you're driving down a highway. I can't count the number of times I've been driving when all of a sudden, my music stops, my head unit is back to its standard interface and my phone is unresponsive.
Buy Sony XAV-AX100 In-Dash Receiver (opens in new tab)
And no solutions
I get that technology is hard at times, and I can sympathize with Google trying to come up with a solution that it can update on its own when smartphone manufacturers refuse to update phones. But that doesn't help me when I'm just trying to safely drive to an open mic night and my navigation system goes out 8 times in 20 minutes. Any technology related to driving needs to be rock solid, and over the past two years, I've come to the conclusion that using Android Auto on a head unit isn't.
I haven't used a car that came with Android Auto in its stock head unit, but Google's product support forums are filled with issues for those as well. There doesn't seem to be one single culprit behind the connection issues, just like with the third-party head units. Again, no tech is perfect, but when a user just spent $1,000 on a head unit — or worse, tens of thousands of dollars on a car — it's only right for everything to work. Especially when the technology is supposed to keep people safe while they're barreling down the highway.
There may be some hope coming, but it will require even more money from the user. Wireless Android Auto units are on their way, and these will eliminate two of the five pieces that go into projecting Android Auto onto a head unit. But I'm not ready to call these new head units a magical fix until people start getting them installed and get some real world use. On a more subjective matter, none of the wireless Android Auto head units are appealing to me since none have a volume knob or hardware forward/back buttons. It will also be a few years until new cars come equipped with wireless Android Auto.
Again, Android Auto is miles (pun intended) better than any interface that comes loaded on head units. And when it works, it's fantastic. Over the last two years, I had a mostly seamless experience using Android Auto. But on a tool I need to use when I'm driving, any hiccup could be life threatening. I'm currently monitoring Google's support forums for solutions, but if there isn't a solution in the next few months I'm going to move back to a dumb head unit, aux input, a good car mount and the Android Auto app on my phone. The Kenwood unit I'm looking at is simple, has a nice big volume knob, and won't cause my phone to crash while I'm driving down the highway.
Buy Kenwood DPX502BT In-Dash Deck (opens in new tab)
Do you use Android Auto?
Have you had your fair share of Android Auto issues? Sound off in the comments below and let me know if you were able to fix them!
Android Central Newsletter
Get instant access to breaking news, the hottest reviews, great deals and helpful tips
i have used in the past and prefer it over Carplay...but you right it's not rock solid..Different phones have different issues with it.Needs more app support. But i still would use it again. Because without it, Android does not interrupt the radio system, unless you have Bluetooth audio selected and are currently using it..unlike ios which will interrupt not matter the media you are using.

We had a rental car with Android Auto, which I was super excited to try.
However, when scrolling through music, it reached a certain point where it wouldn't let you scroll any farther - saying something like "because you are driving, we cannot allow you to scroll any farther" (this isn't the exact error message, but it was the gist of it.)
I was ready to buy a double-DIN Android Auto head unit for my old car until I came across that message.
Really interested to hear if there's a fix.

There's no "fix" - its meant to be that way so you keep your eyes on the road instead of the screen. Android Auto is very limited by design - it wants you to pay attention to your driving instead of your gadgets. However, the voice commands are great - instead of scrolling, hit the microphone button and ask for what you want - it works well on my aftermarket head unit (Sony XAV-AX100)

kinda dumb when it could just as easily be the passenger doing the scrolling...

If you are rooted, there's an Xposed plugin for Android Auto that bypasses the scrolling limitation.

I have been using AA for a bit less than a year. I have it on the factory head unit in my 2017 Kia Sorento SX. It didn't charge my Nexus 5X while connected to Android Auto, so it was rather useless as I would eventually run the battery out. Now that I have the Pixel 2 it charges the phone fine while connected to Android Auto. I also use the Waze app as I enrolled in the beta testing program for Waze on AA. It works pretty well, but every couple of days my phone either won't connect to AA or it will freeze and I'll have to reboot the phone. While this seldom happens, it should never happen. It's been getting better with updates, but it's not perfect.

Same here .. It's been 90 percent good using a pixel 2 xl on a Subaru but assistant can be frustrating calling up songs and albums using Google play music....I do love the running commute countdown without having to use turn by turn navigation though....I've had glitches but hope they will be worked out over time and with feedback.... Also wish you could just say ok or hey Google to call you assistant.... Instead of always having to use the button.... It will work but often doesn't

I have used AA for almost a year and a half. I have used an aftermarket unit as well as a factory unit in my GMC. It has generally been good but can be glitchy. Lately I have had issues with AA not showing up when I plug my phone (Pixel 2)in. I have to say OK Google to get the screen to show. Hopefully they will get this fixed.

I haven't had any issues with music stopping. I have a 2016 GMC Sierra. Used AA with Nexus 6P, Pixel XL, and Pixel 2 XL. It is really a great system. Great understanding of voice commands. I have had very few issues with the system which I love to use.

I have Android Auto on my 2017 Chevy Silverado and I use it with my Galaxy Note 8. Once I found a good cable - AA can be finicky - it worked fine. BTW, finding a good cable took one day and that was an Anker Powerline+. I only use AA for Google Maps and Waze and I have not had any crashes or operational issues at any time. It's been rock star solid for me.

My biggest complaint is there seems to be no way to auto startup AA when i connect my phone. I don't ever way to use the stock infotainment system in my KIA, nothing against it but I want to play my podcast not listen to horrible FM radio. So every time i start my car, I plug in my phone, I clear the warning message, wait for my phone to be seen by the radio, press the AA button, wait for AA to load, and then finally I can start my podcast. There is no reason I cannot choose to have AA start automatically. Pretty sure this is all controlled by KIA and Google cannot fix it.

There is an option in the AA app to auto-launch as soon as it connects to your cars Bluetooth and load the app.

If you enable the developer settings of AA, there is an option to "request video focus on start" which is developer-speak for "show AA on the unit when I plug it in".

I have used Android Auto since it could be used on your phone and have been using it on a Ford Sync 3 system for about a year. I am a huge advocate but wish the Android Auto interface would show some improvements or even enhancements. It would be great to have a combo screen that includes a map of the area with a current playing window. The artwork(Album, Podcast) doesn't look great, it chops off the artwork and often looks bad, wasting the hard work of the artists creating the covers. For maps, can we get the speed limit of the current road? The included in-car GPS provides it and I find very helpful on unfamiliar roads. Can Google Play music please give me touch screen access to downloaded radio stations? Voice controls don't work when in an area that does not have data service. Wow, I should stop complaining - it makes it look like I don't like Android Auto and I certainly do. It just seems that the iterations of improvement have been very slow.

On my 2017 Honda CRV, there's a secondary screen under the speedometer that can show currently-playing, next-turn and phone info while the main screen is doing something else. Really missed that when I rented a Hyundai Tucson a few days ago that had AA on a single screen. (But it was still great to be able to just plug my phone into the rental and get the same experience!)

I was originally planning to get an AA head unit, but now I'm perfectly content with it running on my phone. I'm probably missing out on some features, but all I need are the basics: maps, Spotify, and some voice commands for phone calls and text messages.

Agreed - no need to switch cars or buy an aftermarket unit. But, when you are ready to change cars, having the integrated AA experience is something special.

I added an AA deck to my Kia, been using it for about 6 months. AA locks up often usually when using navigation. In my other car my Ford Sync Bluetooth connection never fails on a trip. I probably will not purchase another AA

How hard was it to install on your Kia? I have a 2012 Optima and was thinking about installing an aftermarket head unit. TIA.

Just before Thanksgiving 2015 I bought a 2016 Hyundai Sonata Limited. I use a Nexus 6P for my phone. This was the first car that had Android Auto. I just traded in that car this week. I have never had any of the glitches that you mention or read about in the forums. My biggest complaint about Android Auto (and this is true on my 2018 Hyundai Sonata) is you have to unplug the phone to use any other app. When I pull into a coffee drive thru I have to disconnect before I can open their app to sign in for rewards or to use the phone to pay. I understand that this is a safety feature so people don't use the phone while driving but if the car is in park that should allow the use of other apps without disconnecting. I know, 1st world problem but very irritating. Also glad to see that Hyundai has upgraded the USB port. On the 2016 it was not enough juice to keep the phone alive if using music and maps at the same time. Now it will actually charge the phone while using both. john

I think you can just hit the task switch button on the phone and switch to the new task. At least that's how it works on my Samsung GS7 with Sync 3.

2016 Honda Civic that runs AA so long as my phone is plugged in, has worked flawlessly, except the mic in the car seems to hate the way I say 'Send.' It will take my texts, read it back to me, then ask if I want to send. I say send or send it and it just loops back to reading my text back to me. It works if everything, including the road, is silent. It's frustrating because otherwise I love it. BTW It's a Galaxy S8 on the stock Honda head unit.

Maybe this is anecdotal, but for me it helps to reply "yes" instead of "send".

I've been using AA on a 2016 Kia Optima (factory headunit) for almost 2 years and it has been pretty solid. I've used 2 phones over that time. A Samsung Galaxy S7 Edge, and now an LG V30. The biggest problem I've had is occasionally the phone doesn't connect to AA and I have to pull out the wire and re-insert it. I haven't had that problem in a while though. It's really been great. I'm glad, because I actually got the Optima over another car because it had AA and the other didn't.

Since Google made Android Auto to run an app on my actual phone I just use that. My car doesn't have a fancy infotainment system so that isn't an option anyways. That being said Android Auto on my phone works perfectly fine and my phone mount is right next to my stereo so it actually makes it close to me anyways. I normally use Bluetooth to connect audio to my car stereo, or if I didn't want to futz with that I could just plug in an audio jack to my aux port. So, being able to run Android Auto on my Note8 means I don't have to bother with installing a crazy expensive stereo and even have the above problems in the first place.

I have to say I was a bit surprised to read about all of your troubles. I've been using Android Auto (granted mine came built into my vehicle - Ford/Lincoln with Sync 3) for around 15 months with a wide variety of phones (Nexus 6, Nexus 6P, LG G6, Galaxy S+, and Note 8) and it's been rock solid for me. I can't remember it ever crashing or having a significant issue. Now that Waze is available on Android Auto I don't ever want to be without it! Good read though and good to know it's not so stable for everyone else. I'll have to be sure to do some thorough testing when it's new car time.

2018 KIA Stinger with AA built in.
No issues, really.
There does seem to be times when OK Google will work, and sometimes not.
Never got OK Google to work with music playing via AA. Had to touch the on screen button.
Also, its not always clear if the car is listening, or the phone is listening.
A couple of times I have lifted the phone close to me and said: "OK Google" and that worked.
Should always be the car listening, but possibly just my misconception, or ignorance.

You got a Stinger? Nice. Love that car!

I just got my Stinger yesterday! Thrilled to finally have Android Auto in my car...was jealous of my wife's Hyundai lol Also, instead of having to tap the mic icon on the screen, you can just hit the Voice button on the steering wheel.

I have been using a 4200NEX unit for the past year and I really do enjoy it. Having an older car, it was really nice to finally have bluetooth calling and navigation. I used it on my 26 hour drive from NY to FL Keys without any major issues. One thing I find really annoying is that I used to be able to go from the first song on a playlist to the last song by press back, but an update did away with that and now I have to scroll all the way to the bottom of the list. A bit annoying.

I still can't use it on my Pioneer AVIC-8200NEX because of the damn parking brake requirement. It was my first time swapping a car stereo myself, and maintaining the steering wheel controls was already a challenge. I just need to find a local place that will find the appropriate connection for the parking brake wire and I SHOULD be good to go...I just haven't gotten around to it because the 8200's mapping is already pretty good and I'm able to do the majority of what I want to do via bluetooth. It's just frustrating that it's an artificial block in the name of safety, when using the integrated features of the stereo is no less a distraction than using the phone's features would be. I'm already very careful about only using the interface at stops so it feels...arbitrary that Android Auto should be treated differently.

Parking brake bypass is pretty easy with this head unit:
http://avic411.com/index.php?/topic/38589-official-avic-nex-bypass-avic-...

Sorry to hear you are having those issues. I agree if u spend money on a radio head unit it should work. I personally haven't had any issues with my S8+/Note 8 on my 2017 Honda Civic. I use it all the time for Pandora and phone calls and I went on a few road trims this summer and the navigation worked great.

I've been using AA on my 2017 KIA Sorento with a Samsung S8+ for about a year and I've had only minor problems with it locking up. I had bigger problems for awhile with Spotify. It wouldn't work at all while the other music apps (Google, IHeart, etc.) worked fine. I really like AA for trips but for everyday use I just use bluetooth to stream music. I don't like how AA locks down my phone. I use Waze primarily for my maps and other than it getting confused about daytime vs. nighttime view it works very well. I would really like to see more apps added to AA. Specifically a weather radar app like Raindar. What I find funny though is how BMW is going to charge a yearly subscription to be able to use Apple Carplay. You have to pay extra for the hardware and then a yearly subscription?? I loved my old BMW but I won't buy another one.

You can force it to day mode or night mode if you enable developer options. Open Android Auto on your phone, click the menu button and select About Android Auto, then click the About Android Auto text at the top about 10x. You can then access the developer settings through the gear icon on the top right.

My car (an Audi) does have Android Auto and I use it all the time. The biggest issue is that the interface in the Audi is NOT a touch screen. This dramatically reduces the ease of use and even functions of the Android Auto. I have driven rental cars with touch screen Android Auto, and they are way easier to use. Great example is pinch to zoom on Google Maps. Zooming in and out in the Audi is a royal pain (and requires too much focusing on the screen, not the road). Still, I usually launch Android Auto. The integration with the phone is a net plus over not having that.

I've got Android Auto on my 2016 Chevrolet Cruze(mid year update model) and it works pretty well. Only have a couple gripes, one of which isn't really strictly an Android Auto issue. Oddly, with my Moto Z 2 Force, I have to unlock my phone for Android Auto to start. Maps zoom a little too far out when driving at speed, especially Waze. The other issue is the USB port is only 500mah which wouldn't even charge a Nexus 6P when it was in use, it would just slow down the battery depletion. It does charge the Moto Z2, but very slowly. Other than that, it's been pretty good in the year and a half I've used it.

I have a Pioneer unit in my car. So far everything was working fine until recently. A minor issue, but the screen looks pixelated. It is a known issue and it sounds like Google is working on it.

Works pretty well on my 2018 Honda Accord Touring Sedan, except for the issue of when I send a text, I often have to repeat it. And scrolling thru my music seems slow. Small issues in the grand scheme of things.

I have it in my new Hyundai I30 SR and have never had any issues with it using a Samsung Galaxy S7 Edge and now my new Pixel 2 XL, just plug it in and works flawlessly everytime. After experiencing Apple Carplay in another vehicle with a friends phone, I much prefer Android Auto's layout with the main info screen showing me everything I need to know without having to tap into another screen

I have AA in my Volvo and it's amazing, I have none of the issues reported above..... Works flawlessly

Been using it for about four months with my 2018 Sonata. As you and others note, it has some kinks to work out but really like using it, especially Waze and Google maps. Wish more apps worked with it - Shuttle+ music player, I'm talking to you! - but little by little they are adding more.

For the last 3+ years I've been using an Android Tablet and Car Home Ultra. I've always said as nice as it would be to one day have a car that had the infotainment center built-in, I would miss all the features I get from my tablet. Android Auto is at best a crippled version of Android and as mentioned in the article one that doesn't always work and requires a lot of connected wires. While my set up isn't perfect either (the tablet can't handle phone calls so that is handled separate through my phone with the car), a nice Android Tablet can do so much more than Android Auto ever could.

I've had Android Auto on a head unit since April 2017, when I bought the Pioneer AVH-4200NEX. First of all, I ended up switching from the USB extension cable that came with the Pioneer, to a 2-port USB3 jack that extends from the rear of the head unit to the console, where I adapted another opening inside to mount the jack. That took care of a lot of my dropped connection problems. The other cure was to upgrade from my Nexus 6 to a Pixel XL. With that combination, I traveled about 12,500 miles across two trips this past summer (5 weeks total travel time), and I can count on one hand the number of times it disconnected. I'm thinking that the USB3 extension isn't so much about the higher speeds, but the cable is better insulated against external EMI and RFI, so it gets a cleaner signal between the phone and head unit. The Nexus 6, if anything, was just too laggy to be of any use. I really didn't want to jump up to a Pixel XL, but as I also wanted to improve my camera arsenal for the trip, it made sense to get one before I traveled. One thing I also did with the Pioneer was add the brake bypass chip. This allows a person to use the head unit while driving, as opposed to stopping and applying the parking brake. Why? Because I had someone riding shotgun, and how could she type anything in to search for a destination if it's locked out? As for usage, I don't use any of the Android Auto music features, and the only chat I use is Hangouts, as I use that also for SMS messages on my Google Voice number. For me, Android Auto is primarily about the navigation, and once I had the Pixel XL in place, it proved to work out really well. Does it have minor hiccups? Sure. But, not often enough to be disruptive. One thing that bothers me--I don't like how I can't transfer a custom route made on my computer to the phone and, therefore, to Android Auto. Especially in a familiar area, I like to run Google Nav just to keep track of road conditions. Also, since Google Assistant was added, the sensitivity on the microphone has dropped, and Google has trouble understanding what I'm saying even when I am stopped. I used to be able to use it on the freeway at full speed. What I really feel is lacking are the number of apps. Where is GasBuddy? It makes searching for gas stations so much easier than relying on Maps or Google Assistant. Why can't I use the Sygic navigation system on the head unit, for those times I can't get a phone signal? Downloading the offline Google maps only takes you so far, and it would be a great option to have. Weather Underground has been my favorite weather site since it launched in 1995; I'd dig an app that could show me the current weather radar and conditions on the Pioneer. TripAdvisor? We could have really used that, as opposed to having to disconnect the phone, or dig out the tablet and search for things when we were between hotels. How about an extra dashboard? I use the Ulysse Speedometer Pro to show information I can't get on the car's display. And finally, why not let some of the OBD-II readers have access to the Android Auto screen, both for error code reading and live data display? Note that these are all travel- and automotive-related apps, not more silly chat or music apps that I have no use for. It's Android AUTO, not "let's mirror my whole Android phone on a head unit." Drivers don't need more distractions, thank you very much. The lack of apps are the real Android Auto weakness, in my opinion. It has been out long enough that there should be more progress towards adding useful travel and automotive apps than what we currently have.

I tend to agree with your points, but you do realize that what you call silly is what a lot of people [would] use, right? (and they would call your requests as silly) Also, much of your request also sounds like distraction material (OBD2 stats--useful diag, but needed while moving?). Passenger lockout bypass should be logically connected to the same sensor that enables an airbag based on seat occupancy, eh?

Yet another example of how bad at hardware partnerships Google is.

I work for a Subaru dealership as a technology specialist, showing people how to use their fancy new car and all the fun tech stuff. All 2017 Imprezas and almost all 2018 Subarus (can't wait for 2019 Forester) have AA and CarPlay standard. I have a 17 Impreza, LG G6, and I absolutely love AA. Like others, my only gripe is getting locked out of my phone when AA is active, but it's minor. I use Textra for messaging and it works flawlessly with AA. The quality of the car's microphone has a lot to do with how successful you are with voice commands and texting. Our cars have three microphones built in to separate your voice and background noise, so everything sounds good and clear. Sorry, didn't mean for this to sound like a Subaru commercial! Due to my job, I've become very familiar with both AA and CarPlay, and their quirks. With AA, a quality cord is super important. I've also grown to hate microUSB connectors with the fiery passion of a thousand burning suns. USB-C or GTFO. CarPlay isn't terrible, but many functions are heavily restricted to Siri voice control and of course your app options are limited to what Apple decides you can use. You don't like Apple Maps? Tough. The best thing about CarPlay is it's built into every iPhone and doesn't require a download like AA. I have also worked for Hyundai and can confirm both AA and CarPlay behave identically across multiple car brands. I don't have any experience with aftermarket AA or CarPlay head units though.

I have Uconnect in my jeep and use Bluetooth.. Does all I want.

Just like you, I own a FCA 500x that runs Uconnect. Fine, I connect my phone to the head unit via USB and of course I have android auto installed on my phone. Android auto takes over the screen as it should. Great! Then I try to listen to music that I have downloaded to my phone (Google play music) and it refuses to play. Drives my crazy. Everything else works fine. ANyone else have this problem????

When it works, it's awesome. And significantly better than CarPlay in usability and functionality. I use it in both our Cars, Ford Fusion and Honda CR-V. Unfortunately, in both cars occasionally issues pop up. Whether not initiating AA at all, freezing, voice commands unresponsive. Still love it, but yes, not having it working at a 99.999% up-time is unacceptable in a car.

« But on a tool I need to use when I'm driving, any hiccup could be life threatening.« Not really! It doesn't affect the car. It isn't life threatening unless someone is careless enough to try to fix it while driving... it's people mistakes that are life threatening

Yes, when it works - 90% of the time - it's great. Two things happen to me, though. First is that is just doesn't connect, even after turning the car off and on, uninstalling and reinstalling the app, and restarting the phone. But the next time I get in the car it's fine again. Go figure. More often, it works fine EXCEPT that the audio comes only through the rear speakers (whether I'm listening to the radio, which does not require the AA, or listening to podcasts through my Pixel phone). AND the volume knob is disabled. Whatever volume it is at, that's where it stays. Infuriating and puzzling. Would love to know if anyone has similar issues and any solutions. (This is in a 2018 Subaru CrossTrek.)

THAT BEZEL THOUGH!!! UGH!!!

Using Android Auto, has been a horrible experience. I recently purchased a 2017 Civic, and I'm using a Note 8. While driving my car and using navigation the display constantly says no device connected. While my phone is connected. I've taken my car back to 2 dealerships and the technicians say my car is too new so they can't fix it. Or they don't see anything wrong. This is really frustrating being this feature was a major deciding factor of purchasing the brand new car. I wish I would have just got a regular radio with Navigation. AA is a failure in my eyes.

I'm jealous. Not about AA, I have that. But I also have a Civic '16 that doesn't have that glorious volume knob on the infotainment center. I have that flat slider.

I used to sell vehicles from several manufacturers over the years. I find Android Auto superior to the navigation units installed in those vehicles. It simply works great! And it's more flexible in giving you options for use.

I did not buy a $50,000 Mitsubishi PHEV yesterday because our android phones weren't compatible.
Autos go from A to B and need navigation. Autos shouldn't be hostage to Android Auto connection issues or Operating system issues. Autos should have autonomous navigation ( no phone needed). In some areas phone service isn't available and teenagers can't drive with phones in their cars. Navigation from the phone uses up a data plan only works on some phones and in this case was a show stopper.

AA came standard in my 2017 Veloster and frankly it has limited usefulness when compared to the factory Nav and sound system. The only really "cool" factor is the moving sat map. To listen to my music, USB drive I have to disconnect the cell phone, Nokia 6. Since the music I already have on the phone is on the chip, there is no need to use the phone. So what is the real benefit? I can call and receive calls without it. I get my text messages on my smart watch, if I want to be reminded how bad music has become, I have Sirius. I have also found that AA is a bit of a resource hog as well. Frankly, I don't find it any more useful than the factory Nav and Blue Link system.

So I am experiencing a problem with Android Auto
I have a Samsung note 9
My car is a Suzuki Ignis
I have been having difficulty connecting to Android Auto on my car, this is what I did I returned the head unit in car to factory settings
I deleted Android auto from phone
I connected to the car head unit with Bluetooth
I re installed Androud auto on my phone
I plug in the phone and go through the whole permissions thing and it worked great
After a couple of days I plug in the phone to the car head unit and Android Auto will not start up
This is a persistent problem, where is the problem it is driving me nuts

Just purchased a LG G6 and tried using it with Android Auto. The issue is that AA freezes and will not full launch. I've tried using different cables but still have the issue. My old Nexus 5X worked beautifully so I am hoping I can be directed in the right direction to fix the problem.
Android Central Newsletter
Get instant access to breaking news, the hottest reviews, great deals and helpful tips
Thank you for signing up to Android Central. You will receive a verification email shortly.
There was a problem. Please refresh the page and try again.