Beautiful Widgets 5 released with a new look and full Jelly Bean support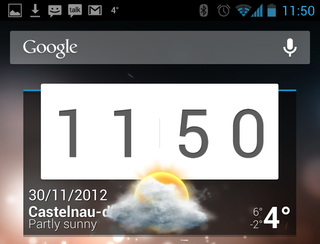 Android app developer LevelUp Studio has announced the launch of Beautiful Widgets 5, a brand new version of its popular widget and application suite.
New features in the latest version of Beautiful Widgets include a visual refresh to many widgets and apps, and full Jelly Bean support, including rich notifications, as well as Android 4.2 features like lock screen widgets and new "Daydreams."
Also included is a new forecast app and theme store, where as you might expect, there are endless widget customizations to be had. If you're a widget fan, there's certainly plenty in this latest version to keep you occupied.
Hit the Google Play link above to get downloading -- the app sells for $2.39 in the U.S. £1.90 in the U.K. We've got an official promo video after the break.
Android Central Newsletter
Get instant access to breaking news, the hottest reviews, great deals and helpful tips
Alex was with Android Central for over a decade, producing written and video content for the site, and served as global Executive Editor from 2016 to 2022.
Big fan of Beautiful Widgets. Going to give this a run!

Wow, what's the name of the home screen clock skin?

It is the default theme for the new version.

Needed refresh! I used to love Beautiful Widgets, but recently switched to HD Widgets. Going to throw a BW widget on and see which I like better. I do like the new weather screen and live wallpaper.

This is so awesome! Been waiting for them to come out with an update to support 4.2!

Look MA! More Clock Widgets! . . . smh

i like Fancy Widgets with the H7C Clock Skin much, much better. see Google images of "h7c clock". https://www.androidcentral.com/e?link=https2F2F...

Its buggy.. I hope for a update to the new update.

I am not seeing how it is buggy. What are you seeing?

i dont know what freethinkeraz's problem is. but after i did the update, i can't add any widget. the app would constantly crash. no matter which widget i try to add.

I'm in the same boat. At first all I got was "Press to retrieve Widget" tried that numerous times and kept getting the same thing. I rebooted and now all it does is "Loading Widget". Can't even press it to try to reconfigure it, I had to remove it and re-add the widget. Now it's working, but I can't apply the Cartoon theme. :( *on my rooted Sensation running Android 4.1.2*

I am seeing issues when changing clock themes. I have seen multiple crashes of the app which takes down the widget and the live wallpaper.

Looks pretty slick so far. I had to go through and redo my theme, but other than that...highest marks.

GREAT UPDATE!
Have had no problems or crashes on S3 using Jelly Bean 4.1.1 and no problems on Nexus 10 using Jelly bean 4.2.
The new Daydream feature on 4.2 is the best part of the update.

This has changed a lot since I last used it. Time to reinstall. Is there any way to make this the default lockscreen widget and turn off the standard clock one?

Just move the lockscreen widget to the right of all the other lockscreen widgets and it'll become the default one. There's no need to turn off the standard clock one.

Thanks, turned out I had to scroll to another before the hold-to-move would work. Edit: It's nice, but a smaller lockscreen widget with weather (it's cut off on mine) would be better.

Just move the lockscreen widget to the right of all the other lockscreen widgets and it'll become the default one. There's no need to turn off the standard clock one.

App really need a refresh, I have moved to HDwidgets on my tablets, and was about to on my phone

Oh no! Where did my smaller home widget go (the 4x1 widget with location, clock, and weather)? I updated BW, and it killed that widget, and it isn't available in the new widget list on my Droid RAZR MAXX running stock Android 4.0.4! BW Clock 4x1 doesn't have the location, and BW Weather 4x1 doesn't have a clock. That widget is literally the only reason I bought BW (not joking here). Edited to add: I just modified the settings for the BW Clock 4x1 widget to "all info" in the widget layout setting under the "Appearance" tab, and it shows the date and location now like the old smaller home widget did. It isn't as pretty (with any of the skins I use), but it has the info at least.

How do I set a weather app to open when I click on the widget like before! If this is gone I am saying on HD widgets

I haven't been able to figure out how to do this yet... Not impressed!

Tap the sun in the bottom middle, rather than the temperature. If you're wondering how to set a different app as the weather app... that I don't know.

Where do you change Cº to Fº?

Open the App, and where you see the weather info main screen, click on the top left corner (next to the location name), and a menu will slide, scroll to the settings menu and under weather you'll see a toggle from Cº to Fº

So excited for this, and it's an update, not a whole new app! NICE!

I dumped Beautiful Widgets a long time ago for BeWeather & Widgets Pro, much better app IMO. But, what really got me was this permission request for Beautiful Widgets (WTF??): Change/intercept network settings and traffic
Allows the app to change network settings and to intercept and inspect all network traffic, for example to change the proxy and port of any APN. Malicious apps may monitor, redirect, or modify network packets without your knowledge. Why the heck would it need that?

Just a guess, but it probably has to do with some of the toggles. BW is more than just a clock widget.

It's nice, but damn it, they removed my favorite widget, the "Smaller Home 4x1"
The other 4x1 is ugly!

Yeah, totally agree with this. The 4x1 Clock widget can show the same info if you edit the settings and choose "All info" for the layout, but it is bugly compared to the smaller home widget they had before.

Bug: Weather location...im stuck in my home town and it wont refresh to the city im in for work =( tried Geolocation and the GMaps feature of it is not working.

I gave up using BW. I can't keep any of their widgets on my screen after a reboot. I'm getting sick of it failing on me. I have to use the standard Android Weather/News widget. Blech.

That's a shame I was a big fan of the Smaller 4x1 Home - compact without being squished. I may have to give the update a try as I miss my Tick weather icons. This is where Titanium Backup is so useful - if an app changes in a way you don't like you can go back.

Pretty nice redesign. I haven't had any issues like some but I do find the font a little large on the weather widgets. PSA: The update moves the BW themes to a different folder which messes up other apps that use them such as BeWeather Pro. Easy fix - go to sdcard/Android/data/copm.levelup.beautifulwidgets/"a folder with a bunch of numbers/externals/clock and you will find your old themes. Copy and paste them back to the old BW folder (sdcard/data/beautifulwidgets/scskins/

When I updated the app this morning, all of my existing widgets were broken and had to be "retrieved from a parallel universe". Unfortunately, this is the parallel universe where the Borg have taken over, everything is broken, and Commander Riker has a hobo beard. It looks like there are still lots of customizable options, but the standard widgets from the earlier version don't appear to be available. The colors, the fonts, the layouts, everything looks different and not in an exciting way. I've already uninstalled it and moved to using the Go Launcher Widgets instead.

I used to use Beautiful Widgets all the time on my Captivate. Now that I'm using a Nexus 4, though, I don't think I have much use for it. If I need weather I can just pull up Google Now and see the forecast. And the analog clock widget has grown on me. I might check this out again but I doubt I'll use it long term.

I haven't found anything "beautiful" about Beautiful Widgets (yet). Previous versions were actually so bad, I would not want to display them on my home screen. I hope this new version is better.

I've been using "One More Clock". I do like beautiful widgets though. I may try it out. Too bad I can't leave a review on it though. I'm not joining google +

Does anyone know how remove the app drawer icon in the new version? You used to be able to be able to do it from the menu, but I can't seem to find it :/

Galaxy Nexus user - Nope don't like it. Been using BW for a couple years. Tried many others but always came back to BW. Seems like a slightly differet version of HD Widgets now as far as how it looks on screen, specifically when going between portrait and landscape.

Lost all my settings and wish I had them memorized because I can't get it back to the way I had it on my Razr Maxx. Fail

any way to re-size the widget manually?

I like it, but you can no longer choose a weather app when tapping the daily weather at the bottom. It allows you to choose a time app and a calendar app, but no weather app. I use BeWeather and I like it much better than going out to the accuweather website. My only issue with it so far. Not sure if I will try something else.

Just curious, why do so many people love the big retro HTC inpired flip clock? I found it hideous in my old custom rom HTC Touch win mo, had to find theregular clock that's not in your face.

I am another who misses his 4x1 smaller home widget. I had alternated between that and HD Widgets. I am curious as to why they would get rid of that great widget. The new widgets are very ugly and the app itself is very counter intuitive. I will be using HD Widgets full-time for now.

Crashes when i click "Settings" on the Live Wallpaper selection screen. Live Wallpaper also crashes randomly and i get a black screen.

I love this app, but what the heck is "Daydreams"?

Daydreams is like a screen saver for "sleep mode" that's only in Jelly Bean 4.2. It's actually very "cool".

The new update is terrible. It often switches to saying "On Migration," whatever that's supposed to mean (I realize the developers are French), and doesn't show anything in the widget. They removed a lot of features, including the original home widgets (which I and many others preferred to the "super clock" they've been pushing the last few versions). They also removed the ability to open a custom weather app -- you have to go to accuweather.com in the browser instead. And high and low temperatures are backwards. They always have been (maybe it's a French thing), but they used to let you optionally fix it so high is displayed first as it is virtually everywhere I've ever seen. They removed that, so you're stuck with the backwards way. It also showed up as using 10% of my battery life today since updating this morning. Terrible, terrible, terrible. I hope they get it right, but it's horrid for now.

I'm getting that "On Migration" message every time I switch to the page where the Widget is. Sometimes it goes away after a few seconds, and sometimes it just stays there, as if updating something. I HATED that they removed the Home widget, as it was the one I was using. I would have preferred that they just added the option to use them in the lockscreen, which was the main focus of the update, and not mess with the widgets as they were.

Crashes when I try to hit the settings on the Live Wallpaper. The wallpaper also flickers and blinks. Loved the previous version. Hope to see these issues fixed soon.

For some reason, now the temperature at the top of the screen is showing -33... How do i either remove this or update it??? Its been like this since the update!
Android Central Newsletter
Get instant access to breaking news, the hottest reviews, great deals and helpful tips
Thank you for signing up to Android Central. You will receive a verification email shortly.
There was a problem. Please refresh the page and try again.