Barnes & Noble's revenue from Nook plummets by 50%, but they're planning a new one anyway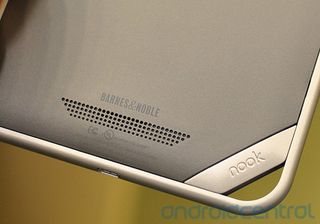 Turning to the next page
Barnes & Noble is in a tough spot. Their book selling business, anchored by a nationwide chain of massive and expensive stores, isn't doing well in the face of digital competition. Their effort to jump into the digital realm themselves, first with the Nook e-reader and then Android-powered Nook tablets, did well for a while and has since floundered. In the last quarter, Barnes & Noble's Nook division (encompassing devices, digital content, and accessories) saw revenues of $157 million — down 50.4% from the year prior. Device sales made up two thirds of that revenue, and even with an increased userbase, Nook saw a drop of 26.5% in digital content sales. That's revenue, though. Losses in the Nook division topped $129 million, a 67.5% increase from last year.
That Barnes & Noble didn't release a single new Nook tablet over the past year might have something to do with that, though they admit that their plan was to sell through a glut of existing device inventory. And seeing these numbers, we'd have thought that the Nook tablet (and eventually Barnes & Noble) was done for this world. But it's not so, said Barnes & Noble CEO Michael P. Huseby:
So Nook isn't dead, nor is Barnes & Noble, at least not yet. We generally liked the previous Nook tablets — they offered a decent bang for your buck — but it's hard to say how they'll be able to compete against today's budget offerings, both from Google and a more direct competitor like Amazon. Let us know in the comments if a new Nook tablet interests you.
Source: Barnes & Noble
Press release:
Barnes & Noble Reports Fiscal 2014 Third Quarter Financial Results
*Consolidated EBITDA of $173 million
Core Comparable Bookstore Sales Trend Improves
NOOK® Losses Narrow on Cost Reductions, Device Strategy Shift and Comparisons to Prior Year Charges*
New York, NY (February 26, 2014) — Barnes & Noble, Inc. (NYSE: BKS) today reported sales and earnings for its fiscal 2014 third quarter ended January 25, 2014.
Third quarter consolidated revenues decreased 10.3%, to $2.0 billion, as compared to the prior year. Third quarter consolidated earnings before interest, taxes, depreciation and amortization (EBITDA) increased from $59 million a year ago to $173 million. Prior year results were adversely impacted by $74 million of NOOK inventory-related charges. The remaining year-over-year EBITDA increase was primarily attributable to lower NOOK expenses.
"During the third quarter, the company significantly improved its balance sheet and bottom line, while making real progress on our strategic priorities," said Michael P. Huseby, Chief Executive Officer of Barnes & Noble, Inc. "Retail's core comparable store sales benefited from a strong title line-up, strong execution and an effective advertising campaign. College entered into the spring back-to-school rush and saw continued growth in its higher margin textbook rental business. This resulted in a slight EBITDA increase for College, even after funding and developing our digital educational applications. We expect the soft launch of our higher education digital product before the end of this fiscal year. NOOK losses narrowed significantly as we achieved our objective of selling through much of our pre-holiday device inventory, while managing promotions to optimize sales."
Retail
The Retail segment, which consists of Barnes & Noble bookstores and BN.com, had revenues of $1.4 billion for the quarter, decreasing 6.3% over the prior year. The sales decrease was attributable to a comparable store sales decline of 4.9% for the quarter, store closures and lower online sales. Comparable store sales declined primarily due to lower sales of NOOK products. "Core" comparable bookstore sales, which exclude sales of NOOK products, decreased 0.5% for the quarter, an improvement as compared to the first half of the fiscal year.
Retail generated EBITDA of $200 million in the quarter, decreasing 7.5% as compared to a year ago. The sales decline was partially mitigated by a higher mix of higher margin core products and continued expense management.
College
The College segment had revenues of $486 million, decreasing 6.0% as compared to a year ago. Comparable College store sales decreased 4.0% for the quarter, impacted by a higher mix of lower priced used textbook rentals and lower textbook volume, partially offset by higher general merchandise sales. The spring back-to-school rush season extended past the close of the Company's fiscal third quarter. Factoring in the two additional weeks in February that contributed to this year's rush season, comparable store sales decreased 3.1% for the quarter. Comparable College store sales reflect the retail selling price of new or used textbooks when rented.
College EBITDA increased 3.9% as compared to a year ago to $35 million despite the sales decline, as higher margins outpaced additional investments in digital product development.
NOOK
The NOOK segment (including digital content, devices and accessories) had revenues of $157 million for the quarter, decreasing 50.4% from a year ago. Device and accessories sales were $100 million for the quarter, a decrease of 58.2% from a year ago, due to lower unit selling volume and lower average selling prices. Digital content sales were $57 million for the quarter, a decline of 26.5% compared to a year ago, due primarily to lower device unit sales.
The Company did not introduce any new tablet products this past holiday season, contributing to the third quarter sales decline. Instead, the Company executed its plan to sell through most of its existing device inventory, while also building additional tablet devices to meet holiday and post-holiday demand, using previously acquired parts and components.
NOOK EBITDA losses decreased $129 million, or 67.5%, as compared to a year ago to $62 million. As noted earlier, prior year results were adversely impacted by $74 million of inventory-related charges. The remainder of the EBITDA loss reduction was primarily due to a decline in NOOK expenses of $52 million for the quarter on lower advertising and targeted cost rationalization.
As part of the Company's ongoing efforts to rationalize the NOOK business and position it for future success and value creation, staffing levels in certain areas of the organization have changed, leading to certain job eliminations after the quarter ended. These ongoing efforts may involve additional actions.
"We have taken steps to reduce costs and device exposure, while focusing our efforts to reverse the content sales decline," continued Michael P. Huseby. "We remain committed to delivering world-class reading experiences to our customers through our reading centric e-Ink and color reading devices. The Company is actively engaged in discussions with several world-class hardware partners related to device development as well as content packaging and distribution. As a result, we plan to launch a new NOOK color device in early fiscal 2015."
Get the Android Central Newsletter
Instant access to breaking news, the hottest reviews, great deals and helpful tips.
Derek Kessler is Special Projects Manager for Mobile Nations. He's been writing about tech since 2009, has far more phones than is considered humane, still carries a torch for Palm (the old one), and got a Tesla because it was the biggest gadget he could find. You can follow him on Twitter at @derekakessler.