Barnes & Noble Nook Tablet Specs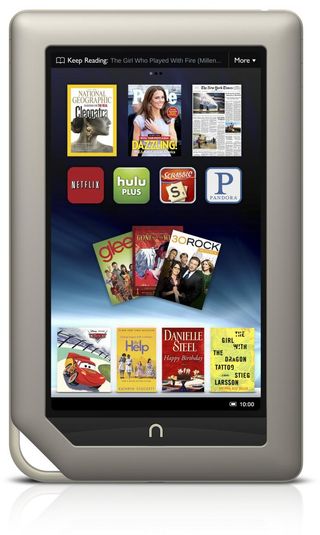 With the announcement of the Barnes & Noble Nook Tablet a whole new set of specs has arrived for the Nook line. Jump on pat the break to get a look at the full list of features and key specifications.
Barnes & Noble Nook Tablet Key Features and Specifications
Size: 8.1 inches (H) x 5 inches (W) x 0.48 inches (D) Weight 14.1 ounces (400 grams)
Display: World's most advanced 7-inch VividView™ Color Touchscreen 16 million+ colors, high resolution IPS display – 1024x600, 169 PPI Fully laminated with no air gaps for remarkable clarity and minimal glare – read indoors or outside.
Operating System: Android™ Gingerbread
Power: 1GHz TI OMAP4 (dual-core) processor with 1GB RAM
Extra-Long Battery Life - Installed rechargeable battery, Charge from a wall outlet using in-box power adapter and USB cable, Up to 11.5 hours of reading or up to 9 hours of video with power save mode on and wireless off
Memory: 16GB built-in memory, Expandable memory up to 32 GB with microSD™ card
Connectors: Universal 3.5 mm stereo headphone jack, Charging port, Expandable microSD slot
Microphone: Built-in microphone for Read and Record™ stories and more
Connectivity:Wireless connectivity via Wi-Fi® (802.11b/g/n) FREE Wi-Fi® in all Barnes & Noble stores
Browser - Over Wi-Fi, enjoy enhanced Web browsing experience to access even more content. NOOK Tablet supports Adobe® Flash® Player.
Supported File Types: Load ePub (including Non or Adobe DRM) or PDF file types from your computer or microSD card Other documents: CBZ, XLS, DOC, PPT, TXT, DOCM, XLSM, PPTM, PPSX, PPSM, DOCX, XLX, PPTX
Watch videos in: MP4, or Adobe Flash Player format, 3GP, 3G2 MKV, WEBM (Video Codecs: H.264, MPEG-4, H.263,VP8)
Load photos and create personal wallpaper: JPG, GIF, PNG, BMP
Play audio on built-in mono speaker: MP3, MP4, AAC, AMR, WAV, OGG (Audio Codecs MP3, AAC, AMR, LPCM, OGG Vorbis)
Pre-Loaded NOOK Apps™ - Netflix, Hulu Plus™, Pandora®, Chess, Crossword, Sudoku, Media Gallery, NOOK Friends, Email Book Reading and Sharing on Other Devices
Read NOOK Books™ seamlessly across your NOOK® devices, smartphone, computer or other mobile device, with FREE NOOK Reading App™ software. These include iPad™, iPhone®, iPod touch®, Android™ devices, Mac® computers and Windows-based PCs, laptops or netbooks. NOOK Tablet syncs last page read, highlights, notes and bookmarks. For more information on free NOOK software, please visit www.nook.com/freenookapps

(opens in new tab)

.
Android Central Newsletter
Get instant access to breaking news, the hottest reviews, great deals and helpful tips
So, other than the $50 savings, why would I want this over a $299 HTC Flyer that runs Android 2.3, but is fully "open"??

most likely content preference and delivery.

lighter, dual core, and isn't the 299 price on contract?

I think you're probably comparing it to the wrong device. I think most people would pit this against the Kindle Fire. But, even assuming your comparison, the fact that this is dual core vs the Flyer's single-core for less money should be the first indication. Also, assuming this thing is as hackable as the Nook Color, we could see some early ICS ROMs as soon as it's out (via SDK) and even better ROMs once ICS hits AOSP.

Yeah, people seem to be missing the fact that the Kindle Fire is $199, and it has no SD support and also runs Gingerbread (unannounced - Amazon just says "Android"). While this looks to me like a Kindle Fire upgrade (spec-wise), I don't see any mention that it has access to the Market for apps, and I guarantee you it doesn't have access to the Amazon Appstore. I wonder where we're supposed to get our Android games? I guess the devs who get stock Gingerbread running on it will tell us where to get our games. LOL Looks like a "Kindle Fire Plus" to me. The Kindle Fire is already in tight competition with the newly-cheaper Flyer. I was going to get a Flyer at the lower price until I saw it uses a single-core CPU... then I decided Xoom Family Edition... but now, I don't know.

B&N has their own market with some games and other apps ... limited but growing. But if that's a big deal then this probably isn't the tablet for you. Sounds like they're marketing it as an "entertainment" tablet ... reading, video (Netfix/Hulu), music (Pandora, etc). Then they'll have most of the essential apps from B&N.

Well, $50 bucks is $50 bucks. But looks like there are some differences too ... maybe better screen, SD card slot, dual-core, others? No doubt it's a very competitive market at this low end right ... all depends on exactly what you want.

Not a tablet no camera, mono not stereo, no android market
it appears just an advanced reader to me.

Only the crappy built-in speaker is mono. Headphone jack is stereo. And, yes, it is just an advanced reader now.

Still, your can't ignore some baller specs for an "advanced reader"

yea does it need those specs if it was just a reader

While I can understand the desire for a dual core, you might want to check out Anandtech's analysis of Flyer's 1.5 GHz single core vs. a 1 GHz dual core. http://www.anandtech.com/show/4463/the-htc-flyer-review/8

The video states no Bluetooth.

That was the same answer on the original BN Nook color. Bluetooth was part of the dual-purpose wifi chip they used, but just didn't connect an antenna lead to the bluetooth portion. Rooted NC's running Cyanogen have bluetooth functionality, but the range is hideous - like 18 inches before a paired device will drop. Hopefully they've either improved that or just taken it out completely.

If its part of the standard part of the chip set used, the BT chip will probably still be, but with real antenna and turned off in software like the Nook Color. It doesn't seem like such an odd thing to add though since bluetooth headphones would fit well.
Android Central Newsletter
Get instant access to breaking news, the hottest reviews, great deals and helpful tips
Thank you for signing up to Android Central. You will receive a verification email shortly.
There was a problem. Please refresh the page and try again.