Barnes & Noble lowers NOOK Tablet and NOOK Color pricing to its lowest ever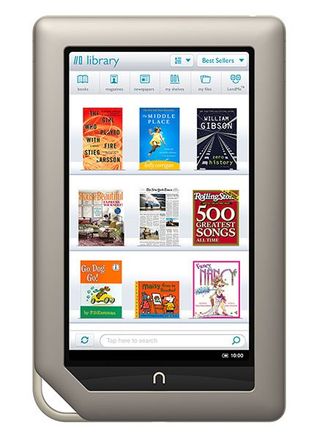 For all you deal hunters out there who like nice things but aren't really looking to buy in when prices are high, you're holding out for a NOOK Tablet or NOOK Color may have paid off. Barnes & Noble has announced a price drop on both the NOOK Tablet or NOOK Color, just in time for back to school.
NOOK Tablet 8GB for $179
NOOK Tablet 16GB for $199
NOOK Color for $149
The pricing is in effect across all of Barnes & Noble 700 locations. Barnes & Noble hasn't noted if the price drop is permanent or just a sale so, if you're looking to pick one best to go ahead and do so as soon as possible. You'll find the full press release below.
Barnes & Noble Announces Lowest Prices Ever on Award-Winning NOOK Tablet™ and NOOK Color™
Amazing Products at Best Value: NOOK Tablet As Low As $179 and NOOK Color Just $149
New York, New York – August 12, 2012 – Barnes & Noble, Inc. (NYSE: BKS), the leading retailer of content, digital media and educational products, today announced amazing new, lowest-ever pricing on its award-winning NOOK Tablet and NOOK Color devices, just in time for the back to school season. Starting today customers can purchase the highly acclaimed NOOK Tablet starting at $179 and NOOK Color for $149 at all of Barnes & Noble's nearly 700 stores nationwide, online at NOOK.com and through the other leading retailers offering NOOK® products.
Customers seeking a fast, lightweight tablet with an incredible 7-inch VividView™ display and long-lasting battery life will love the popular NOOK Tablet, now available at $179 for the 8GB model and $199 for the 16GB version. NOOK Tablet offers access to the world's largest digital library of more than 2.5 million titles, popular movies, TV shows, music and more, plus thousands of high-quality NOOK Apps™, fast Web browsing, e-mail and expandable memory. NOOK Color provides tablet essentials at a great value for only $149. The 7-inch device is ideal for reading and exploring a variety of great content including books, magazines, interactive children's books, apps, access to top video and music services, e-mail and Web browsing.
"Our Reader's Tablets have consistently been the highest rated products by the leading technology experts and now they're available for the lowest prices ever," said Jamie Iannone, President of Digital Products at Barnes & Noble. "With NOOK Color for $149 and NOOK Tablet starting at $179, customers can enjoy our best-in-class digital reading and entertainment experience with an expansive selection of digital content and apps at an unbeatable price."
All NOOK customers can shop Barnes & Noble's expansive NOOK Store™ of more than 2.5 million digital titles, and the ability to enjoy their NOOK content across a wide array of popular devices. Barnes & Noble offers always free in-store NOOK support for customers to set up and learn how to use their new device face-to-face with friendly neighborhood NOOKsellers.
About Barnes & Noble, Inc.
Barnes & Noble, Inc. (NYSE:BKS), the leading retailer of content, digital media and educational products, operates 691 bookstores in 50 states. Barnes & Noble College Booksellers, LLC, a wholly-owned subsidiary of Barnes & Noble, also operates 647 college bookstores serving over 4.6 million students and faculty members at colleges and universities across the United States. Barnes & Noble conducts its online business through BN.com (www.bn.com), one of the Web's largest e-commerce sites, which also features more than 2.5 million titles in its NOOK Bookstore™ (www.bn.com/ebooks). Through Barnes & Noble's NOOK® eReading product offering, customers can buy and read digital books and content on the widest range of platforms, including NOOK devices, partner company products, and the most popular mobile and computing devices using free NOOK software. Barnes & Noble is proud to be named a J.D. Power and Associates 2012 Customer Service Champion and is only one of 50 U.S. companies so named. Barnes & Noble.com is ranked the number one online retailer in customer satisfaction in the book, music and video category and a Top 10 online retailer overall in customer satisfaction according to ForeSee E-Retail Satisfaction Index (Spring Top 100 Edition).
Last year, the OG Nook Color was the darling of the Android tablet hacker community. But the landscape has changed drastically since then and B&N did themselves no favors by locking down the Nook Tablet so hard and giving it that wacky partitioning. A shame, as I really like the NT hardware and formfactor for what it is. I have a feeling that B&N may end up retreating from the high-end e-reader/tablet market and focusing on the <$150 area. Between the upcoming Kindle Fire variants, the Nexus 7, and Acer's new low-cost A110, there's no $ for a relatively pricey Nook that forks Android even more than what Amazon has done with the Fire.

It's hard not to look at every story on a tablet of any kind nowadays and not instantly make the comparison to the N7. Until there is something that can do as much for the same or less or something that can do MUCH more for a reasonable price increase it's just a bunch of "meh" going on. There is of course the large market of people who don't read tech blogs or who may not know about/trust a Google tablet. I very nearly picked up Nook a while back with the intention of hacking, but unless they get that price down to $100 it's "meh" again. Still like the industrial design of the Nook for some reason.

I still wouldnt buy Nook... Nexus 7 ftw... why would anyone buy locked outdated software and hardware.

Keep in mind the NC/NT isn't for you, it's for your mom or grandma.

The Nexus 7 interface is rather easy to learn and not very complicated compared to the Nook.

If NC/NT is for my mom and Grandma then N7 is for them too..
Nexus 7 is easier to use than Nook.. No justification buying it even for them.

One of my local B&N stores has a surprisingly tech-savvy younger kid working the Nook dept when I am in there sometimes. We always strike up a chat when it's not busy about the merits of Android vs iOS, rooting, the tablet market etc. He said that the biggest gripe the average B&N shopper (think grandparen and soccer moms types) have with the Nooks nowadays is that the sme "free" apps that they can get on their phones or see advertised aren't available for download on the Nook store or are only offered in paid versions for $ (think Angry Birds). I would tent to agree with that sentiment. He is also fully expecting the upcoming 7.x" iPad Mini to kill Nook sales going into the holidays.

the Nook tablet and Google Nexus 7 both do NOT have MicroSD card slots. a real deal-breaker for me.... my currently Samsung Galaxy Tab 2 7.0 tablet is running on Sandisk 64GB MicroSDXC ($59 from Amazon) and
I have already run out of space. Just bought a 2nd 64GB card for my video stuff. There's nothing like having
all your audio and video at anytime, EVERYWHERE, instantly. Probably will need a 3rd 64GB card.
(all the stuff add up to be about 130GB, all currently stored on my iPod Classic 160GB)

Nook Tablet definitely has a MicroSD slot. So does the Nook Color. So does the original Nook. Not sure where you got that part from.

I have all the movies i need with me at all times on my Nexus 7.... OTG cable FTW!

Problem with buying these things is you don't save money on books anymore. Thanks Apple. I'll stick with paperbacks until e-books are cheaper again.

I never thought e-books would be cheaper forever. Now that loads of people have the ereaders, it's about convenience. I can take 20 books on vacation with only 1 tablet. I'll pay the same. As far as tablet, they had to lower the price with the N7, and the ipad mini (rumored) coming. I love my Nook Color, and it's rooted giving me a tablet (not the greatest or fastest) that is serviceable. It's specs are outdated so yes it's slow, but it sill is functional beyond just an ereader. How many ereaders give you the ability to watch your baseball team on vacation? MLB at bat works on NC.
Android Central Newsletter
Thank you for signing up to Android Central. You will receive a verification email shortly.
There was a problem. Please refresh the page and try again.