Phone grips are the best tech accessory you can get your kid as they head back to school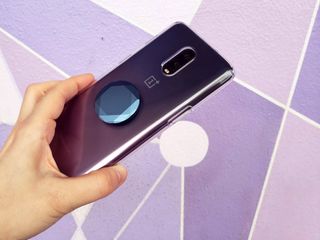 Phone grips might seem like an unnecessary add-on — "How could you possibly need help holding onto a phone?" — but I just have a few questions for you. How often does your child drop their phone? How often do you see them hunched over their phone to watch a video instead of propping the phone up and watching at a more natural angle? How often do you see them stretching their fingers out after a long night of texting their friends and sending weird meme selfies? If the answer to any of these questions was "a lot", then do yourself, your child, and your wallet a favor.
Buy them a phone grip. You can even buy them a cool one for less money than pizza night!
A penny of prevention is worth a pound of broken touchscreen
They can make shock-resistant, drop-tested smartphone cases all the livelong day — and they do a great job of it — but nothing beats preventing the phone from falling out of your hands in the first place. That's the first and foremost reason to buy you kid a grip: so that they don't break their phone and make you shell out for repairs or replacements.
I'll take a $10 grip over a multi-hundred dollar repair bill any day of the week, which is why every phone that crosses my desk gets a PopSocket, Style Ring, or some other grip on it the second I'm done reviewing the first case. Whether it's a petit Pixel or gargantuan Galaxy, I have an easier and more reliable time hold onto the grip than I do to a flat-backed case alone.
Phone grips are healthy, even when your child's phone habits aren't
I'm something of an introvert, but when out and about in the world, it's hard not to notice the tech — and tech habits — of those around me, especially when they're bad habits I'm still actively fighting myself. I'll find whole families hunched over their phones, teens overextending their thumbs trying to one-hand a text message and propping their phone on their pinky while taking selfies and scrolling Instagram.
I'm not a posture queen by any stretch of the imagination, but I'm painfully aware of the extra strain hunching over your phone or laptop can cause over time. Make all the jokes you want about Blackberry thumb and texting neck but an RSI is a painful and often irreversible thing, something I know firsthand: even years after swapping to phone grips, my left pinky yells at me every day I skip my GrabTab (opens in new tab) to review a case.
Now, a phone grip isn't going to magically cure your kid's poor posture hunching over the phone, but it can significantly help their hands by giving them something easier and more comfortable to grip. The ability of most grips to double as kickstands can also help improve their poster by allowing them to prop up their phone at an angle rather than hunching over it flat on a desk.
Kick bad habits and poor productivity with phone grip kickstands
Phone stands are awesome, but they're only useful when you have them on you. Since most phone grips double as at least landscape kickstands, adding one to your kid's phone can help make their phone and their homework time more productive since they then have a kickstand with them they can use on any flat surface.
I often reference notes on my phone while writing on my Chromebook, and this is especially helpful when I use phone grips like the Spigen Style Ring POP (opens in new tab) and Scooch Winback (opens in new tab) that keep my phone vertical rather than landscape. Kickstands can make looking at a phone easier on your child's neck by lessening their need to hunch over, too, compounding the grip's in-hand benefits.
Phone grips are cool
When your kid sees a phone grip with Darth Vader (opens in new tab) or Stitch (opens in new tab) on them, they just see a cool character that they want on all the things. This gives PopSockets a very unique advantage in trying to get your kids to want to use a phone grip, especially now that Swappable PopSockets will allow your kid to swap Darth Vader for the Dark Knight depending on which of their five favorite shirts they're wearing.
Both PopSockets and Speck GrabTabs (opens in new tab) have Pride collections, too, meaning if your middle or high school has a cause they're behind, they can show it off on their most visible accessory: their phone grip. PopSockets' Poptivism (opens in new tab) grips even give money to partner charities like March for Our Lives (opens in new tab), Girls Inc (opens in new tab) and The Trevor Project (opens in new tab).
So let your kid pick out a phone grip that speaks to their style. Call it a Back To School gift, even though it's healthier for them and extra phone insurance for you.
Swappable PopGrips by PopSockets (opens in new tab) ($10 at PopSockets)
Get a grip that's wireless charging compatible, easy to swap when your tastes change, and available with the coolest character designs around.
Speck GrabTab (opens in new tab) ($10 at Speck)
This credit-card-sized grip is vibrant, available in tons of styles, and still lets your phone sit flat on the desk.
Spigen Style Ring POP (opens in new tab) ($13 at Amazon)
This is the best metal grip I know: compatible with magnetic mounts, works as a vertical kickstand, and boldly colored.
Need more phone grip suggestions? Check out the Best Phone Grips for Students
Ara Wagoner was a staff writer at Android Central. She themes phones and pokes YouTube Music with a stick. When she's not writing about cases, Chromebooks, or customization, she's wandering around Walt Disney World. If you see her without headphones, RUN. You can follow her on Twitter at @arawagco.
My middle schooler has no need for these since their school rules state that NO phones are allowed to be used on campus.

Sure, our school forbids phones on "campus" too. But they go home by themselves taking a 45 minutes ride in the subway including one connection at a big station, and they are 8 and 10 years old. So I prefer them to have phones in case something happen and they get lost (which had happened a couple of times).

Kudos to your kids for managing a commute that I most assuredly could not at age 8. And yeah, schools can ban them, but a grip is great for kids in all environments, not just jam-packed cafeterias and overfilled classrooms.

I am in Europe. it is normal to see kids in the subways every day.

...so what about interfering with wireless charging?

Apparently the swappable ones can be twisted off and wireless charging will work. I've actually ordered one, so i can let you know if it's true in a few days. Wireless charging sucks anyway though haha.

How is it possible for something like wireless charging to "suck"? I set my phone down on a small pad and 30 minutes later my phone is fully charged. No connecting my phone to wires, take little to no effort to use vs. having to plug on the phone.

For it to be fully charged after 30 minutes your phone would have to be at about 90% when you put it down lol.

I have a PopSocket on one device just to see how they work. Actually pretty convenient. I like it. That device does not support wireless charging. I would say, removing the PopSocket whenever I need to charge would be less convenient than plugging in a cable. That's why I don't have PopSockets on my phones that do support wireless charging. And no, wireless charging does not suck. Hasn't sucked since my Lumia days. Even my car cradle has wireless charging.

I set the PopTop over the super-bright LED on my bedside speaker then set my phone on the pad. Wireless charging can be hit or miss depending on how thick a case you use, how small the coils in your pad are, and how powerful a charge they can carry. I just make sure I see the little charging animation on the S10 before I turn off the screen and cuddle up with my body pillow under the weighted blanket.
Android Central Newsletter
Get the best of Android Central in in your inbox, every day!
Thank you for signing up to Android Central. You will receive a verification email shortly.
There was a problem. Please refresh the page and try again.