Aukey's Dual-USB Turbo Car Charger rocks Quick Charge 2.0 in a small size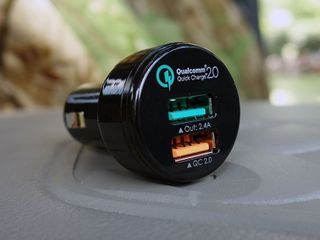 Whether you're playing taxi, carpooling, or riding solo, having enough chargers in the car makes everyone's life much simpler. For the sake of getting the fastest charge possible, you'll want something that puts out more juice than your run-of-the-mill charger. Aukey has packed this little bugger with Quick Charge 2.0 along with a spare USB port for second device — leaving plenty of room for other things besides your charger.
What is Qualcomm Quick Charge?
Designed to accommodate most, if not all vehicles, the Aukey Dual-USB Turbo Car Charger measures only 2.48" in length and 1.26" in width — easily carried in your pocket or the palm of your hand at a mere 0.83oz. As with other car chargers of this size, removing them from your vehicle's cigarette lighter port can sometimes be a hassle depending on how your center console is set up. My Dodge RAM doesn't leave much room around the crevice where the port resides, so with the charger completely plugged in, there's not much left to grip when I need to remove it.
The entire charger is wrapped in a glossy black plastic that feels slightly fragile and sounds just the same when plugging it in. There isn't an LED to signify when you're seated properly or charging, which would be a nice addition, but in reality it's just one more thing to go wrong or burn out. It also comes with over-current and short circuit protection, which is a must-have. If your current device doesn't come with Quick Charge 2.0/Fast Charging, it'll still juice-up any 5V, 9V, or 12V output device without the extra speed.
A 40" black micro-USB cable is included for all your single-charging needs, but will require your own cable for the additional port. The top USB port has a max output of 2.4A and is labeled green — slightly confusing since it matches the green QC logo right above it — and the orange port below is designated for Quick Charge 2.0-compatible devices. I used a Samsung Galaxy S6 and S6 edge, and both charged simultaneously without hiccups.
Input
Input: DC 12-24V
Total Power: 30W
Output
Output A: 5V / 2.4A (MAX)
Output B (QC 2.0): DC 5V/2A, 9V/2A, 12V/1.5A (MAX)
Image 1 of 5
Final thoughts
There's not much to dislike about this Dual-USB Turbo Car Charger from Aukey. You can't beat Quick Charge 2.0 speeds, whether you're in the car or plugged into an outlet. Its small size is kind of a double-edged sword, but it's far more convenient than it is not. If you're after a no-frills car charger that'll quickly power-up more than one device, there's little reason to pass this one up.
More popular chargers and cables
Get the Android Central Newsletter
Instant access to breaking news, the hottest reviews, great deals and helpful tips.