Aukey 10,000mAh Dual-USB Power Bank with Quick Charge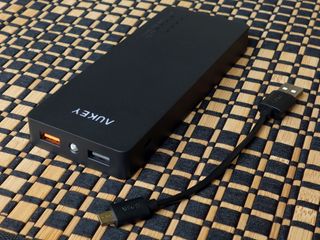 I've had no reason to abandon my original Aukey single-USB Quick Charge power bank — which I use more often than I like to admit — until this new and improved backup became available. While the capacity of the internal lithium-polymer battery hasn't changed, the solo USB output has. Aukey's added an extra USB output to juice up 2 devices head to head.
Measuring just over 6-inches in length and 2.4-inches in width, this solid black power bank has a hefty 8.7-ounces to it — making it a great blunt object when it's not revitalizing your devices. Pointing out the main features: there's a microUSB input on the right side for charging up the power bank (a 6-inch shorty comes with), a single power button on the opposite side, and a designated Quick Charge 2.0 port painted orange next to a standard 1A USB output. Oh, and in-between both ports is a built-in flashlight that can be activated by holding the power button for a couple seconds.
Obviously this particular power bank is best suited for devices packing Quick Charge 2.0 technology, but it'll still work like a champ for those that haven't caught up yet. To check the remaining battery life, you can tap the power button which will light up the Aukey logo on top; white (60-100%), green (20-60%), and red (0-20%). And speaking of charging any device — it comes fully loaded with AIPower technology that identifies your device's maximum voltage, along with security measures against over-current, overheating, and overcharging.
While the power bank is plugged in and charging, a pulsing red light = 0-19%, pulsing white light = 20-99%, and a stable white light means it's fully charged. Depending on the capacity of your device's battery, this 10,000mAh backup should provide at least 2 full tanks — if not more. Since I've been using mine, I find it much easier to carry around than its bulkier predecessor. It's easy to toss in my pocket, or any piece of luggage. The finish on the housing adds a bit of grip, too.
Image 1 of 3
The skinny
Although the Aukey 10,000mAh Dual-USB Power Bank with Quick Charge (opens in new tab) is (currently) my new #1, I think I'm ready to take the leap towards a dual-USB option that offers fast charging for both outputs. Soon enough, right? My only gripe is its slightly high $30 price point, however it's still an upgrade for my Galaxy S6 edge and LG G4. Bottom line: if you liked the previous single-USB version, you'll love this one.
$30 at Amazon (opens in new tab)
Get the Android Central Newsletter
Instant access to breaking news, the hottest reviews, great deals and helpful tips.
Oh man I'm getting one of these Posted From my Nexus 6/Nexus 7 2013/Surface pro 3

Solved the Note 5 battery problem Posted via the Android Central App

I'm willing to bet the note 5 gets 5 hours sot MIC DROP

I have the 10k anker version of this. It really saves the day with my s6e. I usually get 3 and a half 15% to 100% charges out of it before having to recharge the power bank. The quick charge ports really work as advertised to. Posted via the Android Central App

1A output from the 2nd output? Oy, not fast-charge, not even normal 2.1A change for most modern smartphones. Definitely slow charge from that connection. It's something, but very little benefit I think ...

Exactly. You can charge 2 devices at once, except 1 has to be plugged in all day... pointless "feature".

I have the original Aukey quick charger too, love it

Does this charge itself at QC speeds too or just QC output?

Just QC output this time.

One plus power bank I got one price was right https://www.androidcentral.com/e?link=https2F2Fcrea... Posted via the Android Central App

So if I'm reading this right, you have the choice between slow charging which takes hours, or quick charge which heats up the battery and shortens its lifespan. Is that correct? I would prefer a switch so you have the option of normal charging.

I've used quick charging for the last year with my Note 4. It works great and my battery is still great. That stuff about shortening lifespan may be real, but it's overblown and further, it hasn't existed - at all - for me ..

This. While my Galaxy S6e's battery certainly isn't anything to write home about, quick charge makes it tolerable. And, I have yet to experience any negative issues due to using QC 2.0 chargers. The more the merrier, I say! Posted via the Android Central App

@Brent..that's because you never use a phone more than 6 months.

*In my best Dwight Schrute voice* False. Prior to my GS6e, I rocked the Nexus 5 for over a year. In all seriousness, if or when I ever experience an issue I won't hesitate to make it known ;) Posted via the Android Central App

I probably notice it more because I hang onto devices longer than most. I had my last LG phone for four years, and I still have my Palm Tungsten T3 from 2002 which is on its 3rd battery. As senior engineer I've done a lot of device testing specifically for battery cycle times before our company approves them for general use for 13,000 employees, doctors, and nurses. It's plain physics and chemistry, but not a factor if you retire your stuff before 2 years. Unless it's an iPhone, which falls short of the typical 24 months and starts failing after 9 to14 months of hard use. I've had no less than 11 iPhones and we have thousand of them at work. But then again, when you have a phone that will do 9.5 hours of SOT (yes, I have screenshots) and averages 5 hours, 55 minutes, you end up not caring about quick charging anyway ;) Posted via the Android Central App

I need a powerbank that can quick charge it's internal battery.

Probably not going to happen anytime soon, but I'd settle for one with a solar panel that actually works, lol. Posted via the Android Central App

I dont know about this one, but the previous one (the one with single port for charging) it's input and output are QC2.0. Posted via the Android Central App

Put this in my wish list. Have a 8400 mAh anklet that still does the job. Once the price does down, I may get this.

Just came back from camping with a 20000mAh Aukey, really happy with it.

Here copied and pasted this from a deal site... better power bamk and half the price... Anker PowerCore 10400 10,400mAh Dual USB Power Bank w/ PowerIQ & 3A Output (AK-A1214011) on sale for $19.99 - $3 off with promotion code J2JVQ4JA = $16.99. Shipping is free with Prime, or on orders of $35 or more. Thanks TDMVP73 http://www.amazon.com/gp/product/B00Z9QVE4Q?tag=hawk-future-20&ascsubtag... Posted via the Android Central App

I have this one and I love it... just yesterday I charged my Note 4 and my wife's Note 3 together from less than 10% on both to 100% in under 2 hours.

If the phone manufacturers would design their phones with adequate batteries in the first place, there would be no need to lug around power banks.