AT&T will give Nexus 9 LTE owners $100 bill credit for signing a contract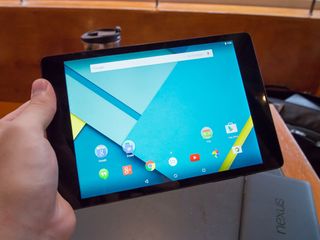 Wireless carrier AT&T is running a promotion that will give customers a $100 bill credit for activating a Nexus 9 LTE and signing a two-year contract. The offer is similar to AT&T's current holiday tablet promotion that takes $100 off the price of the tablet with contract through AT&T or an authorized retailer, but in the case of the Nexus 9 LTE subscribers will pay the $599.99 through the Google Play Store and then see the bill credit when the slate is put under contract.
For customers who want to hop onto AT&T's network, you can add the tablet to your Mobile Share Value Plan and pay $10 per month to share your existing data bucket.
Yeah um, no. Not for a tablet. Posted via the Android Central App

Yeah you get $100 and they'll get $1200 back from you hahah Posted via the Android Central App

??? I don't understand your math..... $100 Bill Credit for a "Bring Your Own Device". Service monthly on a Mobile Share Value plan is $10. If you take that and multiply it by 24 it equals $240. No where near the $1200 you made up out of thin air. The only way I see your math adding up is if you put the tablet on a stand alone plan and pay $50 a month for the service. That's not normally how these promotions are designed.

I don't think he was being serious. Lighten up man.. Lol Posted via Android Central App on The Nexus 5

Making it $140 to have LTE service on your nexus 9 for two years. Really not bad if you ask me. I just wish AT&T would finance the tablet. I can't pay for it up front.

2 year contract for a tablet? Lol Posted via the Galaxy Note 4

They had this offer for the nexus 7 over a year Ago. Was a better deal because the tablet was only $250 I think Posted via the Android Central App

Haha! No! I have not purchased any phones from att since I switch to there mobile share plans. Posted via Android Central App on 1+1

A $100 bill credit is worth about 3 cents. Posted via the Android Central App

If you are on a mobile share plan you can already tether devices so why pay an extra $10 a month to ise the data you are already paying for ? Posted via the Android Central App

Ding, Ding, Ding... We have a winner folks. Posted via Android Central App using the all new HTC One (m8)

This effectively makes the data access cost $6 a month instead of $10, and all you have to do is pledge two years of your life! Wonder what the ETF on something like this is... Posted via the Android Central App
Android Central Newsletter
Get the best of Android Central in in your inbox, every day!
Thank you for signing up to Android Central. You will receive a verification email shortly.
There was a problem. Please refresh the page and try again.