AT&T TV is a full-featured cable replacement based on Android TV, but there's a catch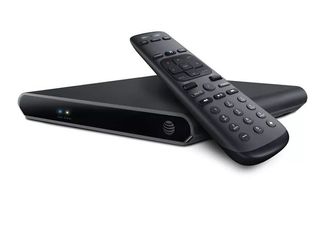 (Image credit: AT&T)
What you need to know
The premium AT&T TV streaming TV service is now available nationwide.
AT&T TV packages start at $50 and go up to $70 per month, with a two-year contract.
The AT&T TV Android TV set-top-box can record up to 500 hours of TV and comes with popular streaming apps such as Netflix, YouTube, and Pandora.
AT&T today announced the nationwide launch of its new AT&T TV streaming service. While the new service offers the same selection of live TV channels as AT&T's DirecTV service, they will stream over the internet instead of requiring a satellite dish.
The AT&T TV box runs Android TV and lets users store up to 500 hours of TV shows and movies on the cloud. It is bundled with a voice remote that has a dedicated Google Assistant button. Since the box comes with the Google Play Store, you can access content from over 5,000 apps – including Netflix, YouTube, and Pandora. Sadly, however, the box doesn't come with the Prime Video and Hulu apps.
AT&T TV packages start at $50 per month with a two-year contract. However, after the first year of service, the price of the base package goes up drastically from $50 to $93. If you opt for the most expensive Ultimate package, you will have to shell out $135 each month, instead of $70 in the first year. In case you decide to cancel the service before the expiry of your service agreement, you will need to pay $15 as early termination fees.
The Android TV set-top-box comes free of cost with a contract, although you will have to pay $120 up front if you want another one. In addition to streaming on your TV with the box, you can also stream on the go with the AT&T TV app. Setting up AT&T TV at home is also an easy affair. All you need to do is plug in the box and start streaming after a simple setup process.
The reason why AT&T is launching a new cord-cutting service is the massive decline in viewing figures for its other existing services. In 2019, a total of 5.5 million pay-TV customers in the U.S. cut the cord – with the vast majority of them being DirecTV customers. The hassle-free installation for AT&T TV also means the company will not have to bear additional customer acquisition costs. However, I am not too optimistic about the success of the new service, mainly due to its high pricing.
AT&T TV
The AT&T TV service gives you access to a great selection of live TV channels, 55,000+ on-demand movies and TV shows, as well as over 5,000 apps on Google Play. Thanks to the include voice remote, you can search for your favorite shows, control your smart home device, change channels, and more – with just your voice.
It's going up against T-Vision from T+Mobile which is similar to cable but cheaper.

This is not something that the cord cutter in me would be interested in.

The reason they lost customers is price and they still don't get it!

This is a joke. I think it's just AT&T trying to remedy their mistake of buying DirecTV. It's pretty much terrestrial DirecTV at this point.

I will stay with DTV... I will continue to stick with it as long as they keep giving me deep discounts... Streaming in general is BS. You end up paying the same amount once you figure in how many services you actually pay for... The nickels and dimes add up over time. Netflix plus Amazon prime plus Disney+ plus everything else. These telecom companies will get their money...
Android Central Newsletter
Get the best of Android Central in in your inbox, every day!
Thank you for signing up to Android Central. You will receive a verification email shortly.
There was a problem. Please refresh the page and try again.