AT&T starts back up $100 smartphone trade-in offer, runs until Dec. 7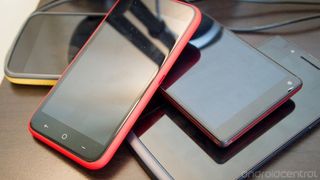 Put trade-in value towards new phone, tablet, accessories or service fees
AT&T is refreshing a smartphone trade-in deal that will give you at least $100 towards a phone, tablet or accessory purchase made at a carrier store. All you have to do is head into any company-owned AT&T retail location and trade in a smartphone that is no more than three years old and is in good, working condition (although they'll consider any device you bring in), and you'll be given a minimum of $100 to spend at the store.
The money can be applied immediately to the purchase of a new phone on-contract, bringing most devices down under $100 with a two-year agreement. And in cases where the value of your trade-in is higher than the cost of the new phone, you'll simply receive it for free. If you'd prefer not to refresh your contract, the trade-in value can be applied towards a tablet, accessories or even your next bill.
The deal is available at AT&T stores starting today and running through December 7th, so if you have an old phone or two that isn't worth much to you, maybe you can go trade it in and get a little money towards your next purchase.
Source: AT&T (opens in new tab)
Andrew was an Executive Editor, U.S. at Android Central between 2012 and 2020.
Sounds like a good place to get rid of my HTC Rezound. Gazelle was offering $25 a couple months ago, so this would be a welcome improvement. Posted via Android Central App

Not sure if this deal includes "off carrier" units, but surely you can get more than $25 for it on Greggslist.

Or Swappa. Most phones that aren't that old can usually get around 100, give or take 25

Greggslist, lmao, that sounds like real ghetto classified site, I can see a bunch of broken stuff in boxes being sold, funny stuff Posted via Android Central App

I'm guessing I can't use this to get an off-contract phone?

It sounds like you're basically getting store credit, so an unlocked phone would qualify.

Article says on-contract, though it looks like if you are already on contract it's a credit. Posted via Android Central App

The PR specifically says on-contract devices, accessories or credit towards a bill. I'd ask a local store, but it sounds like it won't apply to off-contract phones.

I'm going to take in my old Treo 650. Need some accessories. :-) Posted via Android Central App

All you have to do is head into any company-owned AT&T retail location and trade in a smartphone that is no more than three years old and is in good, ..... I'm guessing your Treo is more than 3 years old! :)

Oops, missed the 3 year old part. Posted via Android Central App

Damn you went with the Treo that was my phone, I even had a Treo 300, I miss though days a little bit Posted via Android Central App

They should say will give you at least $64, since they'll rip you off with that $36 "Upgrade" fee. The most passive-aggressive fee out there. They got sad they couldn't charge you another activation fee, so they made up a new one.

Two questions:
*Can you trade in more than one phone at a time?
*Can it be a phone that's not at&t? Posted via my Galaxy S4 Google Edition

They sure do hate us off-contract buyers. :-( Posted via Android Central App

Well, yeah. They want you on a contract, so they give incentives to those that sign the line. Seems logical, no? Posted via Android Central App

ATT semi-scam...Well you would think from their press release
any smartphone 3 years or younger in good working condition,
but when you go into the store with a CDMA phone they say...
you have nothing coming, total joke and waste of time. Called
customer service and they said NO! "We didn't write the promotion"
I'm sure they can explain the promo in less vague words, but they love to confuse.
Thanks for Nada ATT.

I used the promotion earlier in the year when AT&T first ran it. I turned in an old Verizon Motorola X2 (horrible phone) and got the $100 credit in the form of a gift card. The gift card can be used for anything and at any time. I immediately used it as a credit on my LG Optimus G Pro (E980) which had dropped to $100 on contract. So I got this wonderful phone for $0 plus the activation fee. I could have used the gift card to buy a barbeque at Home Depot. The card is not restricted to AT&T purchases.Without the promotion my Moto X2 was worth $35 as a trade-in. But because it was less than 3 years old, worked, and the screen was not cracked I got the $100 because of the promotion. You can turn in more than one qualifying phone. The deal worked for me. If you're out of contract and are in the market for a new phone or are purchasing a non-contract phone or tablet from AT&T it's a great deal for getting some value out of those old phones sitting in the drawer.

Sounds good but the AT&T site states " trade in their current, qualified smartphone". I take this as one that is on their network now? Maybe it depends on who you talk to? If you are switching from Verizon or have both V and ATT then maybe it would work?

i have AT&T and sprint, but I've got a few under 2 year old phones from sprint..think I could trade those in towards accessories for my AT&T phone?

Can anyone think of what 3 yr old smart phones can be had cheaply on eBay? I would love to get that credit but I can't think of what would be cheapest/less that 3 yes old. Posted via Android Central App
Android Central Newsletter
Thank you for signing up to Android Central. You will receive a verification email shortly.
There was a problem. Please refresh the page and try again.