AT&T shuffles key excutives; Glenn Lurie now leads Mobility business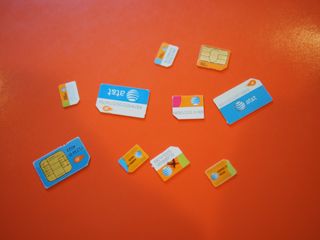 AT&T has just shuffled its leadership giving former AT&T Mobility head Ralph de la Vega a promotion and letting Glenn Lurie fill his old role. Under the reorganization, Ralph de la Vega will now lead the new Mobility and Business Solutions group.
The news comes just after AT&T rival Sprint had announced that it replaced former CEO Dan Hesse with Brightstar founder Mercelo Claure with the latter focusing on price cuts and network improvements as strategic areas for Sprint's growth.
AT&T cited that since it receives more than fifty percent of revenues from business-related customers, the shuffle made sense.
Lurie, an internal candidate for the AT&T Mobility CEO position, was seen as instrumental in forming key relationships with Apple, Amazon, and other key partners. Lurie was also in charge of AT&T's emerging products, overseeing AT&T's Digital Life smart home, AT&T Drive's smart car initiatives, and other products.
What do you think of the recent shuffling of execs at AT&T and Sprint?
Source: Fierce Wireless
Ok Posted via the Android Central App

I hope they can figure out what to do with LTE, expanding their footprint is great (yet challenging) but without any sort of wideband LTE to compete with Spark (which isn't much of a threat considering how it's only in a few d) XLTE and T-Mobile Wideband LTE, they're going to have to do something fast with their odd spectrum situation. hopefully the change in positions is a good thing. AT&T Galaxy S III

People are spoiled. Do you even need lte? Speed is overkill and it is battery drain. Hspa+ is just fine. Both are faster than my 1.5 mbps wifi. Posted via Android Central App on 1+1

current LTE modems don't drain battery to a point where it's noticeable. current speeds are fine, but so were edge speeds. data is used more and more and we need more bandwidth, it isn't about speed so much as usability. AT&T Galaxy S III

I have been with AT&T for over 10 years and would never even think about switching carriers. I was in one of the flood zones during Hurricane Sandy and they gave me a free month of service. During that disaster I had no trouble making and receving phones calls and even had great data speeds. Thank you AT&T! Posted Via AT&T Galaxy Note 3

Same here I'm a long time AT&T customer too with 4 lines of service. I can't remember a time when I was anywhere that I didn't have at least some type of coverage. A few times in very rural areas it was only EDGE but I'll take that over nothing. Just relocated 2200 miles and had coverage the whole trip. I will say IMO that the knowledge and quality of their CS has dropped lower over the last few years though. Not really a problem for me as I rarely have to use them. Not a Verizon fan and friends who have T-Mobile or Sprint are usually complaining about coverage. So I'll stick with AT&T even though I hate the bloat on their devices. I can fix that though with root and TiBu. From the DeathStar using my rooted LG G2

I have also always had service wherever I travel even in the rural areas. Verizon customers were asking me to use my phone because they had alot of trouble just making and receving calls during that disaster and many switched to AT&T because of it. Their customer service can be iffy at times but thats fine with me. Posted Via AT&T Galaxy Note 3

Was with them since cellularone days love them people say they suck but I cant complain I even broke my phone then called them for a early upgrade they gave me my sg4 for free plus gave me a month free. Posted via the Android Central App

Only time I had bad service was when I went to new Mexico up in the mountains, I think everyone there had Verizon. That was 4 years ago though, before lte. Might be better now. I actually have had great coverage in the middle of nowhere. Posted via Android Central App on 1+1

Would like to know what is excutives? Please, fix the tittle. Posted via the Android Central App

>excutive get Posted via my HTC one M8 GPE running android L

I hope att gets more competitive, since tmobile came out with cheaper plans att countered with mobile share value. I had 4 lines 6gb of data and was paying $250. Now I have 5 lines and paying $200. I wish someone could make rollover data... Well price might be higher than the others but network is better. I won't switch to tmobile because they have 2g except in major cities, once they get lte everywhere else, I might switch. As for sprint and Verizon, I will never switch, they are CDMA and don't use sim cards, they want to control your phone choices.
Question, is it $10 or $20 to add tablet to att mobile share value plan. I thought it was $10 but saw $20 somewhere. Posted via Android Central App on 1+1

$10 for tablets and $20 for mobile hotspots to a mobile share value plan.

It's $10 for tablets patstar5. It's $20 if you add a hotspot, usb dongle or wireless home phone.

Ok, $10 isn't that bad but I would have to pay extra for lte tablet. Rather just use my phone's hotspot Posted via Android Central App on 1+1

It's $10 for tablets patstar5. It's $20 if you add a hotspot, usb dongle or wireless home phone. Edit: Meant to reply to patstar5.

Who cares if a better data price/allowance plan isn't announced Posted via the Android Central App
Android Central Newsletter
Get the best of Android Central in in your inbox, every day!
Thank you for signing up to Android Central. You will receive a verification email shortly.
There was a problem. Please refresh the page and try again.