AT&T Samsung Galaxy S4 Active Android 4.4 update starts rolling out today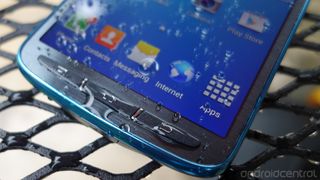 The Samsung Galaxy S4 Active has been graced with an update to KitKat 4.4 today. This includes the user interface update, better music and camera access, an integrated location menu, wireless printing, new sound controls, and all of the other goodies in KitKat 4.4.
The S4 Active was updated to 4.3 back in January, and launched over the summer with 4.2.2. You can check out our review of the S4 Active if you haven't had a chance to try one out. If you do have one, you can check for the update by tapping the Settings icon in the notification tray, tapping More tab, then About Device, and Software Update, and finally Check for Updates.
How many S4 Active owners do we have here? Are you happy with it so far? Looking forward to the 4.4 update? How many of you already have it?
Source: AT&T Blog (opens in new tab)
Simon has been covering mobile since before the first iPhone came out. After producing news articles, podcasts, review videos, and everything in between, he's now helping industry partners get the word about their latest products. Get in touch with him at simon@futurenet.com.
Saw my first one of these in the wild yesterday. Kinda neat but unnecessary now. /csb Posted via Android Central App

I agree the s5 makes this phone moot...if I were buying one now I would opt for an s5 instead. Waiting for my update still... Posted via Android Central App

why unnecessary? everyone who owns this phone deserves the update as much as anyone with a normal S4. you can't just update a phone to 4.3 from 2013 and leave it there... Posted on my Galaxy S III, Nexus 4, Nexus 7 (2013) or Gateway ID49C

I think he means that having an "Active" phone is unnecessary now since the GS5 is pretty much the active version in a normal body. The update is very much appreciated however.

This phone is what you could call "Samsung throwing stuff against the wall". It just happened to stick in the mainstream product design. Posted via my SPARK enabled Sprint LG G2, K00949438Yd FRAMILY!

My mom has one and works good for what she does with it. Posted via Android Central App

Have one as my work phone. I like it except for the TouchWiz. I have only had Nexus phones as personal devices. So I put the GEL on it. Couldn't find anything about rooting it to put stock android on it unfortunately.

I'll update my note 3 on Verizon directly to Google Toffee instead of kitkat Posted via Android Central App

Whoaaa!!!!! Where is theOTA link for that cause I'd like to have it since I can't get the Kitkat update. Ugh!!! Lol.

Knowing Samsung you dont even need to make a joke like that - you might think you will get updates when you bought a flagship but ehm... we are talking about Samsung though. A company that is flooding the market. Note 10.1 and android 4.1 inside =P (however the latest rumour and the note from Samsung was that we, finally!, get an update from 4.1 straight to 4.4. But hey, i believe that when i get it - we are now talking about Samsung and knowing its reputation i dont expect much anymore.) Or probably we jump straight to Toffee! Posted via Android Central App

my SIII has 4.3 and confirmed 4.4... made it farther than Google's late 2011 early 2012 flagship... Posted on my Galaxy S III, Nexus 4, Nexus 7 (2013) or Gateway ID49C

My wife has this phone, I just got the HTC M8, she is really jealous but maybe this will make her happy. Posted via Android Central App

Great news! Have this for my work phone. Glad to see Samsung didn't forget about this phone. Posted via Android Central App

Id hold back on updating your phone. It messed up my touch screen. Completely inactive...

Android File Transfer no longer works on a MAC

We can't even get the phone to see the update, all tricks done with clock, etc. It's prolly gonna be a week before we get it. Posted via Android Central App

Galaxy S4 Active owners can now celebrate, as their devices have received the head nod from AT&T to begin updating to http://www.smartphonesupdates.com/att-samsung-galaxy-s4-active-android-4... Android 4.4 KitKat. It's taken a while, but updates are always better late than never. Am I right, HTC One X and One X+ owners?

Why has my s4 active not upgraded yet I live in malta dose that make any difference because I didin't even get the 4.3 version

Im scared to download 4.4.2 after 4.3 completely screwed up my phone twice. .so does anyone have an galaxy s4 active updated to the newest version of 4.4.2 kitkat released on jun 6th (6/6/14)? And have you had any serious problems with it? Please let me know. .. crawler350@aol.com..email me if you want

Just got this update today about 3 months later and I'm in California. For the record I absolutely love this phone. My initial opinion was that the waterproof feature would be more of a gimmick than anything but I have come to discover that it's an incredibly useful feature I will deeply desire for every phone I own moving forward. I believe those calling the shots at Samsung made this same discovery which is why both the S5 and S5 active are waterproof, unfortunately I found the sizes of the S5 and S5 active too unwieldy despite my large hands.

to know how to update samsung galaxy s4 to android 4.4.4 visit :-
http://dexteroid.com/howto/update-samsung-galaxy-s4-android-4-4-4kitkat/

Im wondering if there was any updates for S 4 to Malta Europe ,,,,,,,,,,,,,i ve still got the 4.3 version ,,,,,,,,,when i try it says to check in 24 hours but nothing happens
Android Central Newsletter
Get the best of Android Central in in your inbox, every day!
Thank you for signing up to Android Central. You will receive a verification email shortly.
There was a problem. Please refresh the page and try again.