AT&T posts update guide for the Motorola Atrix 4G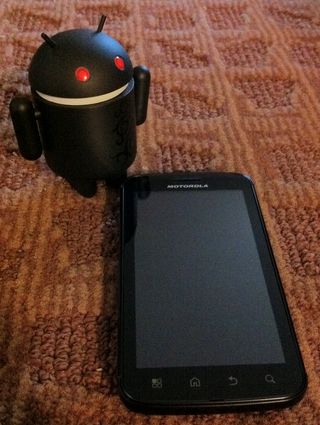 Hey, how about that. The Motorola Atrix 4G is getting its update today -- just like we first told you it would.
For some, a visual learning experience is needed and for the Motorola Atrix 4G users out there now getting the update we advised was coming, AT&T has now posted the a full how-to via their device support pages in case you need complete guidance through it. If that's not quite enough -- or if you run into issues, that's not a problem either. You can head on into the Atrix 4G forums, read the change log and ask help from those who have the update.
Source: AT&T (opens in new tab)
Where'd you get that little black android?

It'd be nice if my phone would give me the update...

What JayPhill89 said. Where did you get the Android dude???

I really don't remember where I picked him up from.. although, I'm sure it was just off a friend. I have a few of them kicking around.

Either it's part of the Dyzplastic collection authorized by Google and sold at the Dead Zebra Shop (Google it) & other authorized stores (they're the primary front end tho), or it's a chinese knock off from Ebay. They're released in limited runs tho so they're hard to score unless you don't mind paying 3x the price and/or getting a knock-off that doesn't reward the original artist(s). I got the Christmas one (painted up like a snowman, with a real top hat and carrot nose), two green ones (one was a gift for my sister), and a fully white one meant for you to paint it yourself. I think the holiday one was more expensive but the rest were $6-7. They did a Halloween power vampire, and two whole series of like 8 different designs each (blue one, nerdy one, racer, toxic, etc). They've been featured here before, and new ones sell out crazy fast at Dead ZEbra (think minutes).

Yepp, you are correct. I have four different ones, I learned about them from an Instructables guide, gonna put a servo, chip, and LEDs in mine :)

This is out of the blue question.. but where can i get the black android figure?
it looks dope!

LOVE IT Acandia007!!!!!!!!!!!!!!!!!!!! Impulses just wrote a 6000 word essay above and you freakin' ask where you can get the little black Android!!!! OMFG!!!! HAHAHAHAHAHAHA

haha i didnt even read the comments, i just wrote down my question >.<

You mean this article ISN'T about the cute black Droid figure?

5/2. 13:30pm CST.......STILL NO ATRIX UPDATE...... WHY RELEASE A UPDATE, IF YOU CAN NOT RELEASE IT.....ATT and MOTOROLA.....IDIOTS!!!
Android Central Newsletter
Get the best of Android Central in in your inbox, every day!
Thank you for signing up to Android Central. You will receive a verification email shortly.
There was a problem. Please refresh the page and try again.