AT&T HTC One receiving update to enable new frequency bands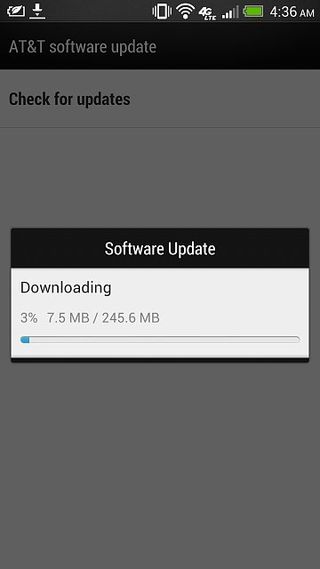 Hefty update enables Band 2 and 5 LTE for improved coverage.
Users with AT&T variants of the HTC One are pulling down an update starting this morning that is a pretty hefty size. The ~250MB update, which started pushing out today, despite its size does nothing more than enable Band 2 and Band 5 LTE on the handset. That's still an important change, and considering how large and complex the radios are the size of the update does make sense. Going forward as AT&T expands its LTE coverage to new bands it will be important to have everything enabled on the device ahead of time.
Members in our forums have already started to see the updates hit their own devices, and we've got the update downloading as well. Let us know in the forums if you happen to find any user-facing changes in this latest update.
Andrew was an Executive Editor, U.S. at Android Central between 2012 and 2020.
How does this affect those of us using international custom roms? Thanks in advance.

You would want to ignore the update and wait for the ROM builders to bake it in.

No custom Roms don't flash custom radio files. All you have to do is restore stock rpm flash stock recovery update and you are good to go back to custom recovery and rom. I just updated my phone and am back to custom ROM. Took fifteen minutes. Posted via Android Central App

One could also wait for the dev community to pull the radio files out and post them. That way you could flash the new radios without touching your ROM.

When you said "Restore stock ROM", does it means restoring using RUU file?

Any body know if the un-locked version has these bands...????

Appreciate the update, AT&T. Though being a consumer that is never satisfied, I would like the Android 4.3 OS update as well!

4.3 lol, I just want 4.2.2

4.3? You haven't even gotten 4.2 Lol I'd say that the HTC One won't get 4.3 until late 2013. At least the carrier tied versions. Posted via Android Central App

Bands will make you dance!

I was thinking the same thing... Posted via Android Central App

do we know where these frequencies are being used in the country?

Do like I just did. I've been running modaco switch dual boot. Just go back to the backup of your stock from, flash stock recovery and update. After flash recovery and restore. Posted via Android Central App

Attempted update, got red triangle with exclamation point and phone restarted about 2 minutes later. Any ideas? Posted via Android Central App

Worked for me. I restored my stock rom in twrp, flashed stock recovery, updated, flashed twrp, backed up, restored modaco switch. Easy as pie for those on custom ROMs whom want the radio file update. Posted via Android Central App

Can someone dump the radio so that if we are on custom roms we don't have to revert to stock?

Yes but you need to be s off. Posted via Android Central App

I am s-off at the moment do you know how to dump the radio?

I do not. Let me know I'd be glad to help. Posted via Android Central App

Thats ok over on xda we have discovered that the radio's are the same.

How is it enabling the bands. Send me the xda link Posted via Android Central App

Looks like it's a new radio. I'm on 4a.17.3250.20 Posted via Android Central App

For those interested I'm about to upload the new radio file. Will provide link. Posted via Android Central App

Here it is http://forum.xda-developers.com/showthread.php?p=44195358#post44195358 Posted via Android Central App

If they can unlock these new bands, can they unlock 1700 AWS/WCDMA?

I keep attempting to update my HTC One, but my phone either keeps giving me the "Service Unavailable" error or the screen just goes blank after attempting to check for an update. Any ideas on how to resolve this issue? I've been trying it so many times. Even rebooted my phone and everything.
Android Central Newsletter
Get the best of Android Central in in your inbox, every day!
Thank you for signing up to Android Central. You will receive a verification email shortly.
There was a problem. Please refresh the page and try again.