Asus ZenFone 6 leak shows the most peculiar notch we've ever seen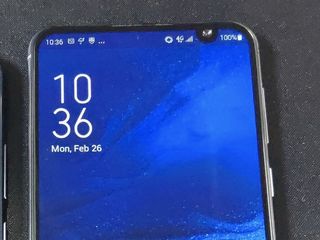 Notches on smartphones are commonplace these days. It's obvious that not everyone is a fan of them, but they're no longer surprising or unexpected. A new leak from HDBlog in Italy has revealed a few hands-on photos of the upcoming Asus ZenFone 6, and while it does have a notch, it's unlike anything we've ever seen before.
The actual size of the notch is quite small and reminiscent to the one found on the Essential Phone, but its placement is what's causing for a lot of commotion. Rather than being placed in the center at the top of the display, it's positioned at the far right. Another leak showed this same thing about a week ago, fueling the idea that this is the real deal.
Image 1 of 3
Looking through these new photos, we can also see that the ZenFone 6 will have a large-ish chin below the display, dual rear cameras, a USB-C port for charging, and even a 3.5mm headphone jack.
The ZenFone 6 will likely be a pretty typical mid-range Android phone whenever it's released, but it'll be interesting to hear Asus's reasoning for this notch placement. It's quite the eyesore to my eyes right now, but that could change once we actually get a look at the phone in-person.
What's your take on this new notch style?
The Pixel 3 should have had face unlock as an example for OEMs to follow