Asus ZenFone 6 leak shows the most peculiar notch we've ever seen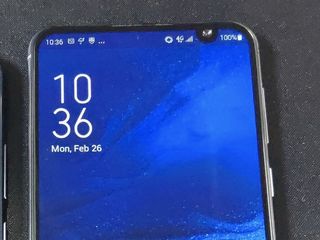 Notches on smartphones are commonplace these days. It's obvious that not everyone is a fan of them, but they're no longer surprising or unexpected. A new leak from HDBlog in Italy has revealed a few hands-on photos of the upcoming Asus ZenFone 6, and while it does have a notch, it's unlike anything we've ever seen before.
The actual size of the notch is quite small and reminiscent to the one found on the Essential Phone, but its placement is what's causing for a lot of commotion. Rather than being placed in the center at the top of the display, it's positioned at the far right. Another leak showed this same thing about a week ago, fueling the idea that this is the real deal.
Image 1 of 3
Looking through these new photos, we can also see that the ZenFone 6 will have a large-ish chin below the display, dual rear cameras, a USB-C port for charging, and even a 3.5mm headphone jack.
The ZenFone 6 will likely be a pretty typical mid-range Android phone whenever it's released, but it'll be interesting to hear Asus's reasoning for this notch placement. It's quite the eyesore to my eyes right now, but that could change once we actually get a look at the phone in-person.
What's your take on this new notch style?
The Pixel 3 should have had face unlock as an example for OEMs to follow
Android Central Newsletter
Get instant access to breaking news, the hottest reviews, great deals and helpful tips
Joe Maring was a Senior Editor for Android Central between 2017 and 2021. You can reach him on Twitter at @JoeMaring1.
Why don't we just go ahead and put a second one on the other side? Is there any way we can get a notch on the back of the device as well? Come on, guys! We can do better.

Looks kinda nice, actually. This and the essential notches are really the only reasonable ones.

+1 My friend has an Essential. That tiny notch doesn't bother me. I still prefer no notch.

Do people really think everything is an eyesore or is this just alarmist?

Give the option to make the status bar the same deep black color as the notch and I think it's a complete non-issue.

Any phone with a chin CANNOT JUSTIFY THE NOTCH. Get rid of the chin to get more space and if you really need more screen without making the phone bigger, then try the notch. But if there is a chin, then the notch is unacceptable. If you're gonna copy Apple iPhone X, then do it right. GET RID OF THE CHIN.

The costs associated with folding the screen to get rid of the chin would increase the price of the phone considerably. That is the justification.

Now we got a squint notch. What's next, a notch in the center of the screen?

When it happens, it will be all your fault. Thanks. Thanks a lot.

Why? Why give them ideas?!

Even the notch is ashamed to be there. It was captured forever in the body of the phone as it tried to escape off the screen.

If a device manufacturer needs to compromise by including a notch to make their device "bezel-less", than they are doing it wrong. Kinda like introducing a flying car that's tethered to a helicopter. Is it really flying?

So we have google with the biggest notch, and now Asus with the off-center notch...is there some cell phone design special olympics going on that I'm not aware of ?

Check out the chitty build quality on that device. WOW...just WOW. the USB port looks like they cut it with a exacto knife. The speaker ports are not even. Typical of ASUS there. Awesome ideas, Amazingly crappy implementation.
Android Central Newsletter
Get instant access to breaking news, the hottest reviews, great deals and helpful tips
Thank you for signing up to Android Central. You will receive a verification email shortly.
There was a problem. Please refresh the page and try again.