ASUS VivoWatch SP announced with ECG, PPG, and 2-week battery life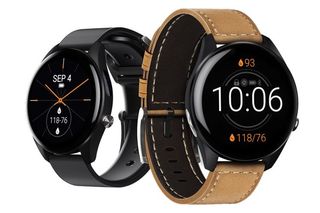 What you need to know
ASUS has announced its new fitness-focused smartwatch, the VivoWatch SP at IFA 2019.
The smartwatch comes with ECG and PPG sensors, GPS, an altimeter, and 5ATM water resistance.
It is expected to launch in Q4 of 2019, but the price is currently unknown.
ASUS is kicking off IFA 2019 with some new products, one of which is a smartwatch packed with health sensors. The brand new ASUS VivoWatch SP comes loaded with the usual heart-rate sensor and GPS, but what really makes it stand out are the ECG and PPG sensors.
Much like the Apple Watch, the ECG sensor in the VivoWatch SP will help monitor your heart health. However, to be considered a medical device, it must first undergo certification from the FDA in the U.S. When talking to Android Authority, ASUS said it had submitted an application to the FDA and expects to be approved in November or January at the latest.
Another trick the VivoWatch SP has up its sleeves is the ability to monitor your blood pressure. This handy feature comes from the PPG sensor, but it will only be available in certain countries. Not only will you be able to monitor your heart rate and blood pressure, but thanks to the Pulse XO sensor, you'll also be able to monitor the amount of oxygen in your body.
While all of these sensors will be perfect for keeping an eye on your everyday health, the VivoWatch SP is also made for sport. It features GPS to track your runs, an altimeter to track your altitude, and it is rated for 5ATM water resistance so you can even wear it when you swim.
Along with the watch, you'll also use the ASUS HealthConnect (opens in new tab) app on your phone, which will help you keep track of your exercise, sleeping, stress levels, and health, while providing personalized health recommendations using its HealthAI algorithm.
The ASUS VivoWatch SP has a lot of impressive sensors, but one of its best features has to be the two weeks of battery life. According to ASUS, the watch will be able to last up to 14 days on a single charge. Without having to constantly charge your watch, it will make monitoring your health a lot easier and more consistent.
There has been no word which countries ASUS's new smartwatch will be released or how much it'll cost. All we know for now is that the VivoWatch SP will be launching in Q4 of 2019, but more details will surely be revealed as the launch date gets closer.
What OS is this running? 2 week battery life it cant be Wear OS

Probably similar to the previous model: "The VivoWatch BP runs a proprietary operating system, not Wear OS, but it can connect to a smartphone via a mobile app."

I wouldn't mind updating my versa...I wonder how accurate this is

Now this sounds intriguing, if the price isn't ridiculous.

Looks pretty tempting. Hoping the price isnt to high

Asus lost me as a fan of their watches with the Zenwatch 3 I purchased back in 2017, while it was a great looking watch and had great features the purposed 3 day battery life never happened, more like 12 - 16 hours initially and dropped like a stone in water to less than 4 hours in less than a year - now it can stay on for barely an hour.

Look's much more simple comparing to other brands, I hope the functions are accurate
Android Central Newsletter
Get the best of Android Central in in your inbox, every day!
Thank you for signing up to Android Central. You will receive a verification email shortly.
There was a problem. Please refresh the page and try again.