Ask AC: Should I buy a Chromecast?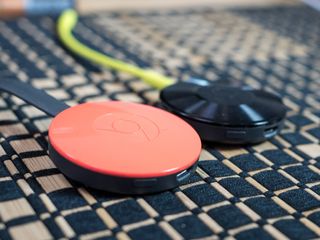 Google's Chromecast remains one of its best-selling products of all time. It's not hard to see why — it allows you to "broadcast" content from your phone or tablet to the biggest and best screen in your house where everyone can see it.
The low price makes it an attractive buy for many, and there are plenty of apps that are Google Cast enabled. Watching a movie or looking through your gallery with friends and family is just a tap away, and the new Chromecast Audio is an easy way to stream your music to your stereo or home entertainment system when you want to liven up the place with a tune or two.
We get the question "Should I buy a Chromecast (opens in new tab)?" a lot. We've been using them since Day 1, and here's what we think.
Phil Nickinson
Yes. Yes you should. In fact, you should buy one for every television in your home. Does your neighbor have a TV? Buy them a Chromeast, too. Basically anywhere you go with any frequency needs to have a Chromecast. Want to play music? Watch a video? Share pictures with a group? You want a Chromecast.
It's probably the best product, and the best service, Google has come up with. To say nothing of the price.
Russell Holly
Yes.
Wait, sorry. Jerry says I have to have more here than that.
Hell yes.
Still not enough? Fine.
In the short time Google Cast has been around, it has quickly become the closest thing to a global streaming standard we've had since the early Flash days. While you who remember the Dark Ages are busy scheduling appointments with your therapist because I surfaced some repressed memories, I'll explain to everyone else what I mean. The Google Cast icon — those three lines coming off the corner of a rectangle, are everywhere now. You find them on Android, iOS, all things Chrome, Windows 10, and half a dozen no-name embedded web streaming systems. I'm surprised when I find something that doesn't support Google Cast nowadays, and for $35 you can stream just about every video on the Internet to your television. There is no downside. If you don't already own a Chromecast for video, you are wrong and should course correct immediately.
Audio is a little different. Chromecast Audio is cool if you do all of your listening through a streaming service and you don't have a nice stereo system, but as a platform Chromecast Audio hasn't reached the utility and ubiquity of its video counterpart. Who knows where we'll be in a year, though, and when you consider the cost of the competition it's still an incredibly easy decision to make.
Andrew Martonik
If you have an Android phone and/or tablet (and I'd even argue if you had an iPhone), it's pretty much a no-brainer decision to get yourself a Chromecast. At $35 (or less, with frequent promotions) it's a complete impulse buy, but one that you won't be regretting later.
Whether you just use it here and there for casting from Google Play Movies or take advantage on a regular basis of the dozens of great media apps that use Google Cast, you'll always be able to find something to do with the Chromecast. It just sits there on the back of your TV, ready to go whenever you want it.
The only reason you'd consider not having a Chromecast is if you plan on going with a higher-end Android TV device instead (the NVIDIA Shield Android TV is my current favorite), as those operate as Cast targets themselves. Some people are better served by a standalone box with its own remote, and the fact that they include Cast support is a nice bonus.
Jerry Hildenbrand
Nope. You should probably buy more than one.
Seriously. For $35 you can stream all your Google Play content plus content from hundreds of apps on both Android and iOS. Put one on every television in your house and you'll use them. Like Andrew mentioned above, I did replace the one in my living room with an NVIDIA Shield TV, but not because I was disappointed with the Chromecast. Android TV is a Google Cast target (set it up the same way as any other Chromecast) so I didn't need it there. With Google OnHub's guest network services, even folks who come over can use it. I love the damn things.
Also — if you have a stand-alone stereo system grab a Chromecast Audio for it. Sure the source material from streaming services isn't the greatest, but it's convenient and online servers have way more music than most of us ever will. The hardware itself hands off pretty clean audio, so chances are the sound will be acceptable to anyone but the most snooty audiophile.
One last thing — your dad would probably like a Chromecast for Father's Day if he uses a smartphone (and doesn't already have one). $35 makes you look like a champ to pops, so everyone wins.
Daniel Bader
I'm coming at this from a Canadian perspective. Right now, you can buy two Chromecasts for $75, which works out to a clean $37.50 each — not bad for one of the most useful, dead-simple TV accessories you can buy.
The Android streaming apps I care about (and even some iOS ones) like Netflix, CraveTV, and Shomi all support Chromecast, which is a big deal for anyone who spends a lot of time, like I do, binge-watching old episodes of The Wire or Homeland. I've purchased more Chromecasts for people as gifts over the last couple of years than pretty much any other piece of technology, and despite its lack of a remote or idle "interface," most people — even those traditionally averse to technology — understood its utility.
So, yes. Get it.
Richard Devine
Should you buy a Chromecast? Yes, you should. OK, you want more? If you're using an Android phone or even an iPhone, there's not really any reason I could convincingly say you ​shouldn't​ get one. It's cheap and accessible to so many different apps that it becomes one of the best value pieces of electronics money can buy. And you don't need to worry about yet another spot in your entertainment center being taken up.
The bigger question for me is whether or not you can buy a Chromecast and use it exclusively over something else, such as the Amazon Fire TV or the Apple TV if you're on that team with your phone. The Chromecast is excellent, but it also requires using a phone or computer to do anything with it.
I have a young son and he's of the age now where he's clever enough to open up Netflix and put on his favorite show. I'm fine with him grabbing the Amazon remote to do this, but there's no way I want him picking up my much more expensive phone to do the same. And maybe more besides. That's where I think there's a decision to be made. For me, I'm absolutely happy I have a Chromecast, but the set up in my home means I'm also happy I have an alternative for my kid.
See at Best Buy (opens in new tab)
Get the Android Central Newsletter
Instant access to breaking news, the hottest reviews, great deals and helpful tips.
Senior Editor — Google Ecosystem
Jerry is an amateur woodworker and struggling shade tree mechanic. There's nothing he can't take apart, but many things he can't reassemble. You'll find him writing and speaking his loud opinion on Android Central and occasionally on Twitter.
Yes, you should buy a few. Posted via Techmology

Exactly! Posted via the Android Central App

honestly, if you haven't already bough a couple of them, I really don't know what your doing with your life! lol I really cant see somebody that is into android enough to go online and be part of a community about android and not have at least one.

I have four. The only TV to not have one attached is the new 55" 4K Vizio I installed in the bedroom. Why not? Easy. The TV has Google Cast built in, and it works, casting 4K Netflix and YouTube with ease. I even bought one for my mom, out of the blue, because well, she's my mom and deserves a great gadget.

You sound like me. Don't forget the CC Audio though Posted via Techmology

How do you like the 55" I read people dislike the ips but then some say it's better than VA and it's a better panel made by a better company. Posted via the Android Central App

It's pretty good. Good enough for a bedroom for sure. There is some flashlighting and backlight uneveness but it's only noticeable when the unit boots up and shows the boot image. The picture is pretty rich and bright with decent blacks and shadows. I think my living room 60" Samsung 6300 series 1080P from a few years ago has an overall better picture, but for the price the Vizio is a great deal. I especially liked the really thin bezel that is symmetrical. For some reason, non-symmetric bezels bug me and Vizio had those for years.

Accurate. I have one love it. Set a play music playlist and jus let it ride. Posted via the Android Central App

All TVs need a Chromecast except the following: * TVs with built in Google Cast
* TVs with an AndroidTV attached
* TVs with built in AndroidTV Period. Exclamation point. Apple tried to do something similar with Airplay, but that's still too proprietary. Next thing you know, Apple and Roku will probably have to release Google Cast receiver software for their boxes. Maybe Amazon too (THAT would be funny!) Posted via the Android Central App

Does it make sense to buy the new Chromecast versus the original one? Posted via the Android Central App

Yes. Faster streaming ramp-up coupled with 5 Ghz AC support.

Yes, this! The lack of 5GHZ, in the previous Chromecast, was my principal complaint, due to the amount of buffering I had to endure. The newer version Chromecast is absolutely flawless! Posted via my Gift from God Nexus 5X/6 with Project Fi

5GHz? I plug my Chromecast direct into my router.

How? The Chromecast doesn't have Ethernet. Posted via the Android Central app on my Nexus 5X with Project Fi

Maybe it's alien technology?

No, magic --> https://www.androidcentral.com/e?link=https2F2F...

Interesting. I wasn't aware they even made that. Posted via the Android Central app on my Nexus 5X with Project Fi

I was just making a joke.

Are you sure? https://www.androidcentral.com/e?link=https2F2F...

"5GHz? I plug my Chromecast direct into my router." So? How does that answer the person's question regarding the differences between gen 1 and gen 2? Ohhh. You were just pounding your chest? Got it. That makes more sense.

Huh? i didn't reply to that person but to you. Are you new to this? I was just pointing out plugging direct to the router is better than wireless and an option which two people according to their comments here didn't know about. That a problem? Maybe the comments section is just a little to intense for you...

I said nothing about which is better. I was describing the difference between gen 1 and gen2. I said nothing of ethernet vs wi-fi. Your comment was a classic non sequitur.

If you're on a 5ghz network, yes. If not, still yes because why not?

If you're buying a chromecast go for the newest model, why wouldn't you? If you already have one and don't particularly need to use the 5 GHz band, it's not really worth the upgrade. I'm still using the old model. It's best to assume I'm being sarcastic. if I'm ever serious I'll type "/s" to make it clear.

Yeah, I see no reason to upgrade since I live in a pretty small house and the 2.4 GHz band isn't particularly crowded. Without adding extra features, it would be really hard for Google to improve on the original Chromecast's experience for me. Posted via the Android Central App

I have both, and there is a big difference. I notice that video's load much faster on the new one. Also, sometimes with the original there is stuttering and the video/audio seems to get off sync. That's only occasionally though. There are 4 TV's in my house, and originally I bought to of the 1st gen Chromecast's for the living room and the bedroom. Then when the new ones came out I bought two more. One for the kitchen and one for the office. Posted via the Android Central app on my Nexus 5X with Project Fi

The old one still works great, they're on Groupon for $20 refurbished. Comes with Warranty from Google.. But, yes the new one is indeed better Posted via Techmology

Buy the new one, I had a Gen1 that I replaced with a Gen2 (and still kept it on the 2.4 network) and it is much better in streaming less buffering and seems more responsive to input changes or even pauses.

Yes End of article Posted via the Android Central App

I'm still confused about Chromecast (I have one, just don't see the purpose). What can the Chromecast do that my PS4 can't? It has Netflix, Hulu, YouTube, Spotify, etc... not trying to be a troll, I just wonder if I'm missing out on some neat functionality.

It really comes down to the ability to be using your phone and say, "I'd like this to be on the TV right now" and by the time you're done with that thought it can be playing on your TV. I've never met a media interface that was easier to navigate than native apps on my phone, so Chromecast is just easier for me. Posted via the Android Central App

Mostly what glazed faith said. Plus screen mirroring can be useful. Really, doing this stuff with a console is ballache. It's mostly fine until you need to type something, the experience is so much nicer with a chromecast. It's best to assume I'm being sarcastic. if I'm ever serious I'll type "/s" to make it clear.

Ease of use. That's it.. Plus can cast your browser from any laptop and can cast movies from any device (locally) Posted via Techmology

The absolute best use is bringing your library with you. When I'm at a friend's that has casting capability I can just grab my phone and cast something from my library to their TV. Posted via the Android Central App

I earn a few $ of Google Play store credits a month using Google Rewards. I usually earn at least enough for a movie rental per month, plus I got a $100 play store credit for an HTC phone purchase a while back. So I rent movies on my phone and stream them to my receiver when we want to watch rentals. I also cast music from Google Music, and I take my Chromecast with me on travel so that I can watch whatever I have on SD on the hotel TV. Posted via the Android Central App

To cast stuff from your phone, pictures, videos, etc.. Recorded my boy's play with my phone, the whole family couldn't make it. So they got to watch it on the 60 inch screen TV :) Posted via the Android Central App

You can play stuff almost instantly without having to turn on and install 30 minutes of updates first. (Actually I don't know if this is still a thing) Posted via the Android Central App

What is that xbox stick? I don't beleive the Xbox stick exists does it? Is that a wifi connector for the xbox controller to pc or what?

Yeah, looks like an Xbox one wireless adapter for windows to me... Notice it's USB not HDMI? It's best to assume I'm being sarcastic. if I'm ever serious I'll type "/s" to make it clear.

One is Microsoft's Miracast adapter, the other is the wireless USB adapter for the Xbox One controller Posted via the Android Central App

I'll answer this.... YES do yourself a favor and get at least 2 of them. Posted via the Android Central App

I think if you can find the Nexus Player discounted for around $50, that would be a better option. You get Android TV and Cast support.

Yes. I spent 2 hours trying to get netflix to stream on my Roku 3. The apps on this device are garbage. I plugged in my chromecast and started my show within 15 seconds. Posted via the Android Central App from my S7 edge

Don't forget the Chromecast Audio. As soon as Google rolled out multi-device sync to the Audio, I bought four of them. I had a few 2.1 channel soundbars in my basement, and I placed them around my house and hooked a CC Audio up to each, and now I have whole-house synced audio, and it cost me less than $150 to make it happen. Posted via the Android Central App

"Chromecast Audio is cool if you do all of your listening through a streaming service and you don't have a nice stereo system" Russel Holly, say what? It's for when you don't need to stream TV, if you don't have a DAC, or if your very NICE stereo system doesn't have HDMI in but you still want to capture and stream digital audio. BTW it's not only for "streaming services" either. Can you name a product an the samet price point that does what the Chromecast Audio does for systems that don't have HDMI in?

If I didn't have an Xbox one in my living room I'd be all over this thing. The Xbox can do everything this can and more but this is very affordable. Posted via the Android Central App

I believe the Xbox One uses the Google Cast protocol. Posted via the Android Central app on my Nexus 5X with Project Fi

That makes sense why it's so good then. Posted via the Android Central App

Absolutely get one. You won't regret it. I have 3 for our TVs. I also just picked up the Chromecast audio and it is great. Now that the Chromecast audio has multi room support you can have the same song playing in different rooms at the same time. Although you will need to have a Chromecast audio hooked up to each set of speakers you want to use. But at $35.00 each it is still a cheaper solution than Sonos.

Should you buy the 2nd gen model if you already own the 1st gen model? Posted via the Android Central App

I would say only if you have buffering or other issues. 3 of my 4 Chromecasts are gen 1. I bought gen 2 direct from Google the day it was released and it's connected to my main TV.

If you are having any lag or buffering issues, then yes. I was very pleased with my upgrade.

Yes!!! I have four of them :) Posted via the Android Central App on Moto G3 16/2 on $35 Cricket wireless plan.

I'm using my second generation as I type this and my brothers use my older 1st gen. AT&T Galaxy S7 Onyx Black with Unlimited Data

Actually, out of my Rokus, Amazon fire tvs, fire stick and a few Chromecast devices, the Chromecast gets the least usage. Don't want kids using my phone, but they cast from their devices. Got the Rokus a while back but use the Amazon devices for Kodi.
I do love using Chromecast Audio. Posted via the Android Central App

Absolutely. And I recommend the Chromecast even if you don't have an Android or iPhone (ie. if you're one of the 4 people still using Windows Phone) as all you need really is a Windows PC/tablet that can run Chrome on it. However, if you live in a country where Amazon Fire stick or Roku is available, you might want to consider it. The Chromecast 2 here runs for 39€ and for that sort of money you might want to consider something else with more power and less dependence on another device. If you can get it for the price of the original Chromecast though, definitely get it.

I bought the Fire TV stick the other day and it has serious problems. It overheats regularly, even when using an HDMI extender and the interface is slow. Chromecast is better.

Isn't this just Mirrorcast ? If so, I have it built into my TV... I have taken my Nokia ICON and my LG G4 in about 10 seconds got them on my 4K tv...

No, chromecast can do mirroring similar to miracast (but more stable in my experience), but it does so much more. You can actually cast a video to chromecast and still use your phone to do other stuff, it's a separate device controlled by a phone rather than just a wireless display. They should rename miracast to mehracast. It sucks. It's best to assume I'm being sarcastic. if I'm ever serious I'll type "/s" to make it clear.

I couldn't agree more. Miracast is garbage. Even the Google Cast mirroring feature works better. Posted via the Android Central app on my Nexus 5X with Project Fi

Should I buy a Chromecast? Posted via Android Central App

Does chromecast need a connection to a router or can it make a direct connection like miracast?

Needs a connection, it's the one advantage I can think of for miracast. It's best to assume I'm being sarcastic. if I'm ever serious I'll type "/s" to make it clear.

So not that useful for hotels?

Yes. it's good for hotels. Most hotels have free wifi....unless your staying at mike and brandy's roadkill inn and suites.

Mike and Brandy's roadkill inn and suites have free mints, though, so I dunno . . . .

You still need to configure it w a computer, etc to accept terms and conditions of their slow wifi. I find them horrible for hotels. Posted via the Android Central App

Good idea to take your own router on a trip and plug into ethernet port in hotel room. Did this at hotel/conference center in Potomac and the experience was fantastic! Yes average hotel will probably frown on such or even block it, but when it works, it works great. Posted via the Android Central App

Good points.
My friend works for a hotel chain in securities and when the first chromecast came out we talked about if they would ever 'rent' chromecasts preconfigured for their wireless networks. They were thinking about it for a bit but then nixed the idea. would have been cool to have it already set up on their wifi.

Yeah a small portable router isn't a bad idea. Could you not also use a second device as a hotspot? Not the most elegant solution, but it should do the non job. It's best to assume I'm being sarcastic. if I'm ever serious I'll type "/s" to make it clear.

At that point isn't it just easier and better to use something with miracast or just a MHL>HDMI cable?

Check out Connectify for Windows. It turns your laptop into a wi-fi to wi-fi hotspot. That solves the Chromecast hotel issue with their additional sign-up pages.

My answer? Yes. I use Chromecast for everything.

I have 4 Chromecast's. 2 new ones and 2 original ones. That's every TV in the house. It's great to be able to cast anything no matter what TV I'm using. I also have a Fire TV Stick because Amazon is greedy and won't support the Chromecast. I use Prime Video and I don't have a game console to watch it on my TV. The Chromecast is by far a superior product though. Posted via the Android Central app on my Nexus 5X with Project Fi

Disagree. Firetv / stick w their voice remote is incredible, but they both do things differently. Posted via the Android Central App

Agree with the OP. I recently purchased the Fire TV Stick and it's got major issues. The thing overheats and has a slow kludgy interface. The voice searching is nice though.

I have multiple chromecasts (1 Gen1, and 3 Gen2) and like them a lot. Personally, I like my Roku better than the Fire TV stick. The Roku is so much better than the amazon stick and I have yet to find anything the fire tv can do that the Roku can't do.

Stop holding back Phil. Tell us how you really feel. Anyway I'm sold now. I'll be picking one up this weekend.

I was going to ask some questions here regarding it's input/output specifics, but honestly yes it's just cheaper to go buy the dang thing. Even if I only use it once, I'm sure it'll be worth it.

It is. We only use it every now and then at our house but it's great to have when you need it.

Best £30 I've ever spent, and it's easily paid for itself in free streaming subscriptions and free films. I neither have, nor want, a smart TV (look at the stuff Samsung and LG do with ads on theirs, not to mention other stuff), so this little dongle allows me to buy whatever dumb TV I want and add all the connectivity I need. I use mine for almost all my TV viewing. I use it for music too, since I have my speakers connected to the TV, which can output audio without even having the screen on. It's truly amazing what such a small, cheap bit of tech can do. Posted via the Android Central App

I bought the Audio for £15 ($20) last week. Nice bit of kit and has some serious volume output. I did have a ROCKI before that but it was junk and I stopped using it ages ago. In fact I should toss it in the trash. My Hi-Fi used to be a high end Meridian system but I gave it to my Dad several years ago. Now its just a original rooted and junk cleared Samsung Note in a docker plugged into a little Fiio Class D amplifier running Spotify Premium / Amazon Music through it. The Chromecast Audio is also plugged into it. Surprised no one has made a little custom clip on battery pack for it that would give say 4-5 hours usage. Just slips underneath like a little cup, clipping into the USB port.

I have 3 tvs and a projector. I have 4 chromecasts. I even gave away my rokus

I'm gonna be that guy, I guess. I bought a first gen Chromecast. I never use it.
I tried. I really did. I tried through my PC. I tried through my phone. The quality was poor. It was annoying to have to use a PC or a phone to control what I saw on my TV. There was constant stuttering even though I had a top-of-the-line router and a 40mbps internet connection. I only had two HDMI ports on my TV, so I had to use a splitter since I also have a Roku and my DVR used one. This was a problem because the Chromecast always took over the connection, always superseding the Roku, forcing me to manually change the input control. I finally just unplugged the useless thing and haven't plugged it back in for maybe two years now. I don't feel like I have any reason to plug it back in or upgrade to the newer version. Everything I need is handled just fine through my DVR, my Roku, my FireTV stick and/or my Sonos.

There's always one contrarian. Congratulations. You are aptly named.

Well...as you can see in other comments, I'm far from the only one.

You said you were "gonna be that guy" that guy. Own it.

I had one when it first came out and couldn't find a use for it...I don't think it supported plex then...Does it now? Anyway it didn't seem useful to have to burn my phones battery for streaming when I can just use my Roku...in my case just didn't seem useful. Posted via Serenity

You don't burn your phones battery, the Chromecast does the streaming. Posted via the Android Central App

It does in fact support Plex I use it all the time

Did it when it first came out?...anyway I don't know what this can do that plex cant. If I want something streamed at this point it goes in plex... Posted via Serenity

You still have to get your Plex content on your TV, so using your phone and a Chromecast you can stream from your Plex server to any TV.

Plex is supported and works very well.

Plex is supported and has been for Plex Pass subscribers for a long time. I'm pretty sure it was available when I got my first Gen1 Chromecast.

Is there any point in getting one of I have a smart TV? Posted via the Android Central App

Maybe. Does the Smart TV support Casting?

It depends on how effective the Smart TV interfaces are. I find most to be slow and annoying. Using the phone to find and queue up content is much better. You can even add things to the queue while your Chromecast is playing something else. Try that with a Smart TV app.

I have one on each of my tvs, and hardly ever use them. They'd be more useful in my house if the Chromecast returned you to the hdmi input you were on prior to casting. I know how to return to the Tivo hdmi input, but apparently too confusing for others in my household. My fault really, since Tivo makes it easy to watch Time Warner, Netflix, Amazon, Hulu, Vudu, YouTube and HBO Go all the the same hdmi input.

I have three TiVos. The TiVo streaming apps are slooooowww. Chromecast is much faster.

I have the 1st gen CC. I am considering the new Roku Streaming Stick that is now on sale for $39. Outside of casting my phone's gallery, is there a reason not to give the Roku a try? Posted via the Android Central App

People have said that the Roku stick is underpowered.

I had the first generation Roku Streaming Stick and it was underpowered, with that said I haven't tried the new one. I replaced my Roku stick with a Roku 3 and have been much happier with the results.

I purchased one. I've heard the new version is much more powerful.

I have a new one and ive had no speed issues with it. Bought it because I was having disconnection issues with my second gen Chromecast and Google's customer service dicked me around Posted via the Android Central App

I've said this before. CC's should come bundled with phones Posted via the Android Central App

Then your phone will cost $30 dollars more. I already have a Chromecast, so I'd rather have the money. Posted via the Android Central App

"I've said this before. CC's should come bundled with phones" You should stop saying it.

persist.debug.wfd.enable=1 Pretty shady that Googs disables competitors even though they work as good or better.

I've enjoyed my first gen CC but I'm extremely disappointed in the Chromecast Audio. I was an early adopter and didn't realize that I couldn't stream YouTube to it (have to mirror my phone which is a pain). I would really like to see Google add YouTube support to the Audio version and include the video units in audio groups.

YouTube Audio app. Problem solved.

I have 2 chromecasts and 1 audio. My only issue is that they audio and video versions do not work well together. You can't stream the audio from youtube for example to the audio chromecast which sucks, you need a video for that. But you can't use multiple speaker systems for the video unit when playing Google music audio...you need multiple chromecast audios for that. Please Google, this is stupid. I should be able to play my music on multiple speakers even from the regular chromecast without needing another and to have to switch inputs just for that. Other than that, it's the best product ever created. I purchased 1 for my parents as well

Your expectations are unreasonable.

I have 3 CC Audio in my home and i'm using them as for whole house/backyard audio. I love them and they are impressive. They were great for memorial day to keep the music going. I have only 1 TV in my home and that has a Shield TV hooked up to it unless i'd have at least one more.

Buy at least 6. Was rather disappointing. Just got my new 4k "Smart" TV with its built-in Youtube (cr)App and while it does support YouTubeRed, it does NOT support playlists (da fuq!?). Once again proving that smart tvs are a joke that needs to be put down. A $35 chromecast lets me run "REAL" youtube with all its features right from my phone. Oh, and when youtube adds new features to the app, it automatically works with Chromecast without it needing to be updated or replaced. Chromecast is actually a "dumb stick" and lets your phone be the brain. Having a single brain handle everything, rather than multiple brains fighting for control (ala too many chefs in the kitchen) is where the problems start. Great having 6 TVs with 6 chromecasts. Using HDMI-CEC I can start playback on any TV with a tap on my phone.

I don't find the Chromecast particularly useful. I like having an interface for the app based stuff and my Roku does all of that better than the Chromecast. The Roku also supports casting and mirroring which works just as well as the Chromecast in my experience. The current Roku stick is $50 - worth the price difference imo for the remote and interface - but to each their own.

Rokus don't support "casting." Just mirroring. In my experience that's a poor substitute, particularly when trying to play videos. Not to mention it drains the battery on the mirroring source. Casting, on the other hand, means giving an order from the source device but all the work happening on the target device.

Nope - it does support casting. Yes - mirroring does drain your device as it does on the chromecast. Casting a youtube episode for example goes via Youtube and does not utilize the phone while playing. Edit - Ok - so don't want to put inaccurate info out there - looks like the Roku supports casting with things that use DIAL. So Netflix and Youtube support casting.. not the things designed for whatever the updated Chromecast spec is.

Mirroring drains your device MORE than casting does, because with casting, your device isn't doing the heavy lifting. Roku primarily relies on Miracast mirroring to receive input from remote devices for anything outside of Netflix and YouTube. So technically it supports a (very) limited subset of casting on two apps that you'd probably be operating with the remote anyway.

I bought a Chromecast a while ago and I love it, though my mother uses it way more than I do Hahaha. Today I bought a Bravia with Android TV (woo, my first smart tv) and built in Chromecast and my god is it brilliant. Blackberry Priv
Nvidia Shield "Portable"
Xperia Z3 Tablet Compact

I have a couple that I don't use a whole lot, but very handy for when I do need one. Posted via the Android Central App

I have the original one and I do use it a lot. I would probably get more, but only if I can find more of the original units. Sorry Google, but the latest chromecasts are ugly Posted via the Android Central App

Has the problem with video stutter and audio sync finally been fixed? The only time I've seen smooth casting is from a Samsung smart phone to samsung smart TV. Samsungs all share cast device a few years back was terrible, I won a Belkin miracast last year and it works with my PC but stutters occasionally and suffers low video quality. I've used the original chromecast as well, worked a little better but not well enough for me to purchase. Does the newest Chrome cast actually play back HD video smoothly? I don't use these things because the quality is so horrendous I'd rather just watch on my tablet screen. Posted via the Android Central App

I have been using Chromecast since launch and LOVE them! I bought a new one when they came out, but honestly, haven't seen any difference in functionality vs. the original "H2G2" model (someone at google is a fan of Hitchhiker's Guide!). Now, Jerry Hildenbrand above says "Sure the source material from streaming services isn't the greatest, but it's convenient and online servers have way more music than most of us ever will. The hardware itself hands off pretty clean audio, so chances are the sound will be acceptable to anyone but the most snooty audiophile." but I wholeheartedly disagree! I use my Chromecast with Google Play Music and TuneIn radio every single day, and it sounds PHENOMENAL! The trick, if you care about audio quality, is to use a DAC (Digital to Analog Converter). ESPECIALLY if you are using the Chromecast Audio! The Chromecast Audio has it's own (serviceable) DAC, for analog output...but if you want to take it up a notch, it supports optical digital output as well, using a mini-plug to Toslink cable! GET ONE! Then buy a good, stand alone DAC! I use the Parasound ZDAC, personally, and LOVE it...it retails around $400 or so. The Dragonfly is also a good inexpensive DAC (you can spend as much as you like on these...Meridian just came out with a nice one for a cool $20,000!). But the difference, even with a basic DAC is NIGHT AND DAY to not using one! In any case, having the Chromecast means I have millions of songs on tap, thousands of TV shows and movies...and literally, it's the only streaming device you will ever need! I can't recommend them highly enough!

I need to look into this. Driving Klipsch via Yamaha AVR and while I love convenience of the latest chromecast I'm not thrilled with audio quality and it didn't seem like the audio cc was going to help since I was already using the yammy ... But this gives me new hope of improving the quality of Google play music or Spotify. Posted via the Android Central App

Something that rarely comes up in discussions of Chromecast is the downsides of it not being a stand-alone product. It used to be if friends or acquaintances came over, they just needed to pick up a remote control to get access to the services you subscribe to. If you had cable, satellite tv, DVD or BluRay, a visitor could just watch it regardless what they themselves own. Chromecast drastically changes this. The Chromecast has no subscriptions associated with it. If you have a Netflix subscription, it is tied to your phone. If you have HBO GO, it is tied to your phone. The list goes on: Hulu subscription is to your phone, Spotify subscription on phone, Youtube Red is to the phone. You can put a Chromecast into guest mode so guests can also cast to it but that isn't the same as giving the access to your subscriptions. Instead of handing them a remote worth $20-25, it seems the Chromecast model is to hand over your *phone* to an acquaintance to get access to the services you have. A flagship cell phone tend s to be worth over 15 times the cost of a standard remote control and may have priceless private information. Making the jump of $15 more to go from a $35 Chromecast to a $50 Roku streaming stick really isn't that big a leap in price considering what you get in return. With a Roku, subscriptions are tied to the Roku. There are still remote control apps for Roku to use your cell phone but that doesn't require anyone at your party to subscribe to the same services as you to watch them. Also, the latest streaming stick also has screen mirroring similar to Chromecast. It seems to me it gets you more functionality per buck. The other major problem with Chromecast is it's 90 day warranty. Unlike other hardware providers where a product may continue to work past it's warranty as long as the hardware itself is not defective, Google has a policy of artificially killing/bricking hardware. The Google Revolv was only available for less than two years. They then announced it is Google's policy to force termination of all functionality (and the "free lifetime updates") to the Revolv since it was out of warranty. We don't know why might happen in the future for Chromecast. They might get into a court battle over a patent that impacts Chromecast where Google decides to limit the damages they owe by discontinuing Chromecast and then issuing a killer "update" 90 days later. Google might decide (similar to Revolv) that they are going to go in a different direction to provide the same functionality so it isn't worth allowing Chromecasts to function and again discontinue/kill. This policy they have already enacted that products can be forced to be worthless on a specific date that exceeds the warranty length from last day of sale should be a major red flag for a device with only a 90 day warranty! Despite how cheap $35 seems now, it some going to feel like a rip off if it comes to $11 per month of actual use. Roku has never had a specific date to kill all functionality of their product. They have announced older models would stop getting updates which may cause functionality to stop working correctly over time. But this isn't the same as the kill date that Google uses. Also, the Roku has a one year (365 day) warranty period. Even if it somehow did stop working on the first day outside of warranty, it still comes to around $4 per month which ends up making it much cheaper per month than Chromecast. I personally don't want to be left with something that is only worth as much as a plastic disc toy from the bottom of a sugar cereal just because the 90 day warranty has ended and the company can't be bothered to let it continue to function. Anyone recommending Google hardware should be prepared to explain what in the hardware terms guarantees it won't be the next Google Revolv (and converted to a worthless container for hummus).

Conversely, it makes it easier for others to give you access to their "stuff." All they have to do is cast it to your Chromecast and boom, you "borrowed" the other person's movie for a bit. Posted via the Android Central App

In case anyone is searching and comes across this, let's clear up a few things. Google Revolv is a bit of a stretch. The Revolv smarthub was a product from a company that Google bought. The original company offered a "lifetime subscription". Google discontinued the product and killed support for the protocol, but also offers a full refund for everyone that bought one. It seems like every time someone wants to rail on about the Revolv, they forget that the original company offered the lifetime nonsense and did nothing to compensate customers when they sold it and that Google just gives you your money back because they wanted to kill the service. You got to use it for however long you did for free.

Yes. I mean, it's like $35. The price for what you get is reason enough. Posted via the Android Central App

I bought the Chromecast audio as it was on a half price offer, £15, but have only used it once. Can't argue with the price of both Chromecast devices but I just don't need them. I stream music all day on my HiFi, don't watch TV and use a desktop most of the time.

Have had and used it . But since replacing all my dumb tvs with smart ones I don't did it anymore . But for what they cost it's a great deal Posted via the Android Central App

Guy 1 and 2: Should i buy a Chromecast?
Me: Do you have a Smart TV you can cast things to?
Guy 1: Yeah
Me: No need!
Guy 2: Nope
Me: Get it, you basically have a smart TV now.
Other Guy: my smart tv doesn't take casts
Me: You have a crap smart TV and can turn it into a good one with the Chromecast

Until I can send my movies on my SD card it's useless and redundant Posted via the Android Central App

I bought one when they first came out, I rarely use it, and don't enjoy it when I do. Posted via the Android Central App

I've talked quite a few people into buying one , everyone has loved it! Posted via the Android Central App

Followup though, should I upgrade my gen 1 Chromecast? Posted via the Android Central App

I have not used my Chromecast (for video) for a while but I still love having it and knowing it is there. It is without question the easiest streaming device to move or travel with (fits in a pocket). I can cast to our Roku 3 and directly to our TV and tend to just do that instead but I've still gotten my $29.99 out of the thing. Posted with my LG G4 6.0 via the Android Central App

Not necessarily!
I have a Roku & an Amazon Fire TV, frankly no need for Chromecast.
This is made easier since I use of Amazon prime & music -and not using Play for music or movies.

But when will we get a Chromecast 3.0?

But why no mention of UPnP/DLNA?
It's native to Windows (not sure about Mac) streams to any recent device without an adapter, which (lets be honest) let's me stream my torrented videos to my TV. Also natively supported by XBMC (aka Kodi) which can be installed on damn near anything for free like the Fire stick.

One on each TV and a Chromecast Audio with some (decent) old PC speakers in the garage for easy music casting while I'm grilling. Love me some Chromecast.

I have a question I'm hoping someone could clearly answer for me. I currently have an Amazon Fire Stick in my bedroom and it's great for Netflix but there seems to be a serious hardware problem with it.. when I stream movies or videos from my desktop computer the audio is almost always three seconds out of sync. So I've been looking at other options and thought about the Chrome Cast. I don't keep any videos on my Android Phone or Tablet but rather on my Computer. Can the Chromecast easily stream my PC Videos? Do I have to play them from within the Chrome PC Browser to begin the streaming or am I able to automatically search and play directly from the cast using my phone? Has anyone had audio sync issues with videos using the Chromecast?

Yes. Just use the Plex app.

Roku for the Win. Install Google Play Movie and YouTube apps

If you don't want your kids touching your smartphone, buy a cheap phone and let them use it. It doesn't have to have service, just wifi. I bought a Moto E for $15 on sale and use it for a remote. Posted via the Android Central App

Needs an Internet connection to cast. So, if you've downloaded a movie to your Android from the play store, you can not cast that to a TV without an internet connection. That's a major shortfall for those who travel and frequently find themselves outside the realm of the Internet. Think RV etc.