Are you still using a Nexus 7 in 2020?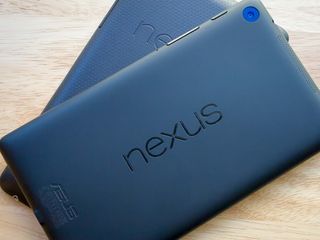 (Image credit: Android Central)
Looking back on this past decade, something that really stands out to us is the Nexus 7 — both the 2012 and 2013 models.
The Nexus 7 was praised for offering an incredible Android experience in a compact package at a price that you just couldn't argue with. Now, it's nothing more than a distant memory. Or is it?
Someone in our AC forums recently mentioned that they're still using a Nexus 7, and are even thinking about buying another one here in 2020.
This discussion made us curious — Are you still using a Nexus 7 in 2020?
Joe Maring was a Senior Editor for Android Central between 2017 and 2021. You can reach him on Twitter at @JoeMaring1.
yes, just playing games on my 2013 Nexus 7. I put an unofficial LineageOS ROM Android 9, but it is slow. I've never used the NFC/Googe Pay on it

I have one, but I'm not enough of a ********* to still be using it.

We can't say masochíst? That's ********!

Still use it occasionally. Wish Google would make another one

I put Lineage Android 7 on my Nexus 2013 and it's more than good enough for the kids to have fun with. If Samsung makes a new 8-inch Tab S6, I would target that as my next Android tablet.

I stopped using my 2013 one early last year because I wanted a slightly bigger screen. Otherwise functionally it was great. I got an Huawei M5 and love it. There are other options for a similar quality device out there, just not as many as there used to be. Most are budget line devices and will perform worse so just steer clear of those if you're updating. Mine is still there but I rarely use it unless I'm looking to do something specific with it.

Have just sold one for parts as I dropped it. The other is for reading on both are version 2.

Mine (2013) lives on a Qi charger on my TV stand, so I have no idea if the battery is still good. It's still great for looking up info on IMDB.

I still use my Nexus 7 (2013) every day, and wish there was a good option to replace it with. It's perfect as an e-reader, and for browsing social media, watching videos etc while I'm working out (it goes right on the book rack of an elliptical trainer or treadmill).

Never got the 7, but my Nexus 9 is still in use, barely-- I use it to monitor Google Analytics during the day. I also have a HP Touchpad that I dropped Android onto that I use as a digital photo frame.

I own the 2012 Nexus 7. And while it was getting updates, it was a good tablet, it's a hassle just to turn the thing on. It's so unresponsive and full of lag. Won't really hold a charge. And there are a ton of great tablets that have been released in the 8 years since its initial offering. But as this was the first tablet I ever owned, I do have a soft spot for it.

Nope. Garbage file system made it worthless after about a year.

Yep, still using a 2013 model. It's taken so much abuse over the years, but it still fulfils YouTube and Netflix duties, and the square Nexus wireless charger it sleeps on still hasn't cooked it. Hopefully it'll last until Google make a reasonably priced quad-core (thanks Chrome OS 74) Pixel Slate!

Yep nexus7 2013 and a Moto X 2014 both on marshmallow and both working perfectly fine apart from needing to carry portable power bank for phone now but not done bad for a 5 year old phone

Thats the only nexus I did not buy, the N-series here is more like a collection now. One of those is active like my Nexus 6 for doing the streetview pictures.
Android Central Newsletter
Get the best of Android Central in in your inbox, every day!
Thank you for signing up to Android Central. You will receive a verification email shortly.
There was a problem. Please refresh the page and try again.