Are you ready for some football? Essential apps for the upcoming season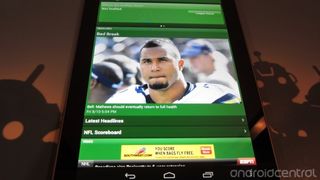 The football season is upon us. Whether or not you're a college fan, a pro fan or both, the excitement has been building and the first games are not that far away. The NFL has started preseason, but those games are pretty meaningless. To get you prepared for the upcoming seasons, we've compiled some of our favorite football apps, both for fantasy and not. There are many other apps, including some very good team-specific ones, but it would take quite a while to show off every team-focused app.
Nevertheless, onto the list:
ESPN Fantasy Football 2012 (free)
The most popular website to play fantasy football remains a great app for Android. ESPN's apps have been hit or miss, but this one is definitely relegated to the former category. If you liked the app last year, you likely will again as it looks like they haven't changed a whole lot. You can still manage your teams, including adding and dropping players, setting rosters and proposing trades. You can also access live scoring stats to keep up-to-date on how your team is faring, receive push notifications and view news from around the league.
NFL Sunday Ticket (free)
Are you a DirecTV and NFL Sunday Ticket subscriber? If so, you're going to love the official Sunday Ticket app that lets you watch games live right from your mobile device. You'll be able to watch any game that you'd be able to watch on Sunday Ticket as well as NFL Red Zone, which is the channel dedicated to highlighting the scoring plays throughout the season.
Pro Football Insider - NFL News (free)
Pro Football Weekly is an app designed for all of you who love reading articles relating to the NFL and don't want to bother with fantasy news or with other sports. There is some fantasy news to be had, but if that's what you're looking for, I'd suggest something else. It's a nicely designed app, with four tabs up top: News, League Info, Videos and Tweets. News aggregates the latest news stories, League Info offers a bunch of stats including standings, scores, injuries and transactions, Videos gives you exclusive PFW video analysis and the Tweets section has all the current NFL players on Twitter together in a list.
Yahoo Fantasy Football 12 (free)
For all of you out there who play fantasy football on Yahoo, Yahoo Fantasy Football '12 is a must. In the past, Yahoo has done a solid job with their fantasy apps, making them functional yet simple at the same time and this is no exception. With the app, you can track stats in real time to keep up with how your team is doing, manage your roster, read player news and access the message boards.They've even added the ability to sign in with Google or Facebook rather than force you to sign in with your Yahoo account.
NFL.com Fantasy Football 2012 (free)
Here is another fantasy app, this time for the NFL.com. Along with Yahoo and ESPN, NFL.com draws a huge audience. The app is similar in function to the others, it displays live scoring to track your team, manage your roster, complete transactions and view news. It also supports multiple teams, but I've seen some complaints about how the app handles it, so be aware if you have more than one team to manage.
NFL Mobile (free)
I don't like to include apps that are exclusive to a single carrier or phone, but since NFL Mobile is officially licensed by the NFL, I felt that I needed to cover it. So if you're a Verizon customer, you'll be able to get this app. Once you have it, you'll be able to access round the clock NFL Network coverage. This includes audio from all of the preseason games, videos, headlines and the ability to track games play-by-play.
College Football Scoreboard (free, pro version $0.99)
Here's one for all of you devoted college football fans. This app does one thing very well: give you scores from around the NCAA. You can narrow the scores down by conference or by the Top 25 and it includes both the FBS and the FCS. It also gives the scores in a nice readable format that looks quite nice. You can also look at schedules and news from around the country, but this app shines when relying on it to give you a quick scoreboard.
NFL 3D Live Wallpaper (free, pro version $4.99)
If you want to show support for your favorite team by customizing your wallpaper, NFL 3D Live Wallpaper is a great way to do that. The app offers live wallpapers for all 32 teams that displays the team helmet with a team flag flying in the background. Wind speed, flag style and camera speed can all be customized and you can even add in some holiday decorations to make the wallpaper festive. There are two ways to get this app. The free version allows you to purchase individual teams at $1.99 per wallpaper, but there is a paid version for $4.99 that gives you every team, which is quite a good deal. If you want everyone to know who you support when you pull out your phone, this app is for you. Oh, and go Bills!
Last year, probably my favorite all around football app was one developed by ESPN called Bowl Bound. It was a college football app that had a beautiful interface and did a fantastic job organizing all of the information you could possible want about college football. Unfortunately, that app is not yet available but I hope to see it released soon as we inch closer to the season. So whether or not you'll be cheering on Aaron Rodgers throwing touchdowns in the pros or the Alabama defense stifling opponents in the NCAA, there are apps for you to track every single play.
Android Central Newsletter
Get instant access to breaking news, the hottest reviews, great deals and helpful tips
Yahoo's Fantasy app is quite good this year. Almost all functionality you'd want is there now, compared to last year. Projected stats on all screens are coming soon. Expands out well on a tablet too (though a true tablet layout would be better, obviously) The NFL's fantasy app last year was just a website, unless they haven't updated the pics it's looking like the same story this year. Which is horrible. Edit: And indeed the NFL's app is still just plain ridiculous.

Nice article Sean, I think the yahoo app is probably the better of the ones mentioned. I think I'm going to grab that live wallpaper app and rep the good old Bills.
Let's go Buffalo!

No mention of ESPN score center. Best app for sports scores and news.

NFL 3D Live Wallpaper would be better if it could incorporate scores onto the home screen to show you the summary without having to unlock your phone and access another app. just saying.
otherwise, i'd just head to message boards in XDA and ask someone to create a wallpaper for my favorite team, then use a widget on the lock screen to show scores. i'll be back, i've gotta go write an app.

And for a moment there I thought you meant proper football....Premier league starts tomorrow :-P

Sunday Ticket app should be updated before the regular season opener Sept. 9. It worked pretty good last year on my Thunderbolt over LTE, but would sometimes take repeated attempts to get a stream started. Hopefully this year they fix that or add capacity to meet demand. Really looking forward to this year's NFL season, see how some of these rookies perform (ex. RG3, Luck, etc.) and some 2nd year guys (ex. Cam Newton, Andy Dalton, etc.)! And some old dudes like Peyton Manning! GO BRONCOS! :P

While the NFL Mobile app is exclusive to Verizon, the rest of us can use NFL '12, which is actually pretty complete except for the glaring ommision of Standings informaton. But as that's mostly what I want an app for, I rate it rate it as 1 Star.

I think B/R Team stream is worth a mention as well. It's not exclusively NFL but it's a great "sports" app where you can follow the team of your choice.

Sportacular is a GREAT scores app.

I agree! And the new updates really makes it stand out!
Android Central Newsletter
Get instant access to breaking news, the hottest reviews, great deals and helpful tips
Thank you for signing up to Android Central. You will receive a verification email shortly.
There was a problem. Please refresh the page and try again.