Are you invested in Samsung's Galaxy ecosystem?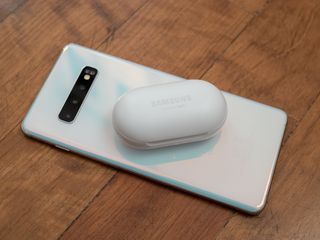 (Image credit: Android Central)
Over the years, Samsung's been building up its ecosystem of Galaxy devices to do what it can to compete with Apple's famous walled garden.
Galaxy Buds seamlessly pair and charge with Galaxy smartphones, the Galaxy Watch lineup works best with Samsung's own phones, etc. For people that take the time and money to get invested in this ecosystem, it can be a pretty great experience.
Recently, some of our AC forum members got to talking about it. Here's what they had to say.
What about you? Are you invested in Samsung's Galaxy ecosystem?
Joe Maring was a Senior Editor for Android Central between 2017 and 2021. You can reach him on Twitter at @JoeMaring1.
I have invested in Galaxy products, but I'm not invested in "the galaxy ecosystem".

Exactly. To me, the ecosystem is the software services. I have a Galaxy Note 10+, Galaxy Watch, and Galaxy Buds, but I use Google's apps for just about everything. The only Samsung ecosystem apps I use are the Note-specific things like Samsung Notes. And I use Samsung Pay. I love Samsung's hardware, but I'm using Google's ecosystem, not Samsung's (where I can help it).

Same. Hell, I used Nova to turn my S10 into a Pixel. 😉

Once i got the s10± I knew i had to have the watch to go with it so i got the Active 2. It had a little learning curve compared to the Apple Watch but i ended up loving it. Then I went w the Galaxy buds and haven't looked back. They actually stay in my ears and I prefer the sound quality compared to the airpods. I'm not 100 percent invested but I have used Sammy products for years prior such as their TVs and soundbars as well. Don't have a tablet but never really had the need for one.

I'm fully invested there is a lot more to it than just the buds a watch and a phone. People talk about apple ecosystem being the best but I don't see them having a bigger or better one than Samsung's ever. Phones, tablets, smart watches, audio, TV's, appliances, smart washer and dryer that all sync together really well. Its convenient when my laundry is done I get a small pop-up notification on all my TV's very useful especially for my kids who pretend they can't hear it.

Everything in my house is Samsung, from electronics like my note, tab S6 and TV, to my appliances like my washer and fridge.
Not purposely but I am genuinely impressed by their quality in their products. But it is great to have everything connected and work simultaneously. So yeah, I am invested lol.

Fully invested here. But running MS Launcher and all MS apps and services.

I guess so. Like others I have used Samsung products for years. Televisions,VCRs, Microwaves etc. They are always high quality and reliable. It was a natural to get a Samsung phone. I also like their software, theme store etc.

2 pair of Galaxy buds, samsung 10000mah portable charger, samsung desktop vertical fast charger, oem round flat qi charger, gear 360 camera and gear vr headset. All free from promos when switching galaxys. That's how they lock you in. Freebies. Only investment was a tv and galaxy watch besides my current note 10+.

Note 9, S3 Frontier, Galaxy Buds, Galaxy Book, and numerous Galaxy Wireless Chargers... I had Apple products before, still open my 2015 MacBook every couple of weeks. The one and only thing that I wish I had was a cross platform "iMessage" experience between iOS and Android. RCS will be nice, but it does nothing for iOS to Android messages. I prefer Samsung's hardware, I also use a Pixel 4 as my work phone. While the P4 has some neat Google touches, and a nice camera. It doesn't replace the s-pen and experience I have on my Note 9.
Android Central Newsletter
Get the best of Android Central in in your inbox, every day!
Thank you for signing up to Android Central. You will receive a verification email shortly.
There was a problem. Please refresh the page and try again.