ARCHOS introduces its Android-powered GamePad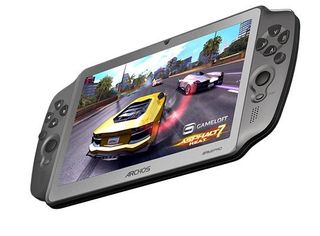 ​ARCHOS introduced its GamePad today, the company's first 7-inch Android-powered gaming tablet. The GamePad comes equipped with physical control buttons, joysticks, and a capacitive display, along with a 1.5 GHz dual core processor and Mali 400mp quad-core GPU underneath the hood. The GamePad is unlike anything we've seen in the Android world so far, and is more akin to a PSP than a tradition Android tablet. The GamePad comes equipped with Ice Cream Sandwich and access to the Google Play store, though it looks like most will purchase the GamePad strictly for gaming. ARCHOS says that it'll include tools to enable the physical controls to take the place of virtual navigation on current Android games, and will work with developers to design games specifically for the GamePad.
We took a look at ARCHOS' latest flagship tablet, the 101 XS, earlier this month, and coupled with the new GamePad, ARCHOS looks to be thinking outside of the box to make a name for itself in the tablet market. The GamePad is scheduled late October release with a pricetag of "less than 150€ (or $188)". ARCHOS' full presser can be found after the break.
ARCHOS combines physical gaming controls with a full Android-powered tablet to create the GamePad
Denver, CO – August 29, 2012 - ARCHOS, an award-winning innovator in consumer electronics, is proud to announce their first gaming tablet. This new type of tablet, the GamePad, combines gaming controls with Android for a full tablet and gaming experience in one. Gamers will not only have access to all their favorite games, they will also have access to email, Internet, apps and more through one device.
The GamePad features a 7-inch, capacitive screen, physical control buttons and analog sticks. This Google certified tablet has full access to Google PlayTM for the tens of thousands of games available, runs a dual-core processor @ 1.5 GHz combined with a Mali 400mp quad-core GPU. In addition, the GamePad includes automatic game recognition and mapping tools – patented technology to ensure control compatibility with every advanced Android game.
Until now, tablets provided gamers with touch controls that lacked response and compatibility for their advanced games, providing a disappointing gaming experience. As one of the main tablet uses, there is a strong need for a tablet that does more for gaming. Thanks to the complete touch and physical controls of the ARCHOS GamePad, Gamers can enhance their experience starting at the end of October 2012 for less than 150€.
"When Android 4.0, Ice Cream Sandwich, was first released they included game controller support within the framework and that is when we decided to build the GamePad," says Henri Crohas, ARCHOS Founder and CEO.
Some leading game developers have already embraced the physical controller support that was introduced with ICS rendering their apps compatible with the physical controls of the GamePad or with game controllers plugged into tablets or phones.
However many games originally did not include physical control mapping, which is why ARCHOS developed their mapping and game recognition tool; a patented technology that allows any virtual controls to be mapped the GamePad's physical control buttons.
"Thanks to the mapping and automatic game recognition systems included on the GamePad, we already have over a thousand android games compatible with the ARCHOS GamePad's physical controls, including back catalog titles that originally didn't include physical controls," continued Crohas.
ATTENTION DEVELOPERS
Over the past six months, ARCHOS has been discussing the GamePad with leading Android game developers around the world to make their games compatible with the GamePad's physical controls and now we invite others to participate.
Developers interested in getting their current and upcoming games mapped for the ARCHOS GamePad can contact GamePad@archos.com.
Android Central Newsletter
Get instant access to breaking news, the hottest reviews, great deals and helpful tips
Wow, I didn't see this coming. Very nice looking device. Pricing is interesting, I think that is around $190 USD.

150 euros = exactly 187.90. Not bad at all.

Vita and 3DS are becoming more and more irrelevant with each passing day...

You do realize that people don't buy consoles for hardware..right? They buy them for software. You can't get the AAA first party titles that people buy the consoles for on anything but their hardware.

Right on, bigcat. That person has no clue what they're talking about XD That's why I have an iPod touch and a 3DS for gaming. There are iOS games that'll never make it to any other platform and all the Nintendo first-party exclusives will forever stay locked to the Big N. Anyway, I wasn't expecting this! Niiicceee! I'm *definitely* looking at this now! And if it's less than $200USD like the article suggests, I may just pick one of these bad boys up! I have an EVO, love it and Android but I don't play games on my phone. I don't care for phone gaming; I have an iPod touch and a 3DS for that; and I'd rather conserve my smartphone's battery for things that matter like phone calls, texting, Internet searches, driving directions, and GPS.

Honestly, a good bluetooth controller is a better option. You still get the entire tablet experience but can ditch the controls when you aren't gaming.

i agree and disagree. while i love my BT controller, i absolutely HATE carrying 2 separate things around. but the added size of the built in controller is something to consider as well.

I would have loved if this was some sort of snap on dock! So have the option of taking without the the pad

But what if the controls break? Are they replaceable?

Why would you buy this, when for a little bit more money, you can get a Vita? 150 Euros is $213 US dollars.. the non 3G Vita is $249

because this can be used for more than just gaming....maybe?

Vita uses proprietary everything and it's getting locked down more with the latest update. Non-standard chargers, closed, DRM'd , small capacity proprietary memory cards that are exhorbitantly priced. Aside from Archos' horrible screens and built quality ,a device like this is what the PS Vita and the Xperia Play should have been. A first-class 5" or 5.5" Android tablet with industry standard microUSB, microHDMI, microSD ports, very good d-pad and analog controls and the Playstation Suite.

The Xperia PLAY had so much potential. Too bad SE,once again, half-assed it with an out of date processor,tiny internal storage, and inferior RAM.If Sony would only update the hardware the PLAY 2 could be something special.

This would be perfect if the screen was slightly smaller. Maybe in the 5" range for easier portability. Looks very cool though. I'd love to load some emulator goodness on this.

I'm definitely inclined to agree with you. For portability and an integrated controller, 5" would be the sweet spot. If you're using a dedicated controller, that's where I think 7" is better.

If only it were anyone else but Archos. Got burned by their jukeboxes twice. I'd sooner buy generic Chinese kit than their proprietary, locked-down and seemingly designed-to-fail stuff. Also, "a patented technology that allows any virtual controls to be mapped the GamePad's physical control buttons".... yay, so we can look forward to Archos suing any other tablet maker who tries something like this, too.

I like this a lot, for $190 I would be interested.

I would still rather have my Nexus 7 and just use my PS3 controller when I want to. My Nexus 7 is probably the best piece of technology I've held in my hands since I got my RAZR MAXX back in January! #Android4life

I think hardware game controller is best left as an attachable accesory. Perhaps one that has adjustable width and rests with padding on the sides of the tablet. That way it can be used with any tablet from any size X to Y. Unless all you will ever do is game I think the controller part will just be extra bulk when not needed more or less getting in the way.
Android Central Newsletter
Get instant access to breaking news, the hottest reviews, great deals and helpful tips
Thank you for signing up to Android Central. You will receive a verification email shortly.
There was a problem. Please refresh the page and try again.