Is anyone using the Galaxy Note 9 without a case or skin?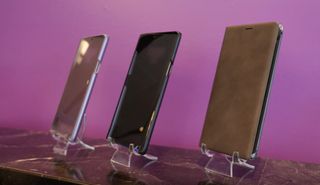 (Image credit: Android Central)
Without a doubt, Samsung's Galaxy Note 9 is one of the most eye-catching phones you can buy right now. Its all-glass back and curved 6.4-inch display look fantastic, but at the same time, also make the Note 9 incredibly fragile.
The Note 9 is one of those devices that almost everyone should use a case or skin with, but is there anyone out there that's brave enough to use the phone without any sort of protection?
Here's what our AC forum members have to say.
How about you? Are you using the Galaxy Note 9 without a case?
Joe Maring was a Senior Editor for Android Central between 2017 and 2021. You can reach him on Twitter at @JoeMaring1.
For myself it's common sense to put a glass sandwich in a case. I always have been a firm believer in wallet cases. So then no screen protector, butt naked. Yikes!

Nope. No one. Not one single person. I'll take the bait though. I don't own it because they have not improved the cameras since the S8. It still has the exact same camera Hardware. Different software means nothing to me when you charge more for the same Hardware.

Are u serious....the new camera has better dual aperture...super slo mode 60fps video recording and more...
As for bigger battery stereo speakers

The camera is better than my p20 pro in most shots. I'd call that an improvement.

Take a look at the specs again. The rear camera has improved, making it even better in low light.

I'm not using a Galaxy note at all.

They are a bit expensive aren't they?!

If they are, they won't be for long.

Naked all the way!!! I hate any cheap case/sticker. I'll take the risk. That's why you have insurance.

With insurance, the hit for a replacement is typically $100 deductible instead of the full amount, with a substantial monthly amount for the coverage. And, of course, they'll drop you after a couple of times you do this.
Ah, the price of vanity.

Crazy people. That's who.

I use a dbrand skin for my Note9 while I'm at home and when I'm out and about I use this case for now...https://www.amazon.com/gp/aw/d/B07FLZJ57M?psc=1&ref=yo_pop_mb_pd_title

I never use a phone without. I just think it prolongs the life of the phone in general. Humans are clumsy, some more than others. I drop my phone once per year since I'm so careful with my tech. That state of mine of having a case helps.

Most of the time the only thing on my Note 9 is a SlickWraps skin since they have a perfect seamless fit and add much needed grip while eliminating fingerprints. However I use no screen protector as they're all crap and change the look and feel of the best screen on earth IMO. I do however use a UAG Monarch case when conditions warrant heavy duty protection, or a leather case (not a fat wallet case though) when I feel like dressing it up a bit (Burkley Leather Case).

I have a better question. When are the 512Gb phones going to be in stock?

Have not tried the Note 9 yet, but if it feels anything like the S9, it needs a case just so you can hang onto it. I don't use a case on my U11 and love it that way. Any fingerprints come off from just being in my pocket, and I like the way if feels in the hand naked. I don't know why one feels good in the hand while the S9 does not, but I guess it's just the shape and textures.

My case arrived the day after my Note 9 did. A very nervous day for me! Lol. But to be fair, the phone felt more stable and less slippery in my hands than the Note 8.

I was bold enough to go caseless for almost 2 weeks while I waited for MNML case to arrive. It's definitely possible to go caseless, but it's annoying how mindful you always have to be not to drop the Note 9. The MNML case is not going to protect it from drops, but I never dropped my Note8 and I sort of wanna enjoy the phone's aesthetics. I have insurance, so I'll risk it. Plus, a coworker has a Note 9 with a bulky case on it and it looks horrible. If you're careful, you can rock the Note 9 with no case... if you wanna worry less like me, throw a slim case or a skin on it.

Even with insurance a big NO
Android Central Newsletter
Thank you for signing up to Android Central. You will receive a verification email shortly.
There was a problem. Please refresh the page and try again.