Anki Cozmo is getting a big app update, new color options, and a carrying case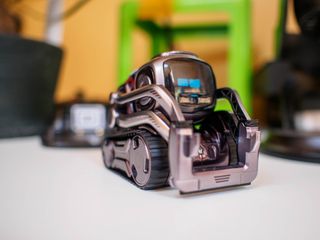 It's been a little over a year since Anki took the world by storm with the adorable little AI-powered robot called Cozmo. Even though it was only big enough to be the champion of your average desk or counter, Cozmo has stolen hearts all over the globe.
Today, Anki is announcing a big software update to Cozmo alongside the launch of some killer new accessories, but the main event is the new "Liquid Metal" Collector's Edition of Cozmo, which is now available to buy.
Taking Care of your Cozmo
Your Cozmo app is now rocking a shiny new UI with more interactive ways to engage with your bot. This new interface is called Needs, and it has three basic concepts.
The Play bar decreases over time, and can only be filled by playing games and letting Cozmo explore. These activities drain Cozmo's Feed bar, which you refill by shaking a cube and letting it "eat" the power stored inside. After all of this activity, it will occasionally be necessary to Tune-Up your Cozmo, which involves a series of exercises that properly calibrate your Cozmo so it's always in the best shape.
It's a cute system, but the biggest thing here is how these Needs encourage you to interact with Cozmo all the time. This system is perfect for kids who need that pet-like interaction for Cozmo to learn new things about playtime. Remember, Cozmo learns by doing. The more faces it learns and the more games it plays, the smarter and more fun it becomes.
Your Cozmo app also now includes a Code Lab, where you can build programs for your Cozmo to execute. These programs can be something simple, like moving one of its Cubes across your desk, or complex maneuvers to help make your 'bot feel more natural. Code Lab is expected to be updated regularly with new features, with the expectation that some of you will really be diving in to these new tools.
Personalizing and securing Cozmo
Available separate from this new "Liquid Metal" Cozmo is a pair of new accessories. You can now buy replacement treads for your Cozmo in four different colors, as well as a new carrying case to bring all of your Cozmo gear around safely.
The Cozmo treads are all bright colors to help set your 'bot apart, but you don't have to choose just one. The $14.99 pack includes all four colors so you can swap based on Cozmo's environment at the time.
Carrying Cozmo by itself isn't a huge challenge, but the official carrying case has slots for everything to do with your Cozmo. There are custom slots for each cube, the charger, and Cozmo. The case itself is plenty durable, and of course rocks those big blue eyes on the front so you know what is inside. For $29.99, it's an impressive case for keeping your Cozmo safe.
Get to know Cozmo (again)
For existing Cozmo owners, this new update should be rolling out over the next couple of days. Your existing progress and Sparks earned while playing with Cozmo will still be there, but the Daily Challenge has been replaced with these new Needs, and you'll find there's no more need for Bits in the gameplay.
If you don't own a Cozmo and have been looking for the right time, now is it. This Collector's Edition Cozmo is only going to be around for a little while, but if you prefer the original design you can find those on the shelf right now.
Sign up for Black Friday email alerts!
Get the hottest deals available in your inbox plus news, reviews, opinion, analysis and more from the Android Central team.