Anker PowerCore+ 26800 PD vs. RAVPower 26800 PD: Which portable battery should you buy?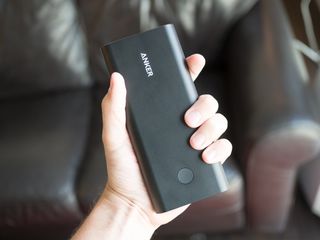 Anker PowerCore+ 26800mAh PD
Anker's PowerCore+ battery checks all of the boxes, with an incredibly robust case and all of the right capabilities. It also comes with a USB-C wall charger that normally costs almost $30. However, it's quite expensive, and while it was unique when it first came out it's now matched by cheaper alternatives with the same features.
Anker PowerCore+ 26800mAh PD
Strong metal body
Included 30W USB-C PD charger
15W USB-A output
Metal could cause damage if dropped
Heavy for its capacity
Comparatively expensive
RAVPower 26800mAh PD
The RAVPower 26800mAh battery gets the job done, with 30W USB-C output and input and an extremely enticing price that undercuts the competition. You give up a little in materials quality, and the USB-A output is a tad slower, but that's probably a worthwhile trade-off for most people.
RAVPower 26800mAh PD
Lightweight for the capacity
Priced under the competition
Slower USB-A output
Plastic body more likely to scratch and break
No charger included
Having a big battery that supports USB-C PD (power delivery) can be the difference between anxiety and confidence when you leave the house or travel. Anker and RAVPower are two of the best-known companies when it comes to portable batteries, and each makes a 26800mAh version with near-identical features. Here's what you need to know about both to choose which is right for you.
What's the difference between the Anker PowerCore+ 26800 PD and RAVPower 26800 PD?
Both batteries obviously have the same capacity, and 26800mAh is a wonderful size to carry around for worry-free charging all day. It can charge up most compact laptops fully, and charge up several phones as well. Both batteries have USB-C PD for output to your phone, tablet or laptop, and also for input to charge the battery back up in about four hours provided you use a fast enough charger. And here's where we hit our first difference between the two: Anker's battery comes with a 30W USB-C PD charger, which you can use to charge the battery or any other device.
That included 30W USB-C PD charger retails for about $26 on its own, so if you were already going to buy a charger like that or would have a use for it, it brings the prices of these batteries quite close. Although Anker also makes a 30W USB-C wall charger that includes a USB-A port for about the same price.
Swipe to scroll horizontally
Product
Anker PowerCore+ PD
RAVPower PD
Capacity
26800mAh
26800mAh
Output (USB-C)
30W
30W
Output (USB-A)
15W x 2
12W x 2
Input
27W USB-C
30W USB-C
10W Micro-USB
Weight
1.27 lb
1.01 lb
Charger included
30W USB-C
n/a
Cables included
USB-C
Micro-USB
USB-C
Micro-USB
Elsewhere in the capabilities, things differ ever so slightly. Anker's two USB-A ports have a slight output advantage, offering 15W (5V/3A) per port, while RAVPower's are just 12W (5V/2.4A) per port or a combined 17W if you're using both. Chances are you won't really notice a difference, and can always lean on the USB-C port for the fastest possible charging, but it's worth being aware of. The RAVPower battery has a leg up in that it can charge over Micro-USB as well, though it'll take so long (about 15 hours) you wouldn't ever want to do so.
Physically, the batteries have their biggest differences. Anker's battery is narrower and longer, with smoothly rounded sides and perfectly flat ends, while the RAVPower is more flattened out and closer to square with tighter curves around all sides. The Anker is also made out of thick metal, which makes it incredibly robust and resistant to scratching or denting, while the RAVPower is your typical hard black plastic that's more likely to take damage over time. That Anker metal makes the battery about 25% heavier, though, and together make it more susceptible to damaging other things when it's dropped — be careful of tossing this down on a softwood table or dropping it to the floor from more than a couple feet.
A note on USB-C compatibility
One common refrain you'll see with these two batteries, and all of their competitors, are the warnings on charging compatibility with different phones, tablets, and laptops. Both the Anker and RAVPower batteries list various devices that are explicitly compatible or incompatible, but neither is anywhere near an exhaustive list. Better (or worse) yet, the official information from the companies doesn't always line up with the experiences reported by owners of the batteries.
RAVPower, for example, explicitly says that it does not support the Google Pixelbook or latest-model Apple MacBook Pro ... although those devices will charge (albeit slowly) from any 30W USB-C charger or battery and very few customers have reported issues. Anker warns that "some USB-C laptops which require an input over 30W may not be compatible," yet I haven't run into a single device in my use of the battery that won't charge.
You should know that both the RAVPower and Anker batteries are USB-C PD compliant, and most, if not all, of your devices that are USB-C PD compliant (and can charge on 30W or less) will work with them. Fringe cases come in all of the time, but neither of these batteries has any sort of reputation for compatibility problems in normal situations.
Which should you buy?
In terms of functionality, both the Anker and RAVPower are evenly matched. There are tiny differences in their output and capabilities, but most people wouldn't care enough about the changes to make a decision based on them. They have the same capacity, same USB-C PD output and recharge times, and the same cables included in the box.
If money is no object, the Anker PowerCore+ 26800mAh PD is the better total package. The metal body is heavier but far more robust for longterm use. It also has faster USB-A output and includes a USB-C PD wall charger that you can use for the battery or your other devices. But if you don't need the extra charger, and would prefer to have a lighter battery than a more robust one, the RAVPower is the better choice. It's considerably less expensive while offering the same basic capabilities as the Anker.
Top performer
Anker PowerCore+ 26800mAh PD
The confidence of all-day power
You get the capacity and consistent speed you'll enjoy for your laptop, tablet, and phone, plus a wall charger that will charge up when you have an outlet. And with a metal case, you don't have to worry about durability — you just have to pay for it.
Incredible value
Capacity and USB-C speed at a wonderful price
RAVPower matches the competition in capacity and USB-C charging speeds (both output and input) but leaves something to be desired when it comes to the plastic casing. But chances are you'll be willing to give that up to save so much money.
Be an expert in 5 minutes
Get the latest news from Android Central, your trusted companion in the world of Android
Andrew was an Executive Editor, U.S. at Android Central between 2012 and 2020.