Android's 'Check for update' button is broken, fix coming in 2018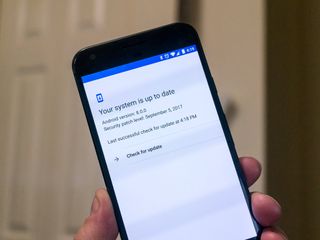 Back in September, Googler Elliot Hughes announced on Google+ that Android's "Check for update" button was being reworked so that it actually checked and pulled any new updates for your device rather than just doing a check to see if an update was planned for your area that day. In other words, you'd theoretically be able to get your hands on OTA updates much faster than before.
This came as exciting news for a lot of the Android community, but with the recent release of 8.1 Oreo, people have been noticing that the button still doesn't do diddly squat. Spotted by Android Police, Hughes recently took to Google+ once more, but this time to announce that the latest update for Google Play Services has stopped the feature from working as intended.
Per Hughes post:
It's unclear when in 2018 this solution will be made available to the public, but we're crossing our fingers that it'll be sooner rather than later.
Have you gotten your hands on 8.1 Oreo yet?
Joe Maring was a Senior Editor for Android Central between 2017 and 2021. You can reach him on Twitter at @JoeMaring1.
The baboon responsible for QA at Google apologizes for dropping the ball on this one.

Unfortunately in modern software development, the end user is QA. Strong QA testers were let go or told to move to full on development a few years back in favor of ring deployments.

Is it really that difficult?!

2 weeks into my Pixel 2 bought from Google and still no 8.1. I thought these phones were supposed to be updated immediately.

8.1 was released three days ago and is an incremental rollout.

They are if you have a USB cable and 2 minutes....

Try taking your SIM out. No idea why but it worked for me.

What's worse than this is paying $1,500 for a Note8 and it still won't make me a sandwich. I'm getting really hungry!

Gee, I'm shocked, SMH. 🤦🏻‍♂️

Worked for me last night. Hit the button and got the general public release of 8.1 OTA on my Pixel 2 XL.

Same. Got the update last night too. Pixel 2XL, in Ontario. With the December 5th security patch.

Same. I'm actually assuming it was just my turn in the rollout, but twas nice to get it so quickly. Pixel XL in Texas.

Nope. Maybe I just haven't been paying attention and this is normal, but I've also noticed that my apps (not just Google apps, but all apps) sometimes don't get updates for WEEKS after the new version is rolled out. I have automatic updates turned on. I've also started doing periodic manual checks since I noticed this. I'm on a Pixel 2 XL btw. Anyone else noticing this as well?

So, the mechanism to check for updates is broken, which means we can't get updates. How are we supposed to get the fix when it's released? Sounds like a catch-22.

No, not quite. Think of it this way. Previously, an update could be released, but it may not be available for your phone. Pressing "check for updates" would only let you have it if it was already cued up for you, and, in fact, had you not pressed the button, you would have likely been notified soon anyway. The new system would work such that, if the update was released, then pressing "check for updates" would pull it down, even if Google hadn't cued it up for you yet. Eventually, users who didn't check would get notified, but those who elected to check would get it immediately. So, at this point, what's happened is that the "check for updates" button isn't doing anything. When your phone is selected to get an update, you'll get it, but, because the button is broken, you can't get it sooner than that.

That's funny... right after reading this article and comments, I of course had to go check for myself, and went into Settings on my Verizon S8+ and mashed the "check for updates" button...and promptly received notice that there was a new update available for my phone, for which I'd received no prior notice. Pulled down the update, which turned out to be the November security patch along with the Verizon Gigabit LTE prep update. The "check for updates" button clearly worked in this case!

My wife got the 8.1 OTA two days ago on her Pixel XL. I also have a Pixel XL and still haven't received the update. I ended up just opting into the beta program again with the hopes that the OTA would get pushed to me.

I got sick of waiting for the update I just flashed the OTA

I got 8.1 OTA yesterday. I have had zero issues with updates. they have always hit my device within one or two days.

Received my 8.1 Update and December security patch the day after the initial rollout. I hit the Check for Update button, and it worked. Tried it all month in November to get the Nov. security update, and didn't get anything. Go figure

It seems more and more like Google releases everything as a Beta, and let's users figure out what's broken. Pretty sad product execution for a company Google's size and expertise. Even their fulfillment operation seems to be in beta, shipping phones with no OS, phones that failed QA, and phones with Verizon limitations to direct customers.

I got a notification that 8.1 was available for me on Wednesday (1st Gen VZW Pixel). Downloaded and installed Wednesday night. Big change is the Google bar moved to the bottom, and calendar events now show up in the day/date notification. Icons are a little smaller.

Have I got my hands on OREO 8.1 yet??
Hell NO, and I have a Pixel 2XL..
Now I'm reading the damn check for update button doesn't do squat anyway.. Rethinking this purchase..

I don't think it's a big deal....but on at&t I have always gotten updates pretty fast...The final of 8.1 came thru yesterday for me. P2 XL

Google's British Way of Bullshit
Android Central Newsletter
Get the best of Android Central in in your inbox, every day!
Thank you for signing up to Android Central. You will receive a verification email shortly.
There was a problem. Please refresh the page and try again.