Android M offers smarter power management, double the standby battery life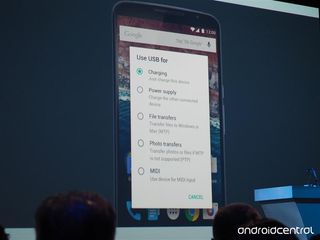 Android M will introduce a great new power management feature, Doze, which will help improve power management. Doze can identify when a device is not being used, and the device will automatically dial back on the power needs. When not in use, apps will update less frequently, and in tests they have been able to show nearly double the battery life in standby time thanks to this feature.
In addition to this, Google will be implementing USB Type-C in upcoming devices, which will also help with power needs. Google's VP of Engineering for Android, Dave Burke said "we're going to start seeing really fast charging as a standard, up to 3 to 5 times faster." With faster charging, and longer standby times, users are able to use their devices longer, without needing to be tethered to a charge. With USB Type-C, they can even use their phone as the charger.
Jared started off writing about mobile phones back when BlackBerry ruled the market, and Windows Mobile was kinda cool. Now, with a family, mortgage and other responsibilities he has no choice but to look for the best deals, and he's here to share them with you.
This one is interesting. Posted from my Motorola Moto G.

Yeah, i hope google improve a lot with M Posted via Android Central App

Why so? USB C connector can send power both ways. So the OS needs to be able to handle this... Your new tablet could charge your phone or vice versa

"With USB Type-C, they can even use their phone as the charge." As they charge? Because I do that now. Or am I misinterpreting this? Posted via the Android Central App

USB Type-C can send power both ways. You'll be able to use a phone or tablet to power something else. Like a tablet charging up a phone.

If you look at the picture in the article it says it can be used as the charger(used to charge another device) Posted via the Android Central App

Maybe that you can use your phone to charge stuff? "as the charger"?

Sorry everyone. I neglected to look at the picture. Makes sense now. Posted via the Android Central App

Missed a letter. Sorry to confuse you.

No biggie. Easily cleared up. Posted via the Android Central App

I hope this means the next nexus with have USB type C.

I guess they will be equipped with these. Really nice Posted via Android Central App

Yeah...just like when Lollipop came out and the hype was with project volta??? i'll believe it when I actually do see battery life increases in REAL WORLD USAGE. Not sitting idle with 3 google apps installed tests claiming 30% increased battery life. I fell for that once already, not again.

Project Volta, Doze ... how bout bigger batteries til they figure it out. and when they do, then we can worry about thin phones Posted via the Android Central App

Couldn't agree more. A lot of times I'll put a case on my phone JUST to give it some thickness! I hate super ultra thin phones! Gimme beefier batteries any day!

Here's hoping.... Posted from my Nexus 5 via Android Central App

Did anyone else think the photo they used to show off the USB Type-C Port looked like a revamped Nexus 5?

Isn't this the same thing as Volta? Volta was supposed to draw back power to save battery as well. Why would they need to make another one? Posted via Android Central App

Because Volta didn't work lol Posted via the Android Central App

With every edition of Android they tout better power management. Yet outside of updates which fix specific bugs, I have never seen my battery life increase after an update. Phones have definitely become less power hungry, but that's a result of improvements to hardware efficiency.

Great! I want my Oneplus One battery to last more than 4 hours SOT! I remember when I use to get 6-7 hours SOT on kitkat! But after getting an lg g watch and upgrading to Lolipop battery has been 3-4 hours SOT Posted via Android Central App on 1+1

Google said lollipop had better power management. Really? At the expense of terrible ram management? Then terrible battery life to boot? This is BS. Posted via the Android Central App

I'm starting to feel the same way to be honest. :/ Posted via my HTC One M8

Promises I've heard many times before.

Shame they can't back port a lot of these features. Hardly anyone is running L and now there's M. --- This message brought to you via the sarcasm keyboard available for download at the Google Play Store.
LG-G2 on Lollipop.

Let's hope this is as good as they say it will be.

Well considering they touted this with lollipop with much fanfare, I doubt it. Posted via the Android Central App

MIDI? Are we talking that old sound/music format? Or do I need to Google this? And if it is the music MIDI, then why? (Other than the obvious, "why not?")

I finally gave up hoping for better after life and switched to an iPhone. Never owned one before now. Got really annoyed when the 2014 moto x didn't substantially improve on the battery size. More than doubled my SOT and don't worry about my phone running out of battery anymore. Posted via Android Central App

Good. This is one area where android gets owned by iOS and by focusing on standby time Android will once again have the clear lead in battery life. Posted on my OnePlus One

Android m? How about fixing lollipop Posted via the Android Central App

Now that Marshmallow is finally released... Nexus 6, upgraded to Marshmallow a week ago. Took my phone off the charger Thursday, 8am, 28 hours later, battery life at 80%, most of that with the phone in standby. It's now Saturday, 3pm, and it's down to 33%. I had some usage on it yesterday (Friday), mostly reading sites and checking email. Today, again, not much use at all. Prior to this, my battery usage was typical of Lollipop--the phone would be ready for the charger by bedtime. For once, I think we finally have a power saving mode that works. (And having been on Android since Eclair, I've seen quite a few.)
Android Central Newsletter
Get the best of Android Central in in your inbox, every day!
Thank you for signing up to Android Central. You will receive a verification email shortly.
There was a problem. Please refresh the page and try again.