An Android device and a DSLR can be really good friends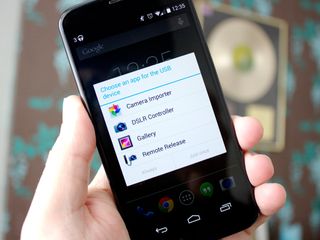 With just a USB OTG connector your Android device can be a great addition to your camera gear
Cameras generally scare me, but I do like exploring as many avenues as possible in pursuit of a good workflow. I recently picked up a new Canon 600D camera, and like all good nerds immediately started to look about for cool stuff I can do with it. Since I'd picked up a Canon, one of the first Android apps I looked at was the pretty excellent DSLR Controller by Chainfire (opens in new tab). And, in hooking it up, I came across something that took me a little by surprise.
With no additional apps or tinkering, the Moto X I'm currently using asked me what app I wanted to use with the USB device. Two of the options were for photo import. This might be common knowledge to some of you guys out there, but it surprised me, so I figure I can't be alone.
It's pretty flawless, too. Selecting the Gallery app on the Moto X opened up a window organized by date of the – albeit currently random and awful – photos on the SD card in the camera. Select the ones that you like, hit import and they'll soon enough be on your device. We're only talking JPEG images here but that said I'm not sure I'd want to import a ton of RAW files to my phone or tablet.
I'm pretty happy with this, I won't lie. I've used an iPad in the past to pull photos off cameras with a much more expensive connector than this £2 USB OTG cable I have. But for whatever reason an iPhone never worked with the same connector, and I only ever buy WiFi tablets which aren't any good out in the field. Score for Android, then. Since I'm fortunate enough to enjoy a properly unlimited data plan, social sharing and cloud backups away from my computer are right in play. But I'm keen to use my Android device as a storage and viewing medium, too. After all, no matter how good your DSLR display is there's a lot to be said for going for something bigger.
While it is pretty awesome, there are things to consider. I've tried successfully with the Moto X and Moto G – because that's all I have lying around right now with life in it – both running Android 4.4.2. It might work with your phone, it might not. Likewise, you should be OK with Canon DSLR's, but I can't offer any advice for other brands. The quality of the cable and USB connector you're using is also important. The cable that was included in the box with my 600D works just fine, but an older, cheaper cable I had lying around wasn't so helpful. My £2 Amazon special USB OTG connector did the job admirably, however.
So, that's my experience. If you've got the necessary cables and connectors give it a whirl. Getting your photos onto your Android device opens up a ton of possibilities, so let me know in the comments your camera, Android device and how you're using them together!
My current old camera (xsi) is having some focus issues, so I took the inside part of a 2 piece case and some velcro and stuck that biatch to my flash so I can check focus with my S4. It all stays well, and I can use the camera like I always do. Currently saving for the new 70D and the cannon app gives full wifi control of this camera. BaAAH

I should mention that all that happens with dslr controller. BaAAH

another great option is "dslr dashboard". I bought a small wireless router as my cam doesnt have built in wifi and then use the app on my phone or tablet to control the camera wirelessly.

I keep my OTG cable exclusively in my DSLR bag, and works just fine with the Nexus 5. I use the Canon Rebel SL1. Really helps when friends want the pics you took, you can just email them right there instead of remembering later.

LG Pad 8.3 does this also... seems to work fine as long as the USB device you are using (SD Card reader) has low power requirements. Some USB sticks (older ones) aren't low power and they doesn't work on my MotoX -or- LG Pad 8.3.

Good to know! I'll have to try this with my Nexus 5 and Nixon to see if it works. Posted via Android Central App

Rawpal Gallery is the best app I've found for viewing and importing raw files. Posted via Android Central App

Such great news. It works with my Nexus 7 and Canon T3i.

working with my Canon 600D and Galaxy Note 10.1 N8000, need to try with my Galaxy Note 3 this week-end

Anybody have any experience with this and Nikon DSLRs?

I'm gonna try it with my Nexus 5.

I got excited when I saw the DSLR controller pic in the article - thought you could use phone as a remote shutter button ... Kenny

You can. The app (DSLR Controller) I linked up the top. But as far as I know that one's a Canon thing.

https://www.androidcentral.com/e?link=https2F2F... This might be a decent alternative for Nikon users.

I recently purchased the Canon 6D, and I've been using it a lot with my HTC One. The wifi option in the 6D combined with the EOS remote app turns my HTC into a giant viewfinder, it gives me full manual control of all of my settings, provides me with manual focusing, and it can send jpegs to my One (albeit a bit compressed, but useful nonetheless). Especially when you want to get yourself in the shot as well this app is invaluable!

A lot of modern cameras offer similar functionality, whether it's point and shoot or interchangeable lens... Canon & Nikon are actually behind the curve in this regard, each of them only has a couple DSLR with said functionality and it's usually missing from entry level/midrange models... Whereas the mirrorless field (Sony NEX, Fuji X, Olympus PEN & OMD, Panasonic G/GF/GM/GH) have a couple dozen models with Wifi. Almost ALL of Panasonic's current year models (which were out almost a year ago) actually have Wifi PLUS NFC for quicker pairing, and they do full res JPEG transfers in addition to giving you full remote control, even their advanced & travel zoom point and shoots feature it. If camera manufacturers had explored this angle (amongst others, see the Sony RX100) a few years ago the P&S market might've not suffered quite so badly at the hands of the smartphone, but I digress... Wifi remote control is a really neat thing to have, for selfies, taking photos at odd angles without a flippy screen, time lapses, etc. Viewing and sharing remotely on the spot makes the cameras much more relevant in this day and age too, but as the article demonstrates you can accomplish that thru USB OTG too. For more advanced photographers who might actually want to mess around a bit with RAW files in the field: look into Photo Mate. It's not gonna replace Adobe Lightroom any time soon, but it's surprisingly capable on a decent tablet like the Nexus 7. If nothing else, you can backup and start rating your RAW files on the go to get a jump on your workflow back home. I believe it's the first/only full featured RAW editor on mobile, tho that's bound to change when RAW output is officially supported by Google thru their upcoming API. It's kind of a big deal for Android in the long run...

They're only behind the curve if most people cared about that. They don't.

Color me jealous. Posted via Android Central App

I have almost the same setup, but use my Nexus 7. I do night photography. Noting better than sitting in the cab of the truck and controlling the camera while my 2 buddies are freezing outside with their more powerful 5DMIII and no wifi remote!

I've got the same camera and phone, and it's pretty neat. I haven't found a lot of use for it yet though, at least for what I typically use my camera for. I just tried the OTG cable I have, and it said the USB device wasn't compatible. I got the same error with my Canon T2i. Setting up the wifi connection and transferring images is cumbersome, so I thought the OTG option would be nice. I still probably wouldn't use it much anyway.

I use DSLR Controller pretty frequently, it's a great app. Allows you to basically control all the functions of the camera remotely (perfect for night shots when you don't want to touch the camera and cause shake) and works well for time lapse as well.

Do you connect your camera straight to your phone? I emailed the DSLR controller folks awhile ago asking about that, but never heard back. I got one of those cheap USB OTG adapters recently as well and I feel like I could have written this article for you. Same surprises and feelings here. I just wish the current kitkat offerings for my AT&T GS3 supported the connection. Posted via Android Central App

I had a issues with OTG on my Motorola Droid Maxx after updating to KitKat. I downloaded (OTG TROUBLESHOOTER), and ran the test, it turns out my phone still has support, just not the software. The next step was to download the (Nexus Media Importer), which did the trick, and works like a dream; actually better than it did when it was working before the KitKat update. Posted via Android Central App

You should check out trigger trap. It allows you to do a ton with your camera, including remotely shooting from another device, shoot from motion or sound, and a ton more. https://www.androidcentral.com/e?link=https2F2F... Posted via Android Central App

I keep a USB OTG connector in my camera bag with an SD card reader attached to it. When I am done shooting(Nikon), I plug my memory card into the reader and into my phone (Galaxy S4) and sometimes upload them to diffent sites or email to friends and family. It is extremely convenient! Posted via the best darn Android App, the Android Central App

I do the same thing but with my Nexus 10. A bigger screen definitely helps with this.

It works great, the update in 4.2 (I think it was) made things a bit more clear, as in shows when scanning, better over view with dates etc. But for me it broke "full screen view" of images. Still a great feature, for phones and tablets with OTG support =)

WHY Google Why couldn't you give the Nexus4 OTG Capabilities!

I use an eye fi card on my D7000. No need to fumble around with cords. Pictures come over to my One almost instantly.

WiFi capable Sony NEX 6 mirrorless camera + 2013 Nexus 7 + VSCO CAM = awesome mobile photography fun

For anyone who arrived at this article while trying to figure out whether the Moto X is compatible with DSLR Controller using an OTG cable, I've written Richard and he confirmed that it is indeed! Right now the Moto X isn't listed on the compatible devices list on the app webpage but I'll see if I can get that updated.

Hi, sorry its a year after article! Is there anyway to transfer the images at a higher quality as I have tried this method but the pictures don't look brillient! Thanks in advance
Android Central Newsletter
Get the best of Android Central in in your inbox, every day!
Thank you for signing up to Android Central. You will receive a verification email shortly.
There was a problem. Please refresh the page and try again.