Android apps now support split-screen in Chrome OS's tablet mode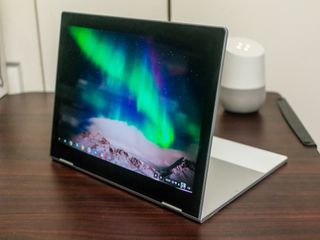 While Chrome OS may have started out as Google's own desktop operating system, it's rapidly been doubling as the company's new focus for tablets, too. In the latest move towards this, Chrome OS's Canary channel now lets you run Android apps in split-screen while using tablet mode.
This was first discovered by the team at ChromeUnboxed, and you can watch their video below to see this feature in action. After opening up multiple Android apps while in tablet mode, you can press the multitask button to see everything that's open in the background. However, holding down on an Android app now shows highlighted areas on the left and right of your screen where you can place the apps so you can run both of them simultaneously.
Once you have two apps running side-by-side, you can drag the black bar that separates them to make one window larger while automatically scaling down the other one. It's a very similar process to running two Chrome sites/apps at the same time, and it allows for Android apps to be even more functional than they already are.
As noted above, this is something that's currently reserved for the Canary channel of Chrome OS. Canary is Chrome OS's most experimental/unstable channel, and it's not something most people should use on their daily Chromebooks. Even so, we should see this expand to the Stable channel for all users in either Chrome OS 65 or 66.
If you're running Canary on your Chromebook, have you messed with this yet?
This is what the first Chrome OS tablet looks like
Joe Maring was a Senior Editor for Android Central between 2017 and 2021. You can reach him on Twitter at @JoeMaring1.
I feel like I should've known this already... Any other things I should know that these can't do?

I've tried ChromeOS in a VM and to me, as a Windows user, it just doesn't feel.... Polished. I know that's odd coming from a Windows user but maybe I'm expecting too much from it and need to play with it a bit more 😐🤨

What about Android-x86 7.1? Is it better?

I'm really looking forward to this! I hope they give the functionality to easily swap the app's windows. I'm missing that on my phone 7.1. Got spoiled a while ago with Samsung Note functionality.

More useful than a web browser box but still feels hackish. Besides Android apps are terrible in tablet size. Given that Chromebooks were made to do one thing well this seems like adding complexity unnecessarily. Just shows how bad Google has botched Android tablets. Which makes me mad because my Note8 will likely have to have an iPad as its companion if I want a tablet.

I have a Lenovo Yoga Tab 2 10 that is stuck on Lollipop and is generally slow and glitchy in regular use to the point that it's mostly fallen out of my gadget rotation except for as a video player. I use both my Galaxy S7 Edge and my mid-2014 Macbook Pro 13 much more frequently. I've been thinking about a new tablet but outside the very expensive Galaxy Tab S3, the only semi-appealing option is the Yoga Tab 3 Plus that costs $300, has 2016 midrange specs, and is stuck on Marshmallow. The reality is I don't *need* a tablet for much besides the video playing that I do with the one I have. It would be nice to have something that's at least good for keeping up with my RSS feeds on a larger screen than my phone but even for opening a bunch of browser tabs and jumping between them, my current tablet struggles.
Android Central Newsletter
Get the best of Android Central in in your inbox, every day!
Thank you for signing up to Android Central. You will receive a verification email shortly.
There was a problem. Please refresh the page and try again.