Android 8.0 Oreo system images available, update rolling to Developer Preview users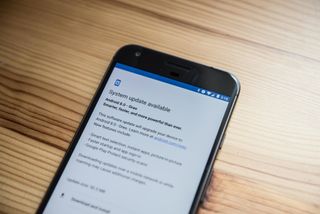 For those that want to be on the bleeding edge, the Android 8.0 Oreo system images are now available. Google has the images for last year's Pixel phones, the Nexus 6P and 5X, the Nexus Player and the Pixel C. Manually updating a device requires a few tools and a bit of time, but it's an easy process overall. There are carrier-specific images for the Pixel phones, so make sure you download the right one for your device.
For users that were on the Developer Preview, you should be receiving two Over the Air (OTA) updates to the stable version of Oreo. Depending on the device and version of the developer preview you're on, the first file should only be between 12MB and 50MB. The secondary update file clocks in at 900MB, so you'll want to be on WiFi for that one.
Have you already installed Oreo? Let us know down below!
Here's the fastest way to get Android Oreo on your phone right now!
Android Central Newsletter
Get instant access to breaking news, the hottest reviews, great deals and helpful tips
I'm getting "Installation Problem" at the beginning of downloading.

Enroll in beta then go update from there

I've been in the beta for a few weeks.

Apparently, we're not alone. The update has failed for many running the developer preview 4. Google has pulled the update. However, if you are just enrolling in the beta program, it works just fine.

That's because you need to dunk your phone in a glass of milk first!

I thought you had to twist the top and bottom halves to take it apart first?

PSA: Pixel devices are not waterproof and especially not milk-proof. Unfortunately :(

No no, the software update provides milk resistance, just like the iOS 7 update provided water resistance, remember?

Does anyone know when those with Pixels that don't download the new images and aren't on the developer preview will get Oreo? As in when will it be pushed OTA?

If you enroll in the beta now, it should pull the final build. If you don't want to do that, it should start rolling out in the next few days.

I can confirm this. I just signed up for the Beta program and they gave me OPR6 (final build). Much easier than sdk and flashing.... CHECK THAT: Now it's downloading an additional 938.4mb file, which is maybe the final?

The second file I was sent today kept the OPR6 moniker, but changed the build number from .011 to .0112, which is weird because I'm on Fi (build number 0111) but the phone was originally a VZW phone (0112).

Been on the preview and the Pixel says it is Android version 8.0.0 and it is up to date. That sound like it already updated? Don't recall it happening or having to participate. A little earlier, it did note there was an update, but trying to update failed. Seems weird.

Any change? I don't see the update anymore

Got it on my XL moments ago. It's really snappy. Very much improved. I just hope it talks to the Bluetooth in my car again.

Seemed like it was pulled for awhile but now has come back and still getting installation problem when trying to update. Been on the beta path since the beginning.

I'm glad i'm not the only one!

I have been on bet a for a while, and am still having problems

Still no luck here, running the last developer preview. Wonder if it could have something to do with using Verizon.

nope. my pixel xl is on verizon my pixel is on FI. both failed earlier. both are now saying im up to date.

hey finally got it! @ midnight EST

I finally got mine as well on my Pixel XL. Pixel C got it almost immediately.

I got the update on my Pixel C almost instantly as well which was amazing, almost Apple like. However, I don't have a Pixel or any of the latest Nexus to confirm whether the build number is the same for phones and tablets alike? The one on my Pixel C ends in 010 whereas I've heard for the phones is 012. Is it the same in your case as well?

I got the 65 MB download but not the 950 MB, coming from DP4. Should I be getting both, eventually or is the 65 the only one I need?

Only 65 because you were on dp4

I choose to get the full image and install that way. Worked well and wanted to have a clean install. All seems to be good now and didnt take that long.

My update finally came through as well

I only got the first download on my Pixel C (12.3MB). EDIT: It was previously on DP4 if that makes a difference.

Is it rolling out only to the dev preview crowd for the moment? Becuase I'm not running the previews and I'm mashing my update button to no avail ...
Android Central Newsletter
Get instant access to breaking news, the hottest reviews, great deals and helpful tips
Thank you for signing up to Android Central. You will receive a verification email shortly.
There was a problem. Please refresh the page and try again.