Android 7.1.2 beta now rolling out to the Nexus 6P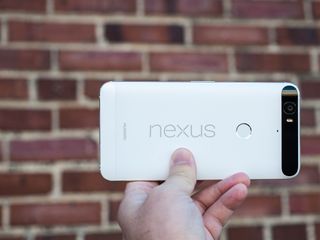 The Nexus 6P: Great phone, but occasionally left out of some of the recent Android beta fun.
Last month, when Google announced Android 7.1.2 for a bevy of Nexus devices, along with the Pixels, the Nexus 6P was conspicuously absent from the list, without explanation from Google. Even its cheaper, slower counterpart, then Nexus 5X, was invited.
It's been a long month for those Nexus 6P owners waiting for their near-1.3GB update, but it's here, along with the requisite bug fixes and performance improvements that came with it. The build is NPG05F.
I've been running it on my Pixel XL since day one and have yet to experience any problems — and I sidestepped the soon-to-be-resolved Bluetooth dropout issues at the same time, thank goodness — so I'd say if you're itching to try it, go right ahead.
How to sign up for the Nexus 7.1.2 beta
Thanks to everyone who sent this in!
Android Central Newsletter
Get instant access to breaking news, the hottest reviews, great deals and helpful tips
Daniel Bader was a former Android Central Editor-in-Chief and Executive Editor for iMore and Windows Central.
The 6p is still being left out. The 5x gets fingerprint gestures but the 6p doesn't. What the hell is up with that

Yeah, they did not add it in.

I just got it. Looking for anything different.

I just finished the update minutes ago as well. It looks like the neat changes cannot be utilized by 6P users such as myself.

Does anyone know if it has the T-Mobile network dropping bug fixed? *Crosses fingers* (issue 232089 on code.Google.com)

Wow! Just realized over 1 GB for a 0.0.1 update?! That's gotta be a record for a tiny version update. There must be a ton of fixes and enhancements in this.

Let's hope since we get no findgerprint gestures or anything else in this update.

Nope, still has the problem...

Is this going to fix my phone dying and refusing to restart at 15-25% battery? Hope so. Gets real annoying.

I cleared the cache and that all stopped.

What i have noticed so far is another performance increase lol. Literally as fast as my pixel now! Or almost on every occasion. I remember the 6P use to be slower than my S7E then a governer enhancement google put out and 7.0 made it faster than my S7E. Each update performanxe increases

6P was fast of out the box. But with time it started to lag... Unfortunately this is not uncommon even with Google's phones. When you get any update it simply clears up whatever is causing lag and then it starts to build up again slowly. That's why you think it's faster after every update

Tr-1, no. My 6P has dtayed fast and has never slowed down, i clear the cache partition every week or 2 and i clean out my storage and cached data. My 6Ps faster than when i first got it, as fast as my pixel and htc 10 ive done speed tests. Google keeps finding little ways to optimize the os and help os efficiency.

periodically clearing the cache could certainly avoid some issues, but generally speaking if the cache is operating correctly (and you'd think by version 7 google might have a few basics down correct) you should not need to manually clear it. doing so would force a cache miss more often, and thus requiring the device to work harder.

The verbiage when setting quiet hours to end on an alarm is different now.

I noticed when you press and hold an app icon that offers options, the options come up faster and display instantly. I also have the Pixel launcher. Go to settings, apps, select the cog wheel, home app, then Pixel launcher. Reboot phone.

No Pixel launcher here - just updated my Nexus 6P and the only options for launcher for me are Google Now Launcher and Nova Launcher which I installed.

Update:. Sorry everyone, I forgot I downloaded a Pixel APK. http://www.droidguiding.com/how-to-get-google-pixel-launcher-on-nexus-5x...

Not much has changed for such a big update.
I see the notification light has been accessed though. I'd forgotten it had a white LED on the to left of my 6p.
I like it..

You have always been able to access the LED light on the Nexus 6p.

The notification light always worked

I agree I've used LED for notifications since I got my 6P. Until today it was white..... now it's green..... I haven't changed any settings. Nor do I have any apps like LightFlow installed. Not a bad change just unexpected.

It's in settings notifications and the cog pulse notification light.

No finger print moves for notifications. What gives? Is it just me or are there more options for the long press of icons now, I have 4 options over phone now where I had only 2 before.

Same number of options for dialer.
No Fingerprint gesture changes because Google is lame. No other explanation

Anyone elses security certificate gone back to January after this beta ? Mine was February yesterday

Yes mine is now January, it was February for the last couple of weeks.

YES. Ive had the February update for about a month and now the January one is here. WTF

Battery Drain is horrible on ProjectFi.

Hopefully this update will save others from the dreaded BLOD 😩😩

No Google Assistant, and no fingerprint gestures. What gives? Why no love for the 6P? The battery life seems to have taken a hit again too...

Because we'll keep the 6p till it dies if we get the latest new and shiny!

Updated at 3am test and in less than 24 hrs I have a worse battery life and keystroke lag ! But UI much faster lol ?

People still haven't issue with battery dying at 20-25% should call Google. I bought my 6p from Google in sept 2015 and they did a one time replacement. They know about the problem and if you still have your order info. They will doing it. My was dying at 40%.

How about in settings under Wi-Fi, when I press the Settings star next to the 3 vertical dots, Settings crashes.I choose the open the app again choice and reopen the settings menu. Wi-Fi works fine...but the Wi-Fi settings is where the options for using Googles secure wireless networks and probably making Wi-Fi Calling options are.

Other than the Wi-Fi settings issues......I'm seeing good battery life in the first 12+ hours. I'm at 45% and have used the phone more than usual I think. Texting/calling, Doesn't seem any worse than normal anyways.

My battery life is great. I would assume since its so close to March. The security patch will be updated in a week or so. Why try and get a February patch when we are so close to March anyway.

Bluetooth was nearly useless in 7.1.1. Most of my devices including a Plantranics headset, Pebble TS, and Mazda Connect (2014 Mazda 3) would not work. The 7.1.2 beta fixed this, thank you Google. No other noticeable issues aside from the WiFi settings crash others have mentioned. I run 2 user profiles on the 6P (work and personal) and switch back and forth with no noticable issues. I also wiped the device cache (using recovery mode) for good measure after updating.
Android Central Newsletter
Get instant access to breaking news, the hottest reviews, great deals and helpful tips
Thank you for signing up to Android Central. You will receive a verification email shortly.
There was a problem. Please refresh the page and try again.