Android 101: Uninstalling apps on Honeycomb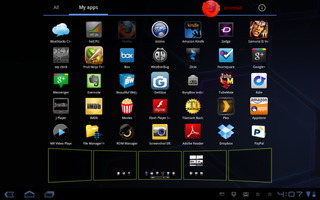 While it may seem an easy task, I will admit when I first started using Honeycomb I used the old school methods of uninstalling apps. However, there is a much easier and simpler method of uninstalling apps on Honeycomb and here is how you do it:
Find the app you wish to uninstall, hold down on it.
Your screen will then change and in the top right will appear a trash can.
Drag your app to that trash can, where it will then confirm uninstallation.
Once confirmed, your app will then uninstall and be removed from your device.
This can be done anywhere on your device that apps icons are visible. You will either see remove or uninstall in the top right, depending on where you are but you will always see a trash can beside it.
Android Central Newsletter
Get the best of Android Central in in your inbox, every day!
Thank you for signing up to Android Central. You will receive a verification email shortly.
There was a problem. Please refresh the page and try again.