Android 10 update stuck on the boot screen? You're not alone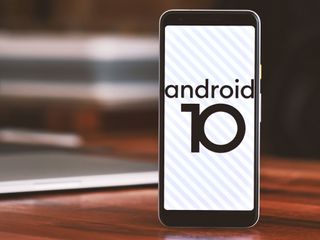 What you need to know
Pixel users are seeing long install times for Android 10.
For some, the phone is stuck on the boot screen for several hours.
The issue isn't limited to one particular model, with the Pixel 2, Pixel 3, and 3a seemingly affected.
Google rolled put the stable version of Android 10, and the update is now available for the Pixels. There's a lot to like, including a system-wide dark theme, Smart Reply, granular location-sharing controls, a new gesture navigation system, and so much more.
With the stable OTA now available, Pixels owners around the world are downloading the update. But as is often the case with these things, it looks like several users are seeing lengthy install times with phones stuck on the boot screen with the Google logo.
As reported on Google's product forums, the Android 10 installation seems to be stuck at the boot screen for anywhere between 30 minutes to six hours. It doesn't seem to be limited to one device either, with users on the first-gen Pixel, Pixel 2, Pixel 3, and the Pixel 3a reporting issues with the install.
If you're facing a similar issue on your Pixel and are unwilling to wait, there are a few things you can do. You can manually sideload Android 10 by following these instructions, or revert to Pie to try the Android 10 OTA update again. To do so, you'll have to boot into recovery mode by pressing down on the power button and volume down keys simultaneously. Once you're in the recovery mode, navigate to Reboot system now by using the volume up/down keys, and hit the power button to reboot your phone.
If that doesn't work or you're unable to go into recovery mode, force a reboot multiple times by pressing down on the power button, following which you should be able to boot back into Android 9 Pie. Try installing the update a second time to see if it goes through.
I installed the update on my Pixel 2 XL, Pixel 3 XL, and 3a XL, and while it took slightly longer on the Pixel 2 XL (about 10 minutes at the boot screen), I didn't run into any issues. I'd recommend waiting at least a half hour at the boot screen for the install to finish before trying a force reboot.
Did you run into any issues when installing the Android 10 update? Let me know in the comments below.
Get the Android Central Newsletter
Instant access to breaking news, the hottest reviews, great deals and helpful tips.
Harish Jonnalagadda is a Senior Editor overseeing Asia at Android Central. He leads the site's coverage of Chinese phone brands, contributing to reviews, features, and buying guides. He also writes about storage servers, audio products, and the semiconductor industry. Contact him on Twitter at @chunkynerd.
Pixel 3a - the update was smooth and super fast actually. If security updates took around 30 minutes to install, this upgrade was ready in 10 minutes.

I did have a longer wait than usual on the Google logo but it wasn't a particularly long wait (Pixel 3).

A bit longer to boot on my Pixel 2 XL, but no serious issues. When it came to boot up after the installation - I left the phone alone for 20 minutes or so and when I came back everything was fine.

No issues on my wife's Pixel 3a (from Pie) and on my Essential PH-1 (from Q beta 6).

No issues going to 10 on my wife's pixel 3 on 9 and my pixel 3 on beta Q 6.

I remember custom ROMs always taking 15-20 minutes and looking at that boot screen biting nails hoping it wouldn't brick itself :-)

All OTA updates have been broken on my Pixel 2 XLs (including one warranty replacement) for as long as I can remember. Pie, 10, whatever, installing an OTA from settings never ever worked one time I always had to sideload it or factory reset/flash factory image

No issues at all on my 2xl coming from Beta 6. Was a small (5.4 mb) update and took no longer than 20 minutes start to finish

Same here. 2XL update went very smoothly, no waiting around on the boot screen.

Happened to on my pixel 3aXL upgrading from beta. Had to force restart it a few times but finally finished the upgrade after a second attempt and a few hard reboots.

Took about 20 minutes start to finish. About what I expected.

I'd like a moment to thank all you beta testers out there. I don't mind waiting a bit to get it right ;)
Now if only we could strike a balance between getting the new version fresh out of the oven before it's done, and having to wait so long that it's cold and stale, we would be all set!

I like cold muffins in my lunch. Warm ones get all sticky and gooey. And sometimes get really bad and stink.

My 3XL took about 15 mins on the Google logo but the install time even on campus wifi was about 25 mins or so. I jumped over here to see if this was happening to other people at about 10 mins.

The update on my 3a went smoothly. I'd guess it took 15-20 minutes. Since this is my first Pixel, I didn't really have anything to compare it against. Coming from Motorola and Verizon, the mere fact that it was available was a novel experience for me!

My 3 XL had this issue yesterday. After half an hour of a static logo screen I started searching online, but I didn't find anyone else with the issue. So I crossed my fingers and held down the power button until it rebooted. Same thing again. I gave it one more try before calling the Pixel support line, but fortunately, the third time was the charm.

Still no update available for my 3a XL. Maybe I'm lucky after all.

Try again. By now it has to be there. Flicked via the BlackBerry keyboard on my Pixel 2

Yes, I got stuck on the first boot. I had to force power off and boot it up again. Waited like maybe 10 min before it starts animating again. Almost had a heart attack.

Came here to see if I was alone, got halfway through the comments and it finished booting. All is well!

No issues on my 2XL. Smooth and fast OTA upgrade. I was never on the betas.

My 3a took 5-ish minutes on the boot screen. Not a problem.

been running 10 since beta 2. not even minor issues really.

My Pixel 2 was on the boot screen for a grand total of 5 minutes. I didn't even think twice about it. Flicked via the BlackBerry keyboard on my Pixel 2

I also face same issue and it loops restart and reboot system continuously. Although I waited for afew hours until the device shut down. Then I try restart and resetting device but still same issue.

Pixel 2 XL, installing directly from Android 9 with latest updates. Stayed on the G boot screen about 3-4 minutes, before my lockscreen appeared. Incidentally, I'm using Microsoft Launcher, and my device also has a work profile. I did get a Microsoft Launcher isn't responding message and I just tapped Wait. Some widgets are missing or blank. I'm not too surprised, as the system is finishing the update (see notifications, silent section). Also I have a ton of apps waking up to the new OS. It's about time I cull the herd again! Overall, I don't expect any issues. Before clicking Comment edit: The "finishing OS update" process is complete. All my widgets have loaded, and everything looks normal. Time to play with the new OS features!

Pxl3xl on Fi. Still no update after mashing the check button for 2 days. Why, Google?

I got stuck on boot screen ( Pixel 2 XL) I tired the revert to pie thing it stuck too I know because the powered by android logo down there back to the old one so yes it back to pie and it stuck too.
I guess I'll keep it and wait as many hours it will take and that G logo burn into my screen.

( update ) after more than 10 hours it didn't work what else can I do im on vacation I don't have access to a computer

My Pixel 3aXL was stuck in boot mode for over 24 hours... It died after maybe 18 hrs of trying to reboot.. Then went to fastboot bootloader about a dozen times after Verizon and Best buy both tried fixing it. Wouldn't reboot... That's already after 24hours. Low n behold at hour 30... Around 10pm... I was driving home from the gym... Pissed... Bout to buy a new phone... I decided to try to get to the bootloader one more time and force it to reboot. Voila. It rebooted..
Then froze for about 5minutes...
Then it came to life again.... I rebooted... Phone has been fine since... But seriously Google? 30ish hours of being late for work... Not being able to talk to clients on my cell.. Not my boss... Like rlly..
. Get your shyt together plz...

I did have a lag, but that was not my biggest, most infuriating issue with the update. I have used Pimlico's Pimlical calendar since I had my Palm years ago. After the update my entire calendar was wiped clean, and I cannot restore entries from backup, nor sync with my Google calendar. I am beyond pissed & upset.

Worst. Android. Update. Ever. Pixel XL, Project Fi. Stuck on the G screen for hours. Chatted with Google Support, no help. Called support and spoke with them twice, best they could do was to tell me I had to do a factory reset. I did that, then ended up in a setup loop of about 8 steps, every time ending up at: you are not signed in (I was). Finally rebooted out of that and it came up OK. Heck of a way to spend an entire evening, and lose all my 2FA authentication. My son just told me that he tried the update on his Pixel 2 and it's been on the G screen for 6 hours. I'm really surprised - I can't imagine that this didn't show up on any of Google's test machines. I expect this sort of stuff from Microsoft, but Google?

I clicked n the download and now my phone is stuck on the screen with the time (5:14AM) that I started the download. I can't reboot, it won't turn on, it won't turn off, nothing. It's been 90 minutes so far. Any thoughts?