And ... the Droid 3 is officially official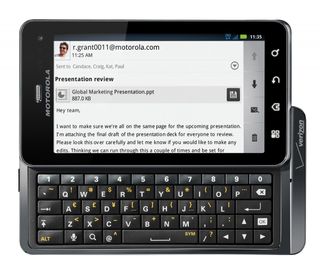 The cat's been out of the bag on this one for quite some time now, but Verizon has just officially announced the Motorola Droid 3. Specs are as we've been telling you for a while -- 4-inch screen with qHD resolution, dual-core 1GHz processor, 8MP rear camera with 1080p video recording, Android 2.3 Gingerbread, and so on and so forth.
It's available now online for $199 with a two-year plan, and will be in stores on July 14.
Note that Verizon's new data plans are now in effect as well. So if you're a new customer you'll have to go for one of the tiered packages -- see our complete breakdown here.
BASKING RIDGE, NJ, and LIBERTYVILLE, IL — Verizon Wireless and Motorola Mobility, Inc. (NYSE: MMI), today announced the new Android™-powered DROID 3 by Motorola, a global smartphone that delivers power for work and play without making compromises.
DROID 3 by Motorola is the world's thinnest full QWERTY smartphone, and still delivers the power of a dual-core 1 GHz processor for fast multi-tasking. Customers can take stunning photos with the 8-megapixel camera or capture the moment in 1080p HD video. Equipped with Android 2.3, the DROID 3 by Motorola features a brilliant 4-inch qHD display, a roomy 5-row QWERTY keyboard and 3G Mobile Hotspot capabilities, with the ability to connect up to five Wi-Fi-enabled devices. DROID 3 by Motorola delivers the power needed to conquer the day whether customers are at home, work or somewhere in between.
Additional features:
Powered by Android™ 2.3 Gingerbread
Mirror mode allows you to view and share photos, videos and movies on a larger TV via HDMI output (requires HDMI cable)
Global ready, allowing customers to enjoy wireless voice and data service in more than 200 countries, including more than 125 with 3G speeds
Enterprise ready with advanced security policies, device and SD card encryption, complex password support, remote data wipe of device and SD card; document and presentation viewing and editing with Quickoffice®
Citrix® GoToMeeting® for Android, gives users the ability to attend online meetings while on-the-go, and Citrix Receiver® for Android, a universal software client that allows companies to deliver corporate apps, desktops and data to any corporate- or employee-owned device
ESP smart dock technology for a tailored experience based on whether DROID 3 is docked in home, office or car settings
Adobe® Flash® Player 10
Front-facing camera for still shots and video chat
Video playback in 1080p HD in mirror mode
Pricing and availability:
DROID 3 by Motorola is now available online at www.verizonwireless.com, and will be available in Verizon Wireless Communication Stores by July 14 for $199.99 with a new two-year customer agreement.
Customers that purchase a DROID 3 will need to subscribe to a Verizon Wireless Nationwide Talk plan and a smartphone data package. New Verizon Wireless customers will have the option of smartphone plans starting at $30 for 2GB of data. Current Verizon Wireless smartphone customers who are upgrading their smartphone can keep their current data plan.
For more information on Verizon Wireless products and services, visit a Verizon Wireless Communications Store, call 1-800-2 JOIN IN or go to www.verizonwireless.com.
A really nice keyboard. I'm glad they've done away with that stupid D-Pad. Would like to know the resolution on the FFC. And no blur or bing, please. PLEASE?

Does anyone know if this has a NFC chip in it?

I thought all the reviews said qHD sucked (on the Droid X2)? Is this display any better?

short of not having LTE, it's one solid device.

Is that a tab key? Nice to see real uncompromising keyboards come out from Motorola...

All Verizon devices should have LTE by now.

Not everyone wants to pay the LTE surcharge...phones like this target the people who are looking for a high end device and don't have the need for LTE, at this time.

Surcharge? On Verizon, there is no cost differentiation whether you use 3G or 4G. They are both included in the same smartphone base data package, you pay $30 either way. It would make the most sense for anyone looking at a new phone to go with one that is LTE capable. You are likely going to have it for the next two years, might as well take advantage of Verizon's latest cellular technology.

Have you looked at the purchase cost of the current LTE phones on VZW compared to all the non LTE phones? There most certainly is a surcharge. Further, if you're not overly enamored with the 4.3" slab phone design (as opposed to wanting say… something with a physical keyboard) why get an LTE phone that doesn't fit your desires? Don't confuse not wanting the idea of LTE with not wanting any of the current LTE phones just to use them in an area that doesn't get LTE. -Suntan

I just ordered mine. It'll be here tomorrow via FedEx. I'll wait until they have a 4G phone that doesn't eat batteries and has a 4" screen. LTE is nice, but still buggy in my opinion.

Your opinion is way off base. LTE is fantastic.

Nice phone. Too bad we can't get something like this on Sprint, but the XPRT and Photon especially, will do nicely. Wish the Photon had a keyboard. Can't someone make a thin phone with a keyboard?

Epic 2 will have a physical qwerty, presumably. As to how thin it will be...well, we're probably in for a disappointment.

I want these specs on a phone without a keyboard. Finally a phone that doesn't have a tablet sized screen but has great specs... I don't care about LTE. 3G is good enough for a phone and in the rare instance I need to download huge files or a new ROM or something I use Wifi, which I am on most of the time. I can stream youtube just fine over 3G which is probably my most bandwidth hogging activity so 4G is mostly a battery waster to me.

This would be one killer phone IF it only had LTE 4G. Why would it not come with the fastest and biggest selling point that Verizon has to offer???? Just don't understand these dumb decisions that the supposed brains behind the scenes are making.

My guess is cost. This will cost the same as phones without a keyboard so they had to cut somewhere.

Any news on the Milstone 3? (the droid for europe)

Ordered mine last night via telesales. Spared my unlimited data before the deadline today, don't really care about LTE nor would I want to pay more for it just yet.

It is the exact same cost...

No LTE ... 2 year contract.. i dont know.. Best of luck to all who buy it though..

4G is buggy still and there are issues with the 4G phones. I am happy with 3G I never have issues. Until it is perfected I will stay with 3G devices. I know a few people who have 4G and they hate the battery life and are using 3G to save. I am not changing what doesn't need to be fixed.

I ordered it and kept my 23.99 for unlimited data, company discount, not really feeling LTE options at the moment. I have an extra upgrade due to a line that's had the same flip phone for 3 years so it's no big deal if I change my mind.

My sister has a 4G phone and not only does she continually complain about the battery life, she is also complaining about the stability of 4G. Amazing that all I keep hearing from people is how crappy the 4G service is but yet you find people here telling us that we are uninformed as to the quality of 4G. I myself will most likely pay full for this phone and wait on 4G phones and service to get better. Only thing that will stop me from jumping from my DX to this is the screen. I want to see it in person since I have heard some say it sucks and others say it's not as bad as everyone claims it is. I am guessing that most the people who complain about the screen are going by heresay without actually seeing it. I will make the decision for myself as to whether or not it is good enough to deal with till I get myself a 4G device down the road.

Any news on the bootloader as of yet?

I just ordered the Droid 3 with a 2 year contract for $224.00. Ships today and I will have it tomorrow. Make sense to pay an extra 25 dollars and only have to commit too 1 year.

So you mean 1 year, right?
Android Central Newsletter
Get the best of Android Central in in your inbox, every day!
Thank you for signing up to Android Central. You will receive a verification email shortly.
There was a problem. Please refresh the page and try again.