Amazon launches Echo Show with video chat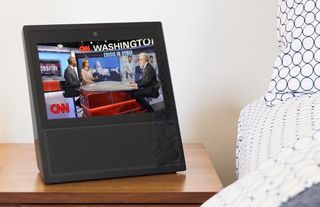 Amazon just launched its latest gadget in the personal assistant line. The Echo Show (opens in new tab) is a $230 stand-alone touch screen device that is designed exclusively for Alexa. Now, when you ask Alexa to order that doll house, you'll see what it looks like first.
The Show, which houses a 7-inch touch sensitive screen and two Dolby front-facing speakers, as well as eight microphones, can hear your query from across the room, even while you're listening to Bruno Mars.
You can also make video calls to others that have the Show using the front-facing 5 megapixel camera. Just say, "Call mom," and you'll be able to talk, face-to-face with you dear mother. If she doesn't have her own Echo Show (you should get her one for Mother's Day), she can video chat with you via the Alexa app.
You can connect the Show to supported smart home devices, like the Ring front door camera or the Arlo security camera, and monitor goings-on without having to take your phone out of your pocket. Just ask Alexa to show you the baby's room and you'll be watching your bundle of joy resting peacefully.
The Echo Show can turn on the lights, turn down the heat, and activate all other Alexa-compatible smart home gadgets.
It also works with all of your other Alexa Skills, like Ted Talks, news flash briefings, and checking your calendar. Only now, you can actually see the results you're asking for, instead of just hearing Alexa chatter on.
Amazon is offering deep discounts on a number of Echo-related gadgets right now. The Arlo Security camera (opens in new tab) is down $72 at $147, which is a 33 percent discount. The Wemo Smart WiFi Plug (opens in new tab) is $5 off. If you buy two Echo Show devices, you can get $100 off with promo code SHOW2PACK. So you can get one for yourself and one for mom!
If you're ready to go all-in and have Alexa in every room, you can grab the standard Echo speaker for just $150 right now, which is $30 off the normal price.
You can pre-order the Echo Show today for $229.99 and it will arrive on your doorstep June 28.
Seems like the Echo brand is becoming a little too... extra.

Sorry to be that guy, but please change your title line to "Your"... That is hard to look at especially being the first word...

Am I the only one that thinks this device looks archaic? Like from the 1980s. Why not a pad form on a sleek stand?

I'm guessing that the cabinet is designed that way to provide fuller sound from the speakers. Perhaps they'll follow the same path as the Echo Dot and do a tablet-on-stand that has to be connected to a stereo system for better sound.

It made me think of the Jetsons

it reminds me of some of the old Archos PMP devices...if anyone else remembers that brand and Personal Media Players (before smartphones existed)?!

anyone else notice this product starts at $230 at the beginning of the article and ends at $300?

I noticed that too, but if you check the Amazon link, the Echo Show is $229

Amazon should make an Alexa home launcher so that I can make my unused tablets an Alexa assistant.

I felt the same way about the Look-- that didn't need to be an always-on device, it should have been an app and a stand with lights on it. Hell, even this seems like it would work better, just because you can see yourself in it.

This needs to be built into TV's. Add the alway on microphone array, a Webcam, and you've already got a much better display and good enough speakers. Would be a cool selling point if executed well.

They already have most of that in a TV... It's called Fire TV devices. Not that I ever use Alexa on the Fire TV but it's there.

I said this when it leaked. It doesn't look consumer facing. Actually, it looks like a bad prop from bad sci-fi movie.

Lord that design, looks like a big screen TV from back in the day. There has to be something else going on here, that should never have been put in front of the public to buy.

Amazon doesn't have the product variety to make this more seamless. Who wants a new video calling app or calendar service? They don't have a leading product in music, video streaming, search or communication.

Wow. They really released that..

my phone can do pretty much all of this. not a lot of people need this.
voice is more than enough

A video chat device that only works if someone has a compatible device on the other end? What is this, 1992? Ah, WebOS, with your wide array of integrations, seamlessly hidden from us... your time was too short.

lol... you mean like facetime that only works on apple devices? Google and Microsoft seems to be the only ones that wants to share services between all devices

FaceTime might only work with Apple hardware, but Apple hardware can run other software like Skype. As far as I can tell, that's not an option here. Given what they did with Pandora and Spotify, maybe it will come down the line, but out of the gate, swing and a miss.

But this suppose be functional through the alexa app so technically anyone with a not too old smartphone can use it

Getting someone who doesn't own an Echo to install the app on their phone in case I decide to video conference them strikes me as a pretty hard sell.

I agree but it probably will not be any harder than getting someone without a skype account to download and use skype...

Worst looking device I've seen in ages. Is it meant to go in the home or a security office?

Looks like a futuristic device you'd see in Back to the Future 2.

So now after your Echo Design takes nude photos of you, you can see what they look like before they're hacked and spread all over the internet. Cool.
Android Central Newsletter
Get the best of Android Central in in your inbox, every day!
Thank you for signing up to Android Central. You will receive a verification email shortly.
There was a problem. Please refresh the page and try again.