The Amazon Fire Phone is officially available today — here's what you need to know!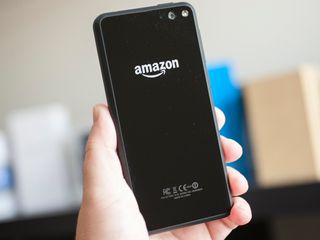 It's ... different — but there are still some compelling features in the new Amazon Fire Phone
Today, the Amazon Fire Phone is officially on sale. Those who preordered it should already have them in their hands, however, and that includes us. Nobody's expecting the Fire Phone to revolutionize smartphones, but there are more than a few interesting features that deserve mention.
So here we present you the short, short version of what you need to know about the Amazon Fire Phone.
Wait, so what is this thing again?
The Amazon Fire Phone, like the Kindle Fire HD tablets, is an Android-based device (Android 4.4.2, to be precise), running Amazon's custom software. It's got a 4.7-inch display at 720p resolution and is powered by a Snapdragon 800 with 2GB of RAM. It's got a 13-megapixel rear camera, 2.1MP front-facing camera, and four crazy lenses around the display that we'll get to in a minute.
The back has a glassy feel to it, not unlike the Nexus 4 or original LG Optimus G.
You can find the full specs here.
Where can I buy the Amazon Fire Phone?
It's officially available today from Amazon (naturally), and from AT&T online or in stores.
Off-contract it'll cost $649. You can get it on the AT&T Next for as low as $27 a month, or do a typical two-year plan and pay $199 for the phone up front.
So it's an Android phone? With Android apps?
It runs Android apps, but it doesn't have access to the Google Play Store or any traditional Google services. (It uses Microsoft's Bing for search, even.) You'll be downloading from the Amazon Appstore (or elsewhere, we suppose). But you won't be able to use apps you've already bought from Google Play. (Not without some hacking, anyway, and you know that it's going to happen.) You can sideload apps just like on any other Android phone, though.
What makes it so special then?
For one, it's Amazon's first public try at a smartphone. And while the Fire Phone is similar to Amazon's tablets in that it completely integrates Amazon's stores and services, most folks use their phone far more than a tablet. So it gets Amazon in front of them that much more.
That's important to remember when you're thinking about the Fire Phone. Its intended purpose is a little (or a lot, maybe) more focused. Get Amazon to you. Buy things. Buy lots of things. Do other stuff, sure. But buy things from Amazon.
OK, so what's up with all those cameras on the front?
Those are part of this crazy user interface that looks at you. No, really, it's looking at you. It sees your face and can tell when you're looking at it straight-on. But turn the phone ever so slightly, and hidden information appears on the screen. It's actually kind of a neat way to hide the status bar on the home screen, and to show tooltips when you're doing other things. It also allows for some cool — but gimmicky — 3D graphical effects.
All those cameras also make the front of the phone look a little silly. And if anyone's making accessories for this thing, they're going to have to look out for the lenses.
And this Firefly thing?
Being able to use a camera to scan products to get more information is nothing new, but Amazon's done it really well here with its "Firefly" feature. Start it up, and point the phone at anything and everything. If it's recognized, you'll quickly get an Amazon listing, and from there you can buy it. If it doesn't recognize that thing, you can help Amazon build up its database by submitting the picture and info.
It's pretty cool, actually. And also a little scary.
Anything else I need to know?
This phone won't be for everyone. If you're not way into Amazon's cloud services our buying all the things from them, you'll probably want to look elsewhere. It's not like it's all that difficult to download any one of Amazon's apps to get to the same stuff. (Save for Prime Instant Video. C'mon, Amazon!) But we get why Amazon's done the Fire Phone. It brings Amazon that much closer to consumers.
It's different. It's a little weird. And in the context of your traditional Android smartphone, you'll probably want to look elsewhere. Amazon know this, though. We'd expect the Fire Phone to be much more of a long play than Facebook's two attempts at phones. Amazon has actual content and services people use.
Does that require a full phone? Nope. But unlike the other niche phones we've used over the years, Amazon's Fire Phone has a lot more to offer.
Get the Android Central Newsletter
Instant access to breaking news, the hottest reviews, great deals and helpful tips.