Amazon Fire Phone update brings KitKat, new keyboard options, and much more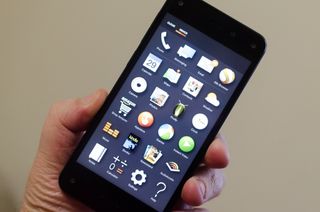 The new version number for the Fire OS after this version is installed is 4.6.1. Here's what's new and improved with this update to the nearly one year old Fire Phone:
Support for Bluetooth Low Energy - Fire phone now supports Bluetooth Low Energy technology. To learn more, go to Connect to Bluetooth.
Change the wallpaper on the Home screen - You can now change the Home screen wallpaper to a different color or use your own image. To learn more, go to Change the Home Screen Wallpaper.
Lock screen notification improvements - View previews of new notifications on the lock screen and manage which apps can show previews on the lock screen. To learn more, go to View & Manage Notifications.
Additional keyboard options - Amazon's keyboard now includes color emoji. Choose from hundreds of emoji characters to make your e-mail and multimedia messages fun and personal. You can also change the default keyboard on your Fire phone with another compatible keyboard downloaded from the Amazon Appstore. To learn more, go to Customize Your Language & Keyboard.
Convert video clips into lenticular images and set HDR to auto - Record video clips and automatically convert them into a lenticular image to share with others or use on the lock screen. With HDR turned to auto, your phone's camera also determines whether a scene needs HDR and captures it to create a rich, detailed image. To learn more, go to Take Photos & Personal Videos.
Smarter calling options - Manage up to five people on a conference call, delete all previous calls in your history, and more. To learn more, go to Make & Receive Phone Calls.
Messaging improvements - Delete or forward multiple messages in a conversation, swipe to delete conversations in your Inbox, and modify your messaging settings with new options, such as the ability to change the text size of your messages. To learn more, go to Send, Read & Manage Messages.
Choose different colors for calendar events - If you have multiple e-mail accounts synced with your phone, you can assign a color for each account. When you select a new color for an account, your calendar events appear in that color. To learn more, go to General Settings for Email, Contacts, and Calendar.
Print from your Fire phone - You can now print personal documents, e-mails, contact details, and calendar events from your Fire phone to your compatible HP, Epson, or Canon printers. To learn more, go to Print From Your Fire Phone.
Enhanced enterprise features - With support for secure work Wi-Fi networks, single sign-on for corporate networks, and AES-256 bit hardware encryption, your Fire phone is ready for more work. To learn more, go to Protect Your Fire Phone with Encryption and Set Up a VPN.
Accessibility improvements - Easily manage your closed caption settings across the device and enjoy new Screen Reader features—such as independent volume controls and faster reading speed options—when you use the accessibility options on your Fire phone. To learn more, go to Accessibility Features.
Bug fixes and user interface improvements - Dozens of other bug fixes and user interface improvements.
Amazon is currently selling the unlocked version of the Fire Phone for $189 and it still comes with a free year of Amazon Prime, which is normally worth $99. There's been no word if the company will launch a successor to the phone this year.
Get the Fire Phone from Amazon now (opens in new tab)
Source: Amazon (opens in new tab); Thanks to mrfreeze for the tip!
Wait you mean someone still actually owns this piece of junk? Posted via the Android Central App

It's not a piece of junk. It's a decent enough phone that was wildly mispriced in the market. My guess would be Amazon learns from the mistake and launches a Fire Phone 2 that's marketed to compete with the likes of the Oneplus One, Idol 3, etc... ($250-$300 off contract)

As a Prime Member, it's better to just buy a year of Prime and keep your phone.

For under a hundred this beats anything else you might find on the market. My prime subscription was coming due and I was able to get this for $185. Got it the next day and gave it to a relative who's still using an iPhone 4. Might not be the newest and greatest but she hasn't been able to put it down and she was able to get rid of her iPhone for $60 (which she of course immediately blew on accessories). Just because it's not up to snuff for most people visiting the site doesn't mean it's bad. Their worst mistake was over pricing it from the very beginning.

Yes, and all 100 owners will say it's a great phone. And it doesn't suck. They will also tell everyone it was overpriced and that's why it flopped. And when they dropped it 199.00 with free prime worth 99. It was just to late.. Lol Posted via the Android Central App

Have you used it? It is a great phone, I was a bit skeptical at first but at 199 with one year of prime i twas a no brainer. I got one for my dad after using it myself . Mayday is amazing and I don't have to be the support engineer any more YAY. I initially thought that I would miss most of google services however, it does have great email and calendar support so used it for work. For travel I was a bit apprehensive but the installed maps app worked better than the nokia (windows phone 925, 1510) and bberry (z10, passport) bundled one which was strange as nokia owns all 3. I am not into games on mobile phones so can't say much about that. Amazon appstore gives one app free everyday so that worked out well for some productivity apps for me. The sound quality was amazing on the phone and signal was better on this than the LG G2 that I had previously (on AT&T). Amazon prime music now gives you pandora like functionality and on T-mobile it does not count towards data so that worked out well too. anyway for $89 (if you want or already have Prime) this can't be beat.

Yeah for $189 and a free year of prime it isn't a terrible deal. Probably the best phone hardware wise you can get off contract for the price.

The owners of the Firephone must b ecstatic! Posted via the Android Central App

Lol Posted via the Android Central App

I'm am ecstatic!!!! Love the update on my Fire Phone and proud of it, too!

Proud? Posted via the Android Central App on my 5.1 X Pure

Yeah, proud that I do not have, nor do I require the evil Google Play services installed. Until Windows Phone matures with apps, this will be my primary phone.

Lol Microsoft shill.... As if Microsoft is not evil. Posted via the Android Central App

I know this isn't an official feature, but the update makes it play WAY better with Google Play and Google services. It is really a capable Android phone after the update. Launchers work, too, thankfully!

inb4comments bashing the fact that it's KitKat and not Lollipop...

Wait, it's just getting Kitkat? Posted via the Android Central App

Yes but it doesn't matter in the slightest. Fire doesn't rely on Google Play Services like other Android devices. It's the latest Amazon OS update so that's all that matters. Posted from my Motorola Moto G.

So what they're saying is, the new update adds an old operating system? Posted via the Android Central App

Underneath the Fire OS 4 it was on Jelly bean and the update brings it up to Kit Kat. I have not tried the update yet but it was doing well with jelly bean so I am sure this makes it much better.

It runs the Google Play services flawlessly now. :D

No. But my BlackBerry Passport will.

I don't own one but hasn't played with them in an att store. I was impressed with the hardware, less so with the software. It actually felt really good to hold. Has a soft touch feeling case which was very nice. Felt a little slow but not that bad all things considered. Pretty much marketed to kids. Posted via the Android Central App

It's MUCH better after this update. I wanted to throw it against the wall before this update.

For the 3 people who have them? Never sold one when I worked at att. Posted via the Android Central App

Because the software was crap and the price for an unknown brand was too high. Now it's reasonably priced with much better software. You can also easily sideload Google Services, so no it's not a terrible device. Oh and it was 4 people, not 3. :P

Is probably worth getting just for the prime membership. The phone can't be that bad with those specs. Can i get showbox on this? Posted via the Android Central App

Yes, you can install both Showbox and Kodi on it.
Android Central Newsletter
Get the best of Android Central in in your inbox, every day!
Thank you for signing up to Android Central. You will receive a verification email shortly.
There was a problem. Please refresh the page and try again.