Alto's second birthday includes extra hype for his next Odyssey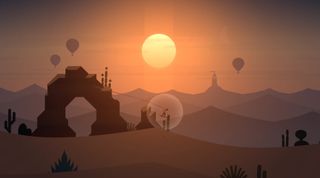 There are two types of people in the world — those who have lost countless hours to the hypnotic magic that is Alto's Adventure, those who think the first group should see their therapist more frequently. Well, joke's on you because my therapist also plays this simultaneously relaxing and stressful side-scroller. Alto's Adventure has enjoyed remarkable popularity across Android and iOS over the last two years, and to celebrate the second birthday of the game we all get a very brief teaser of the next game in what is now a franchise.
Here it is!
That didn't tell me anything but I still want to play it. Unfortunately, none of us will be able to play Alto's Odyssey until later this summer. In the mean time, you can tell all of the people that haven't bought this game and lost entire weekends to it that the price has been temporarily dropped (opens in new tab) from $4.99 to $1.99 as part of the birthday celebration.
Anybody else going to go play this game for the rest of the afternoon? No? Just me?
See at Google Play (opens in new tab)
Russell is a Contributing Editor at Android Central. He's a former server admin who has been using Android since the HTC G1, and quite literally wrote the book on Android tablets. You can usually find him chasing the next tech trend, much to the pain of his wallet. Find him on Facebook and Twitter
Not seeing a price drop anywhere Edit...Doh, nevermind...

The only Odyssey I am waiting for is Super Mario Odyssey on the Switch.

I tried the Amazon Underground version and was bored within a minute. I don't understand the everlasting appeal of this one.

It's still showing the IAP as $3.99 for me...
Android Central Newsletter
Get the best of Android Central in in your inbox, every day!
Thank you for signing up to Android Central. You will receive a verification email shortly.
There was a problem. Please refresh the page and try again.