All PlayStation VR Games that Support PlayStation Aim Controller in 2022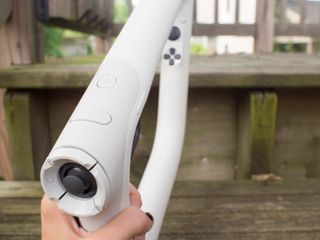 (Image credit: Android Central)
The PlayStation Aim controller is perfect for any first-person VR shooter. It was designed to look and feel like a real gun down to the button placements. Realism aside, the only downside is that the Aim controller is only compatible with a handful of PlayStation VR (PSVR) games. Here are all the games you can play with the PlayStation Aim and which ones are our favorites!
★ Featured favorite
This version was modified to fit a single-player experience, so you can't play with your friends in a multiplayer mode, but you can enjoy almost everything else Borderlands 2 has to offer. Go cause mayhem in a world of uniquely designed visual graphics. The bundle includes Borderlands VR, Beat Saber, PSVR headset, PS Camera, and two Move controllers!
Time for a crisis
Crisis VRigade is an absolute blast to play with friends — up to three others, in fact! The gameplay harkens back to the days where you went to arcades and used those big old gun controllers to shoot the enemies in each room before you move onto another. Stop a bank heist, clear the harbor of gangs, and even save the President. It's great arcadey fun!
One serious sequel
Crisis VRigade 2 is the direct follow-up to the original, but this time around things are a lot more realistic — realistic-looking, that is. Crisis VRigade 2 is designed to take everything great about the original and turn it up to 11, including better graphics, bigger levels, bigger guns, more action, and an even more immersive experience.
Otherwordly beauty
Here you find yourself on another planet with beautifully designed visual graphics. Farpoint is the most beautiful VR shooter compatible with the Aim controller. Kill aliens, explore an unknown planet, and try and find your friends before it's too late!
Infected space station
DOOM VFR is fast-paced and terrifying. Every time you turn your head, there is some zombified astronaut or alien lunging at you for the kill. If you're looking for a first-person shooter that will definitely get your heart racing, this is the one!
Zombies!
A good zombie game in a VR headset is always a riot, and Arizona Sunshine has an amazing story and graphic gore to get you to jump out of your skin. You can use the Aim controller to play with rifles and long guns, but you'll need your two Move controllers if you want to dual-wield pistols.
War is eminent
Bravo Team is perfect for anyone looking for a great military simulator. Take out enemies, plan and execute perfect missions, and attempt to survive a war taking place in modern-day Eastern Europe. You can play alone or with a friend by using two-player co-op modes.
Military stealth
Firewall Zero Hour is another military simulator first-person shooter, but it focuses more on the tactical approach. Strategically plan the positions of your team, when to shoot, and which enemies you'll kill first to progress with the least amount of fallout as possible.
Night time horror
Brookhaven Institute is another great zombie game with Aim compatibility. Instead of fighting them in the bright sunshine, you'll be fighting them at night in the thick of a semi-abandoned town. If you prefer your horror games to be scary and dark, this is the one for you.
Other PlayStation VR games that support PlayStation Aim controller
These great PSVR games with Aim controller support are all available for download on the PlayStation Store:
In addition to these, a handful of new PSVR games are coming soon with PlayStation Aim controller support in 2020. Sniper Elite VR is the VR version of the popular slow-motion sniper series that has players killing Nazis, while Zero Caliber puts players in a squad of mercenaries as they defend the rights to a limited supply of clean drinking water in a near-future U.S.
Start shooting professionally
The PlayStation Aim controller has built-in compatibility with all of the games we listed above, but those aren't the only games you can use the Aim controller with. When a game comes with built-in compatibility, you're less likely to have any issues with controls or mechanics in-game because the game was specifically formatted to use the device. You can always try to use the Aim with any first-person shooter but be prepared for a few problems.
Borderlands 2 VR is our favorite for all the phenominal abilities the Borderlands series comes with. The visual graphic style is unique in it's own right, and even more so when you're put into an actual first-person perspective from the inside of a VR headset. It's a bit disappointing you can only play single-player, but you quickly forget when you get into the game.
Farpoint is a runner-up for the sheer visuals it offers. We all put on VR headsets to jump into the worlds of our favorite games and movies. The better the picture looks, and the higher the resolution, the happier we are. Farpoint may not have as much when it comes to mechanics and gameplay like the other options, but it's visually stunning and the story does an amazing job of making you forget you have a screen in front of your eyes.
If you're looking for a shooter with a little more cooperative action, the Crisis VRigade series is a pure gem. Taking homage from the Time Crisis lightgun games of yore, Crisis VRigade is a blast to play with friends. Several staff members have played the title and enjoyed every minute of it, and Crissi VRigade 2 ups the ante and the difficulty significantly. It's fun to play alone, but it's way more fun to play with friends.
Get the Android Central Newsletter
Instant access to breaking news, the hottest reviews, great deals and helpful tips.
Essa Kidwell is an expert in all things VR and mobile devices who can always be found with an Oculus Go, a Pixel 2, and an iPhone 7+. They've been taking things apart just to put them back together for quite some time. If you've got a troubleshooting issue with any of your tech, they're the one you want to go to! Find them on Twitter @OriginalSluggo or Instagram @CosmeticChronus.