Alcatel introduces One Touch Evo7 HD tablet with Jelly Bean and 4G capabilities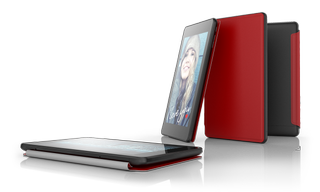 Not content with releasing 5 smartphones so far this week, Alcatel is also today announcing the launch of a new tablet with cellular data capabilities. The One Touch Evo7 HD is a 7-inch tablet, that can be upgraded to 3G/4G via a removable data module that can be installed or removed to each users desires.
Spec wise, the Evo7 HD will run Android 4.1 Jelly Bean over the top of a 1.2GHz dual-core processor with a quad-core GPU. It's pretty thin and light, coming in at just 10mm thick and weighing 12.35oz. There's a push on individualizing your tablet too with a full set of accessories coming to market with the tablet, such as flip covers, pouches, and colored frames to change the appearance of the tablet. Sadly we're not treated to any information regarding on board storage at this time, and while the specs we do know aren't going to set the world alight, the Evo7 HD could be a solid budget offering at the right price.
As with their smartphones, Alcatel will be showing off the One Touch Evo7 HD at this weeks CES 2013 event in Las Vegas. The full press release can be found after the break.
ALCATEL ONE TOUCH Announces First 3G/4G Modular Tablets and WiFi LTE Intenet Key at the 2013 Consumer Electronics Show
Las Vegas, Nevada (Consumer Electronic Show) - January 8, 2013 – TCL Communication, designer and manufacturer of ALCATEL ONE TOUCH branded mobile devices, today introduced two new-to-market mobile devices, including a thinner, sharper and faster modular tablet with end-user upgradeable 3G/4G module and a mobile Internet Key with WiFi LTE hotspot capability at the 2013 Consumer Electronics Show in Las Vegas.
"When developing these connected devices, the goal was to truly empower the end-user and provide them with the opportunity to customize the way they want to connect," said Hugo Hernandez, Director of Business Development at ALCATEL ONE TOUCH, North America. "With our lives are becoming increasingly more mobile, the devices we choose are playing a more crucial role, which is why we are developing products to meet the consumer's lifestyles."
ONE TOUCH EVO7 HD
The ONE TOUCH EVO7 HD is a unique modular tablet that gives the end-user the freedom to enhance and upgrade their tablet as their needs change. The HD WiFi 7" tablet can be easily upgraded to 3G/4G connectivity thanks to removable a 3G/4G module that can be installed, removed and connected at any time.
The ONE TOUCH EVO7 HD also provides easy, on the go accessibility with its faster, thinner, and sharper design. The tablet features a compact design (10mm thin and only weighing 12.35 oz), 1.6GHz dual-core processor and quad-core GPU, running Android 4.1 Jelly Bean.
Additionally, the ONE TOUCH EVO7HD provides users with freedom of expression, with more choices to customize their tablet, including a complete set of stylish accessories, including integrated flip covers, leather pouches, colored frames and much more.
Android Central Newsletter
Get instant access to breaking news, the hottest reviews, great deals and helpful tips
Sounds cool but I think they stole that name. Evo, I mean really,come on. THats like a kick in the balls for htc.

I think the term "Evo" in relation to cell phones is completely owned by Sprint. If I were Sprint, I would sue them... (I don't like lawsuits and such, but this is a perfect example of a PROPER thing to sue over).

I agree with crowrb29.. Evo? Really? Come up with ur own name Alcatel..

They did, its the Evo 7 not the Evo.

No they didn't, the Evo 7 sounds like a Sprint / HTC tablet version of their popular Evo line.
It sounds like a new iteration of the Evo line.

Are u serious? So just 'cuz they added the screen size to the name it makes it okay right? Dork.

We now know this will not be coming to Sprint.

Are Alcatel devices good quality? I admit, I'm thinking of dumping my iPod 2 in favor of an Android tablet and these do look quite cool, just concerned about quality.

EVO7 really, don't be lame and take HTC / Sprint's name.
I'd be surprised if someone at HTC / Sprint doesn't challenge this name.

It's a foul play no doubt, but HTC says: "Lawsuit??... h'aint nobody got time fuddat!!"

They better have time for somethin 'cuz they already losin money..
Android Central Newsletter
Get instant access to breaking news, the hottest reviews, great deals and helpful tips
Thank you for signing up to Android Central. You will receive a verification email shortly.
There was a problem. Please refresh the page and try again.