Activate a Sprint Galaxy Nexus you'll get $50 in your Google Wallet instead of the usual $10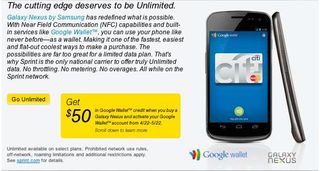 The other day when preorders for the Samsung Galaxy Nexus on Sprint went up a lot of folks got lost in the happiness of knowing the device would finally be arriving and instantly laid out the $199 for it requested by Sprint. That said, there were some details missing from the announcement. Some great details actually, if you're looking for some cash back on the that investment.
That's a nice little bonus for all you soon-to-be new Sprint Galaxy Nexus owners yeah?
Woo Hoo! $50 worth of McDonald's and then later antacid!

Good thing Google Wallet works in McDonald's and Walgreens!

I'm still trying to find a work around to get wallet to work on my new Samsung galaxy s2 with tmo. I was able to download it, but I'm getting a "not supported by my carrier" message. Any suggestions?

If your phone is rooted it won't work anyways. I lost function on mine after the last update.

Yippee! Galaxy Nexus price war! Amazon and Wirefly are at $49 new / $149 upgrade for VZW. I wonder if that had something to do with this. Now this. How low can it go? I'm going to keep a close eye through next week.

$50 in google wallet credit + the $50 Best Buy Phone Freedom promotion from a few months ago = $100 Galaxy Nexus!

Good thing you mentioned that! I just shattered my Evo 3D screen this morning and was going to need to get a new phone. I totally forgot I registered for that $50.00 card!

"a lot of folks got lost in the happiness" sigh... Only AC writers got lost. Every other blog reported this guys.... Anyway... It's a great choice. You're essentially getting an instant rebate.

damn. if only i could activate it on my gs2

I already have Google wallet set up on my Nexus S 4G, will I receive the extra $40 as well when I log in to wallet on a GNEX on Sunday? Is this promo only for NEW Google Wallet users? Details, Sprint! :-)

I just called the number in the story, and they said you have to be a new Google Wallet user to get the $40. New gmail account I shall make.

I'm going crazy in walgreens when I get the $50 lol

Make a new gmail account;) and you will get it.

I checked this morning, and the pre-order stock has been sold out. I'm glad I got my order in yesterday.

Just wait few months, and the price will drop to free on .
Why I have to $200.0 for the phone plus monthly fee! That's crazy, I'll end paying over $2000. anyway in two. The phone should be free on cantract.

Damn if I got my phone Friday the 20th and activated it,do I still get the credit? Its not during the promo period, hopefully.
Android Central Newsletter
Thank you for signing up to Android Central. You will receive a verification email shortly.
There was a problem. Please refresh the page and try again.