Action Launcher is getting Google Now integration and a bunch of Android O features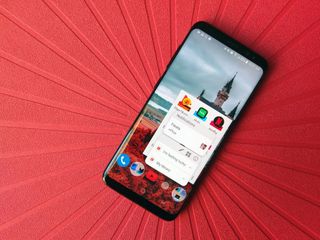 Action Launcher went old school with their name, made their Pixel features free by default, a butter-smooth Clock widget, and a more standardized gesture system for App Shortcuts, Covers and Shutters. But as Chris Lacy said in a podcast with Android Central, there was more to come, and it's coming tonight.
Get ready for some Google Now action.
Action Launcher is debuting a Google Now plugin to bring the pane to the popular launcher with Action Launcher v26 tonight. The Action Launcher Google now plugin you will have to download outside the Google Play store, because as you might remember, Google is making launchers jump through a bunch of ridiculous hoops to get Google Now on a third-party launcher. Action now joins Nova Launcher in the circle of launchers that have overcome the hoops in order to offer one of Google's most iconic launcher features.
But that's not all we're getting in Action Launcher v26. Oh, no, that's just one of the new toys Chris Lacy is giving us to play with. We're also getting a bevy of Android O and notification tweaks, including full support for Notification Dots, Notification Previews, Unread counts and the granular control to decide which apps get which. Widgets have gotten some love here, too, with Action Launcher adopting an Android O style widget picker and the Google Pill widget finally getting that Pixel Launcher edge when you set it on the left side of your screen with Google Now enabled.
Here is the full changelog for Action Launcher's (opens in new tab) massive update for you to read while you wait for the update, and it is quite the Christmas in July:
NEW: Google Now integration for all! Requires installation of the Action Launcher Google Plugin application.
NEW: Full Notification Dots support!
NEW: Long-pressing a shortcut will display a preview of app's notifications and allow notifications to be dismissed ala Android O. Available when using either Notification Dots or Unread Count.
NEW: Unread Count support extended to all apps that have a current notification.
NEW: Android O style App Shortcuts panel.
NEW: Allow granular control as to which apps display Notification Dots/Unread Count.
NEW: Android O style widget picker, which displays all relevant widgets for a given shortcut.
NEW: Directly engage Action Launcher's Quickedit panel via a shortcut's long-press popup UI.
NEW: Dedicated "Icons & App Shortcuts" settings page, which is home to all icon related settings.
NEW: When Google Pill widget is on the left screen edge and Google Now integration is enabled, display a tinted edge background as per Pixel Launcher.
NEW: Option to adjust the scale of icon indicators.
NEW: Revamped interface for selecting the apps that are hidden from app drawers.
More information about the plugin and the download are available at the link below.
Ara Wagoner was a staff writer at Android Central. She themes phones and pokes YouTube Music with a stick. When she's not writing about cases, Chromebooks, or customization, she's wandering around Walt Disney World. If you see her without headphones, RUN. You can follow her on Twitter at @arawagco.
People who use Nova must be incredibly insecure since this inane comment shows up multiple times on every article about Action Launcher. Grow up.

Action Launcher is handy, highly customizable, and popular. Nova may be better, but that doesn't mean Action Launcher is trash. Different strokes.

So not helpful or topical

Now with the Google now integration I can jump between Nova and action launchen often to change up once in a while.

Nice. Just started using action launcher yesterday, and I was considering going back to the Google now launcher. Guess I'll stay a bit longer.

Google now on action launcher is already active. Using it now. You'll need the plus version.

Doesn't work for me, what am I doing wrong?

Go to settings for Action Launcher and click the Google Now banner at the top. It will link you to a website with an APK Mirror link toward the bottom. You have to install that companion APK to enable Google Now.

Did all that still nothing

Weird, maybe restart Action Launcher?

Tried restarting, also I assume you must enable it through shortcut settings for left screen Google now but it won't let me select the Google now setting

Are you on plus version? Otherwise it won't work.

You need the APK companion and the Action Launcher update provided through the Play Store.

Same for me! I have the plus version, ans I downloaded the plugin, enabled on setting, change it to google now feed on gestures, and still nothing! I think it has to do with android version, because right now I have Android 5, and the google now on Nove didn't work as well.

Makes the launcher seem really janky on my S7e. Had to uninstall

Little bit of jank on my S8 too. Just a little in the transition the Now page.

That's just your s7 edge. I had similar issues on my s7 edge. Couldn't stand it. I bought an s8 to try side by side. It's like night and day. It could be that the s7 edge doesn't work properly with edge panel. Just sold my s7 edge and love the s8 difference.

Give it a couple weeks, you'll get the Samsung jank and slowdowns ..dont you worry lol

I've had it for a while and by now it should have done that and it's still as smooth as anything. Hopefully it continues. I love using my Samsung pay and amazing camera.

All these Android O features are a compelling switch but I'm fully invested in Nova. Are these new features only available after paying full for Action Launcher?

I don't think so, but I am a Supporter...

Most of them are. You need plus for the Google now feature and some o features.

Not a fan of the notification dots. Love the dynamic badges on Nova.

Me too. The notification previews are interesting though.

The notification widgets are awesome.

I've been wanting this for nova for a while. I'm nova fan. Hope this comes soon for my Boi nova

If you mean Google Now, yeah, it happened weeks ago.

It's been out mate, for several weeks now!

Ok, can someone please tell me why I'm seeing the old version of 'Google Now' and not the new 'Google Feed'?

That's the Google Now feed Nova Launcher gets, too.

Do you mean how everything is in one continuous feed and not seperated by the two tabs? I only see the 2 tabs on my 6P if I get launcher without Google feed and open the Google app from an icon and it gives me the different interface.

Yes, I'm getting the continuous feed in Action Launcher and the updated feed on my stock launcher

I'm finding a bit buggy yet, but it's a great step in the right direction.

The disproportionate amount of attention this particular app gets here at AC always makes me wonder if there's a conflict of interest we don't know of.

I think maybe they are just putting out big, newsworthy updates.

Quick question: I just got action launcher (plus version). I chose the pixel launcher look but I still see the circular dotted icon for the app drawer. I think this is redundant. Is there a way to choose one or the other?
Android Central Newsletter
Get the best of Android Central in in your inbox, every day!
Thank you for signing up to Android Central. You will receive a verification email shortly.
There was a problem. Please refresh the page and try again.