Action Launcher 27 brings more color and transparency options to your Android home screen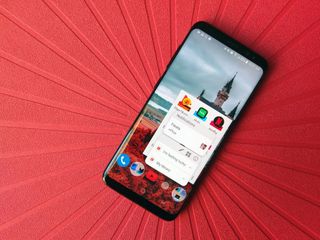 Action Launcher has been a fan favorite launcher for years now, partly due to developer Chris Lacy consistently adding new features. Action Launcher 27 is out now, and here are some highlights of the new features:
The App Shortcuts and Notification Dots can now be colored to match either the wallpaper or the icon itself.
Action Launcher's custom search bar widget can now be placed anywhere on the home screen, not just at the very top.
Users can now adjust the transparency of folders and the All Apps drawer via Action Launcher's Quicktheme settings.
A new weather widget for Android 6.0 and later.
The full changelog is:
NEW: Weather widget (Alpha). Requires Android 6.0 or later.
NEW: Adjust the color of the App Shortcuts panels via Quicktheme.
NEW: App Shortcuts, Shutters and Covers can be tinted with the highlight color of the controlling icon via Quicktheme. Allows for Twitter's App Shortcuts panel to by light blue, WhatsApp's to be green, etc.
NEW: Ability to adjust the transparency of the All Apps page, search box, folders, Shutters and more via Quicktheme.
NEW: Quickbar (aka the custom Google Search bar) can be placed as a standalone widget anywhere on your layout.
NEW: Revamped Quickbar icon picker, and the number of icons available for Quickbar customization has increased from ~200 to ~950.
NEW: Option to disable widget padding (Settings -> Desktop -> Advanced -> Widget padding).
Are you looking forward to these changes to Action Launcher? Let us know down below!
A memory leak was addressed as well, should improve battery life.

Wow and I just uninstalled this. I guess it was too soon for me to do that.

Does Textra support the dynamic icon system that Action Launcher uses?

Sporting a Droid Turbo while I await my next phone, Action Launcher has been an awesome find. It allows me not to miss my Pixel too much

I have been using this app for a while now and enjoy the features it has been offering from the Pixel and O on my Moto G5 Plus

Looks like some interesting changes. Will use it ad my launcher for some time to see how it goes. The problem for me is that my zooper widgets dont work well on Action launcher compared yo Nova

I've noticed that some widgets have a tendency to freeze on action launcher. Play music and the stock calendar widgets are two that I've noticed big time. Don't have this problem with Nova.

unread message count not working reliably for some apps.. overall a decent update

Check out Homeless Launcher available now in Play Store. It is free and fully loaded. There is a new Home Button 2.0 which can be moved around any where on the screen and able to 8 ways swipe. In addition, there's new a Home Frame where you can do much more than home screen such inline sorting or setting, and extra scrolling any apps is reachable for one-hand no matter how big the device, and there are few more features to make quick to launch next app without going to home screen, notably is 3D Nudge. Now just can nudge phone, a quick start and stop no more than 2 cm, a have your app launch, it's quick, direct way to launch, no need for home button, home screen, open folders to search for apps. There are 26 gestures defined for 3D, each app needs a pair of gesture, so you can assign up 26x26 = 676 apps.

Downloaded it to try it again. Slow, lags, freezes, and pretty bare bones unless I want to pay $4.99 to unlock everything. I know that's not a huge investment, but if I'm already happy enough with Nova Prime this isn't worth my money for an experiment.
Android Central Newsletter
Thank you for signing up to Android Central. You will receive a verification email shortly.
There was a problem. Please refresh the page and try again.