Acer officially launches the Iconia Tab A110, with Tegra 3 and Jelly Bean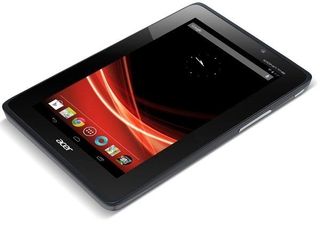 The Acer Iconia Tab A110 first debuted back at Computex, in June. Back then, the 7-inch device was running Android 4.0, propelled along by its Tegra 3 processor. Slated for a Q3 release, we heard following the show that the A110 would in fact be bumped up to Android 4.1 Jelly Bean before it hit the shelves. True to their word, it's Q3 -- just, the device has been bumped to Jelly Bean, and a formal release has been announced.
The A110 is already up for pre-order with at least one UK based retailer (opens in new tab), priced at £180. For the money we get -- besides Jelly Bean and Tegra 3 of course -- 8GB on board storage, expandable via microSD card, 1GB of RAM, a 1024x600 display, a 3420mAh battery, HDMI out and a 2MP front facing camera.
The A110 will of course be going toe-to-toe with Google's own, Nexus 7. Both tablets have key features which could win over the crowds. The Nexus 7 of course will receive it's updates directly from Google, has a better screen, and is cheaper for the comparable model. The A110 has a microSD card slot, which on its own may be enough to sway some towards the Acer offering.
With this, the Nexus 7, and Amazon's new Kindle Fire HD, the 7-inch tablet space is really beginning to heat up. There is no concrete release date provided by Acer for the A110's availability, but you can catch the full press release after the break.
Acer presents the new ICONIA TAB A110 – Better mobility meets stylish and compact design
Bioggio, Switzerland: If you are looking for a tablet that you can easily hold in one hand and still lets you enjoy web browsing, multimedia, or even work if you need to, you have found your dream tablet. The new Acer ICONIA TAB A110, with a 7" display and less than 390 g of weight, is compact to carry and comfortable to browse, taking your mobile experience to the next level.
Easy to slip in your pocket or handbag, the ICONIA TAB A110 is just perfect to carry with you at all times to read, to browse, to play games or to plan your day.
It features Android 4.1 Jelly Bean, which enables easy access to your favorite apps and brings resizable widgets that automatically resizes to the space available on the screen. The widget content refreshes as the size changes according to the widget size and could display larger, richer graphics or additional functionality or options.
Plus, it's preloaded with full set of Google Mobile Service: Gmail, Google+, Maps, Messenger, Play Store, Talk, YouTube and more. Everything you need to enjoy a rich experience wherever you go is at your fingertips.
And, for a reading experience not to be missed, the ICONIA TAB A110 comes with Google Currents, a smart mobile app that lets you browse hundreds of free online magazines and top blogs all in one place. You can enjoy easy-to-read magazine-like editions for high speed and offline reading.
To top off the rich entertainment experience, the ICONIA TAB A110 comes with a 2MP front-facing camera to engage in live chats with your friends. The camera can also be used to lock and unlock the tablet thanks to face recognition, enhancing the security of the device and making it truly yours. And it's also more fun to use!
What's more, the compact size goes hand in hand with a powerful performance. Powered by NVIDIA® Tegra® 3 quad-core processor, the ICONIA TAB A110 allows faster and smoother web surfing, better multitasking, console-quality gaming and HD video watching.
The tablet also lets you bring your videos on a bigger screen for greater fun thanks to the HDMI ports. It can be connected to other devices, such as camera, keyboard, mouse or gamepad via the Micro USB port. While the Micro-SD card slot extends memory up to 32 G, guaranteeing even more room to your digital life.
Competition is always welcome, I recommended this to a friend who wanted the nexus 7 but wasn't willing to compromise on expandable storage. Its a shame other OEMS are not delivering their own JB 7 inch offerings quick enough.

Held off on the nexus 7 waiting for this. I was very skeptic with all the quality issues they were having. So glad it got jelly bean and I hope that Acer delivers on quality like my Acer laptop that has taken a beating and always keep running like a champ. And yes the expandable memory is what won me over!

Android Central mentioned the Acer A110 during the Nexus7 roll out, so the obvious choice, with external storage will be!
thx

If the screen is anything like the one on the a100, then pass. Viewing angles were horrible. I dumped mine as soon as the Nexus hit the shelves.

It's got the mSD and HDMI out, but the screen leaves something to be desired. Now if we could just get one of these and a Nexus 7 alone in a room, then put on some Barry White... -Suntan

How does it compare to the Samsung Galaxy Tab 2 7"? Screen res seems to be the same (and disappointing) 1024x600. The Samsung is still on ICS, but does have mSD.

Isn't that battery size kind of small even for a 7 inch tablet? The Razr Maxx's battery is 3300 mAh? I know it's not always about size, but this thing probably has a 6 hr battery life. That would really be a deal breaker for most including myself. I was willing to look pass the low resolution screen because this has microSD and HDMI, but now I may just get a Nexus 7.

Worse screen and no straight-from-google updates? No thanks. Not for just trading a uSD slot.

Ugh, bravo on HDMI and SD, but WE WANT A GOOD SCREEN. Why can no one create the perfect product? UGh, a second time.

I wish Google would just make a premium Nexus 7, with all the features we want. Until then, they lose sales to iPads.

Beware of purchasing Acer's products even at discounted prices.I've owned an Acer A100 7-inch tablet for over a 15 months and approximately at the 13 and a half month period it stopped booting up and would not work altogether. Many others have had the same thing happen to them with this product. Simply type into your browser 'acer a100 problems' and see for yourself. There's got to be some inferior manufacturing flaw or product part deficiency from a acer's supply manufacturer that has caused these many product from just not working after the manufacturer warranty has expired, so my best advice to anybody who would purchase any of Acer's product is to at least get extra warranty coverage for at least one more year past the manufacturer's warranty. It is very costly and heartbreaking to have paid top dollars for a product that only worked for one year. I would stay away from purchasing any Acer product altogether due to the uncertainty of quality control and manufacturing deficiency.
Android Central Newsletter
Thank you for signing up to Android Central. You will receive a verification email shortly.
There was a problem. Please refresh the page and try again.