Acer launches new, Intel Core i3-powered Chromeboxes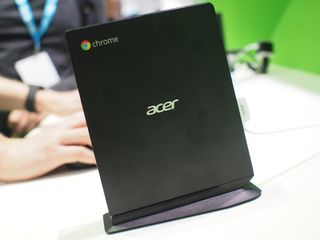 Acer's two new Chromeboxes join its existing CXI line, which we got a look at back at IFA 2014. They may retain the same look, but both new models are powered by a dual-core 1.9GHz Intel Core i3 4030U processor, a step up from the Celeron found in the existing line. The new CXI-i34GKM features 4GB of RAM, while the CXI-i38GKM features double that at 8GB. Both Chromeboxes are outfitted with a 16GB Solid State Drive, and support output to 2K and 4K displays.
Both desktops are available now, with the CXI-i34GKM retailing for $349.99, and the CXI-i38GKM going for $399.99.
Acer Expands Chromebox CXI Series With Powerful Core i3-Based Models
Editor's Summary:
Acer rounds out its Chromebox CXI line-up with two new options featuring 4th generation Intel® Core™ i3 4030U dual-core processors and up to 8GB DDR3 SDRAM
Tiny.6 liter chassis is one of the smallest available footprints and VESA mountable
Supports both 2K (2048 x 1536) and 4K (3840 x 2160) resolution displays
Easy to manage and deploy with Google Management Console; single touch of a button resets the Chromebox to its original factory state
Robust security via built-in Google virus protection and Trusted Platform Module (TPM 1.2)
Available in the United States with manufacturer's suggested retail prices (MSRP) beginning at $349.99
SAN JOSE, Calif. (March 5, 2015) – Acer America is expanding its Acer Chromebox CXI line with more options to suit a wider range of customers in the United States. The newest models feature a 4th generation Intel® Core™ i3 4030U dual-core processor providing robust power, performance and energy efficiency.
This practical series was designed for users in education and small to medium businesses as well as consumers wanting to leverage the ease and security of the Google Chrome ecosystem and don't require a mobile platform. Powered by an Intel Core i3 4030U processor (3MB Intel® Smart Cache, 1.90GHz), the Chromebox CXI provides enough speed for fueling multiple projects simultaneously and leveraging HD video and applications. This fourth generation processor offers more power, performance and energy efficiency than prior platforms.
Outfitted with a 16GB(1) Solid State Drive, the new CXI models are fast, booting up in about 8 seconds and resuming nearly instantly from sleep mode. Housed in a compact .6 liter (6.51 x 5.12 x 1.3-inches) chassis and VESA mountable, the Acer Chromebox CXI is ideal for libraries, cube and classroom environments as well as task-based terminals in businesses.
The Acer Chromebox models include the CXI-i34GKM with 4GB memory that's available for a MSRP of $349.99 and the Acer Chromebox CXI-i38GKM with 8GB memory that's offered for a MSRP of $399.99.
"We've extended our Chromebox CXI line with new models featuring enhanced processing power and memory for users with more demanding computing requirements," said Leila Axelle-Robert, Acer America senior business manager. "A win/win for users and IT staff, the Chromebox CXI devices are easy to use and deploy, highly secure and save significant desk space. Featuring multiple accounts and Google Drive access, they're ideal for any environment where multiple users will be sharing one device, such as classrooms, libraries, hotel business centers and reception areas."
The CXI comes outfitted with up to 8GB of DDR3 1600Mhz memory and Intel® HD graphics. An array of connectivity options include 802.11a/b/g/n, Bluetooth 4.0 and Gigabit Ethernet as well as four USB 3.0 ports including two with power off charging for smartphones and tablets. It supports up to a 32GB SD card(1) for accessing photos from other devices. Via HDMI® and DisplayPort, it also provides video and content to external displays and HDTVs. The systems are powered by a 65W AC adapter and bundled with a VESA mount kit and a Google approved USB keyboard and mouse.
The Acer Chromebox CXI series is easy to use. After the user signs into Chrome with a Google account, they're immediately immersed in the Google ecosystem and signed into Google services. The devices come with pre-installed web apps and over 30,000 additional apps, themes and extensions are available on the Chrome Web Store.
Easy Management, Tight Security, Citrix Certified
Offered via subscription, the web-based Google Management Console enables IT professionals to control a fleet of Chromeboxes. Using this program, they can deploy an app from one to thousands of Chrome-based devices by simply clicking a button. In addition, the OS and all downloaded applications update automatically every six weeks ensuring users the freshest software and security features and saving IT staff valuable time.
The Powerwash option enables IT to quickly reset the Chromebox to its original factory state. This feature deletes all data stored on the Chromebox such as downloaded files, photos, owner permissions, and saved networks. Resetting the device doesn't affect the user's accounts themselves, or any data synced to these accounts.
Multiple layers of security encompass data encryption and verified boot to safeguard the CXI against online threats, malware and viruses. User and system files are stored on separate partitions that secure data and simplify restoration from a backup. The Chromebox's TPM 1.2 chip encrypts and protects individual user's data by generating and storing secure cryptographic keys. In addition, individual accounts keep data safe when the device is used by multiple users. Citrix certified, the Chromebox CXI delivers virtualized remote desktops and applications through a single platform and can effectively be a thin client.
Pricing, Availability and Warranty
The Acer Chromebox CXI-i34GKM with 4GB memory is available at leading retailers and resellers in the United States with a MSRP of $349.99 and the Acer Chromebox CXI-i38GKM with 8GB memory has a MSRP of $399.99.
The Acer Chromebox CXI line is backed by professional, high-quality technical support and a standard one-year parts and labor warranty,(2) which can be extended to three years with Acer Advantage service. Acer's online community at community.acer.com provides customers discussion forums, answers to frequently asked questions and the opportunity to share ideas for new and enhanced services and products.
These still small enough form factor to be vesa mounted the back of a monitor? Posted via the Android Central App

Yep... from the article, "one of the smallest available footprints and VESA mountable"

Missed that, thanks. Posted via the Android Central App

Why just 16GB? Posted via the Android Central App

Because it's a chromebox Posted from my Droid Turbo, Kelly and Ozone

And you can't run applications unless their already installed. Posted via the Android Central App

If your Chromebook consists of enough extensions and apps to consume over 16GB, then a Chromebook isn't for you.

Not sure if serious? Posted via the ACA on NEXUS 6

I am all for Chrome for portable... in fact I am shopping right now for a chromebook. That said, I don't see a huge need in desktop units like this. In the portable world, Chrome gives you better battery life, more portability, and better bang for the buck than Windows or Mac laptops. Part of that is due to the fact that Chrome works just fine with a couple gig ram, a tiny hard drive, and a celeron chip, whereas the same hardware will just barely boot up in Windows (and forget Mac) In the desktop world, though, at this price point ($350-400) you can get a windows PC that allows you to do more than you can with the chrome box and is a viable machine (albeit not for high end gaming or video editing or things of that nature). Now, at a $149 to $199 price point I can see this working (for those folks that don't need to use Windows or Mac specific software)

I wonder if they could hit that price point by using an AMD instead of intel's (much) higher priced parts.

AMD has recently stated it's not interested in getting into the whole ChromeOS/book thing. They are much more interested in developing hardware that's shunned by most of the OEMs and slowly disappearing from existence.

We are possibly looking into Chromebooks to replace Wyse devices in our environment. Thousands of Wyse devices priced at $1,000+ can be replaced with these for $400. I'm sure the target audience for this machine isn't an average consumer, but large environments that use small terminal devices to run VDI, or Windows Embedded.

Have you seen the $129 tiny Wyse Cloud Connect stick? Wish we had those at work instead of the regular terminals: https://www.androidcentral.com/e?link=https2F2Fcli...

"I don't see a huge need in desktop units like this." This I disagree with. A streaming only Chromebox attached to a TV in my office has been a godsend for work where watching streams is important (and for my sports when I'm not watching work streams). This I agree with, however: "at a $149 to $199 price point I can see this working" - my original Chromebox at $149 is working just fine at 1080p. However, it's nice to have an option for 4k, but I don't think it's worth $350-400 yet.

I was going to answer something similar. I have a Chromebox hooked up to my TV as a streaming box for channels I can't get on my Roku and which require Flash, plus to watch foreign TV channels via a VPN service I can access straight from the Chromebox settings. I think I paid $179 for mine last spring or summer, and it was a great investment.

"I don't see a huge need in desktop units like this"
They're perfect for parents/grandparents who want a large monitor but don't want to have to deal with the ins and outs of configuring windows and keeping it safe from viruses/malware... They're also fantastic for school or library labs where 99% of the things students would use them for are (or can be) done on the web.

You're not the target market. The target market for this device has never heard of Android Central. As mentioned above, our parents, grandparents, and kids are the target market for this. I just can't decide what I'm going to do with all of my free time once I'm no longer removing viruses/malware and fixing screwed system configurations every weekend.
Android Central Newsletter
Get the best of Android Central in in your inbox, every day!
Thank you for signing up to Android Central. You will receive a verification email shortly.
There was a problem. Please refresh the page and try again.