Acer Chromebook 11 vs. Samsung Chromebook Plus: Which should you buy?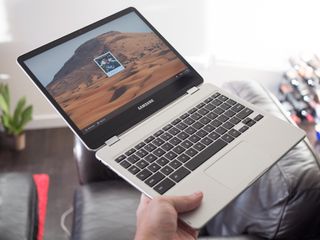 (Image credit: Android Central)
If you're in the market for a Chromebook, whether it's your first or time to upgrade, 2018 is going to be another year with plenty of great choices to make. Add the late-2017 models that are still rock-solid and a great choice into the mix, and it can be tough to choose the best model.
We think the Samsung Chromebook Plus (opens in new tab) is the best Chromebook you can buy. It offers all the performance you would ever want or need, without the price tag of some other more "premium" models. It's just the best all-around Chromebook,
Acer has several new models coming that might change things. We really like what we see from the upcoming Acer Chromebook 11, and think the choice for most people will be between these two, so we're putting the Acer Chromebook 11 against the Samsung Chromebook Plus. There's just so much to love here!
The Chromebook 11 lines up tough and ready
Acer knows how to build a great 11-inch Chromebook, and you'll find plenty of people who just love the R11 from late-2016, myself included. With good reason, too: it's dependable, light and easy to carry, runs Android apps, and does everything you expect a Chromebook to do without a huge price tag. It was one of the best sellers throughout 2017 because of all this. The Chromebook 11 looks like it will build on everything Acer did right with the R11 and add a couple new features that put it right at the top of our list of Chromebooks to watch for — a ruggedized MIL-SPEC build and LTE support.
The Chromebook 11's IP41 rating means that it's protected from objects larger than 1mm entering the body as well as protected against splashed liquid ingress. That means is you won't have to buy another Chromebook if you spill a glass of water on the table beside it or if you get caught out in a downpour with it in your laptop bag or carry-on. In fact, the keyboard has Acer's "spillproof" design and liquid will pour through the keyboard housing and drain from specially designed drainage holes.
Rugged phone ratings: Everything you need to know
Also important for a lot of folks, the MIL-STD 810G approved build was drop tested from 48-inches and was able to withstand 132-pounds of force sitting on the top cover. We don't recommend dropping your Chromebook or piling over 100-pounds on top of it, but it's nice knowing the Chromebook 11 can take it. Especially if you've ever seen baggage handlers at a busy airport or a cab driver in a rush and how your bags can get manhandled.
Another welcome surprise is seeing LTE support listed for models in some markets. Chromebooks are mobile devices; they're thin, light, and come with a full-day of battery life. The one thing missing on most models is cellular support. Tethering from your phone is an option for many people, but there is nothing like having an always-connected laptop ready for anything as soon as you open the lid.
We're seeing these features because the Chromebook 11 is coming in both a "regular" model priced at $249 and a commercial model with a rugged build and LTE support that will start at just $279. Seeing a Chromebook built for the enterprise with a price under $300 is unheard of, and makes it the perfect choice for a consumer, too. Following in the steps of the Thinkpad and bringing a tough laptop built for a road warrior at a price anyone can afford is a good look, Acer.
The Samsung Chromebook Plus has a screen to die for
Samsung's Chromebook Plus is a great all-around Chromebook as mentioned, but there is one thing that catches your eye and makes you say "wow!" as soon as you see it — the amazing 12.3-inch 2400x1600 display.
This is no hype; the display on the Samsung Chromebook Plus is one of the best laptop displays available, and it stands tall beside products like Google's Pixelbook and Apple's MacBook that are a lot more expensive. We were surprised at how great it looks, though we quickly remembered that it's a Samsung product and amazing displays are synonymous with the name. The screen is something you will always be using, and it's nice to have the best available here.
The Chromebook Plus has more to love than a great display. Android apps are there, of course, and the Chromebook Plus was the first Chromebook to come with a stylus and OS support for it. This makes it perfect for taking notes, digital artistry of any sort and annotating documents or presentations.
It takes more than the best display to earn our Best Chromebook rating, though. The Chromebook Plus offers the right mix of performance versus price to meet the needs of almost everybody. Great battery life, the stability and security of Chrome OS, and a beautiful magnesium-alloy shell that's thin and light made the Chromebook Plus stand above the rest.
See Samsung Chromebook Plus at Amazon (opens in new tab)
Which should you buy?
It's important to remember that nobody has used the Chromebook 11 for more than a few minutes at a booth just yet. But that doesn't mean we can't tell a few things about it based on other Chromebooks using the same hardware and a good feel for Acer's previous products. The Samsung Chromebook Plus, on the other hand, has been a favorite since its launch.
The Acer Chromebook 11 is rugged and has an LTE model coming. First, the obvious. If you want or need a Chromebook that is built rugged or has any level of water resistance, the new Chromebook 11 is probably your best bet. I've used an Acer Chromebook with these very same specs with 2017's Spin 11 and did the dropping and the splashing and everything else myself and there was no damage of any type. The same goes for those who want a Chromebook with its own LTE connection. The Chromebook Plus doesn't have one and USB LTE modems are finicky.
The processors are different but not enough to matter. The 8th generation Intel CPU in the Chromebook 11 will probably outperform the ARM Rockchip CPU inside the Chromebook Plus, but we found the Plus' processor and RAM more than enough so the extra horsepower might be a bit of overkill. When it comes to using it, ARM chips tend to do better with Android apps. We can't say one processor is better than the other here.
Samsung makes the best display panels, hands down. The Samsung Chromebook Plus has a better display in every way. The 2400x1600 resolution will make the 1366 x 768 screen of the Chromebook 11 seem dated and sub-par. Even if the display on the Chromebook 11 is high quality with beautiful color, and based on other Acer panels of the same design and specs we think it will be, it's not going to compare to the Samsung panel.
Price is always one of the most important factors. It's always nice to feel that you get your money's worth, and we think both of these Chromebooks deliver on that. The Chromebook 11 will start at $249, but you should probably look at the rugged and LTE models that start at $279. After you've picked a model with a touchscreen and a bit of extra storage space, chances are you'll be looking at a price somewhere around $350. The Chromebook Plus pricing varies between $350 and $400, with deep discount sales sometimes dipping towards $325. Discounts and sales aside, $400 is still a really good price for a Chromebook built as nice as the Samsung Chromebook Plus, and the display is well worth a difference of $50 or so in price.
Our preliminary verdict here is to buy the Samsung unless you need ruggedness or LTE option. That's probably not going to change unless we see something very unexpected (good or bad) from the Chromebook 11.
The reason why is simple: the display. Recent Chromebooks from Acer have had very good panels with nice color, great viewing angles and everything else you would want from a laptop screen. None of that changes the fact that the Chromebook 11 will have the same 1366 x 768 resolution we've seen in utility laptops for 10 years. It's perfectly usable, so those that go for the rugged or LTE options won't be missing out on any content or not be able to perform the same tasks. But Samsung's big win is that what you see on the screen is going to look better because the screen is better.
We'll revisit this and have plenty to say once the Chromebook 11 lands in March, because as Chromebook fans it's on our radar as the next purchase, too. It's great to see choices like this from names we all know and trust when it comes to a Chromebook.
Get the Android Central Newsletter
Instant access to breaking news, the hottest reviews, great deals and helpful tips.
Senior Editor — Google Ecosystem
Jerry is an amateur woodworker and struggling shade tree mechanic. There's nothing he can't take apart, but many things he can't reassemble. You'll find him writing and speaking his loud opinion on Android Central and occasionally on Twitter.
Both are solid pieces of hardware. My thoughts are though, for my needs, neither of these has a big enough screen. I need at least 14" of screen real estate to work with. Especially if any multi tasking is involved.

For under $20, you can get a USB-C to HDMI adapter, and use any large monitor. Sure, it's not as portable that way, but it does give you the best of both worlds. Good portability when you need it, and giant screens when you're more stationary. I have a 17" laptop with a 4K display, and there are times I really do need the extra real estate, but I'm finding myself turning to my Chromebook more often than not.

purchase a Windows 10 Laptop wtih 8GB RAM and a 256K SSD on sale for $600 or less that has a 13" or 14" screen. Way more flexible! Just as quick! One can still run Chrome and also FULL functioning versions of many software programs!

I bought my Samsung Chromebook Plus as a Best Buy open box. I got everything important (Chromebook, stylus, power supply) without all the fluff, but I only paid about $280, way cheaper than a similarly spec'd Windows laptop. I bought it to replace an Android tablet that died (nVidia Shield Tablet), and compared to that, the Chromebook is amazing. Will it replace my WIndows laptop? No... but I'm finding myself turning to the Chromebook more and more, since it's lighter and more portable. The Windows laptop is still there for specific needs, but my Chromebook is definitely much more useful than I ever imagined it would be. Oh, and I concur with the comments in article, relating to the screen. That screen is fantastic!

I love my Acer R11, I will think about upgrade to the 11 during Christmas... *at least I don't to ever worry about Android updates like my phone.... lol

Neither, get a windows computer or Mac.

I love my Chromebook Plus, but you shouldn't get it if you need the ability to upload songs to Google Play Music. I understand this has always been a problem with ARM chips, and the Samsung didn't skip this particular issue.

This is why I always tell folks to get a real computer! I have a Chromebook. It has it's uses. But with Windows laptops with 4GB to 8GB Ram and 128GB to 256KGB SSDs available for $500 to $700 on sale it's tough to rationalize a Chromebook that costs more than $300!

I very much enjoy the plus. Has a stylus, great screen and is light. Only problem is not great inking apps, but for simple computing and using apps it is great

Any good LTE (Verizon) chromebooks out there?

Just picked up a Samsung Chromebook Plus yesterday, and I really do like this little machine. I've got to familiarize myself with ChromeOS, but having just jumped back in to Android last year, I dont think it will be much of an issue. I think the build quality is quite nice, and definitely lightweight and portable. Cant say anything about the screen that hasnt already been said. My one tiny gripe is with the keyboard - a bit too much play in the keys from what I am used, to, but again, I dont think that will be much of an issue.