I love this couch desk so much that I'll never get off the couch again
Finally, my neck doesn't hurt while using my laptop.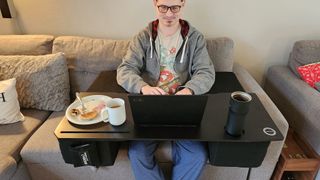 (Image credit: Nicholas Sutrich / Android Central)
If you're one of the many human beings that have worked from home in the past few years, you've likely become well acquainted with couch neck. It's that horrendous pain that crops up from looking down at your laptop all day while sitting on the couch — or anywhere else that keeps the computer on your lap instead of on a desk.
But what if you could still stay seated on the couch most of the day without neck pain? That was my hope when I decided to check out the Couchmaster Cyboss, a new couch desk from a company that's made plenty of them before. This one claims its fame by being the largest couch desk Couchmaster has ever made, helping to better fit all ranges of body types, posture preferences, and delivering a huge space to work on.
I've been using the Couchmaster Cyboss for over a month now and loved it from the minute I set it up. It's great for working and for gaming, as my wife will attest to after many hours-long sessions of Fortnite on her gaming laptop while stationed on the Cyboss. It's added an entire office area to my home and gives me the ability to up and move around when I'm sick of sitting in the same place every day.
Anatomy of a couch desk
Couchmaster sells the Cyboss on its own website as well as on Amazon for $175. Sure, it sounds like a lot for a desk that's effectively a three-piece set of cushions and a hard desk top, but the product feels as high-quality as the price implies.
In the box, Couchmaster includes two vacuum-sealed cushion pads with the upholstered canvas installed. Like a typical couch pillow, these canvas covers can be unzipped and the internal foam removed if you need to clean them for any reason.
Like one of those bed mattresses you can order online, Cyboss's foam cushions need about 24 hours to fully return to their original shape and size after being vacuum-sealed. Each foam cushion has a set of pockets on one side and there's even an optional mouse holder pocket that can be stuck on with the included adhesive strips.
Each cushion measures 9.5 inches wide, 8.5 inches tall, and 26 inches long, making them several square inches larger than other desk cushions sold by Couchmaster.
Image 1 of 4
Likewise, the extra-large desk surface is 39.5 inches long, 15.5 inches wide, and less than 0.5 inches thick.
There's so much room here it's easy to have an entire plate of food and drink next to your laptop and still have room for a mouse, your phone, and something else entirely without it feeling cramped.
The desk portion of Cyboss is a high-quality bamboo slab that looks and feels extremely similar to my standing desk downstairs in my basement office. It's not heavy like oak but it's definitely got some heft to it. Even if you drop this thing or toss your keys on it, it's not going to get easily scratched up or ruined.
Image 1 of 5
Since it's a bamboo desk, it's far better constructed than any particle board piece of junk you'd get from IKEA or somewhere similar. The desk has a centered set of vents for your laptop and a cup holder on the left that fits even the most oversized mugs I own. You can put the best Android tablets or phones in the dedicated slot on the right, which even comes complete with holes so you can slide cables through.
The desk ships with a handful of faux leather strips that can be stuck to the beveled edges on the front, but I opted not to use these as I thought they ruined the aesthetic of the bamboo wood.
To get it ready for work, all you'll need to do is position the cushions at hips' length apart, sit yourself down between them, and pull the desk on top of the cushions. Neither of the three separate pieces of the desk connects in any way, so you're free to adjust things to fit your size and physique best.
What's it like to use a Couchmaster Cyboss?
If you're worried about the stability of a wooden desk sitting on top of cushions — which are also sitting on couch cushions — don't. Couchmaster's cushions are very firm and hold the weight of the desk without shifting, yet are still soft enough to make for excellent elbow pads while working or gaming.
The canvas material is soft and feels great to touch. This isn't scratchy, abrasive canvas or anything like that. It's actually incredibly similar to the cloth material on my couch, which is likely pretty similar to most cloth-clag couches available today.
Even when shifting my weight around to get comfortable after a few hours of sitting, the desk stays solidly in place and doesn't move much at all. I can even tuck my leg under the other and there's still enough room to safely support the desk on top of these cushions. This thing is huge and I absolutely love it.
As I said in the intro, the main reason I don't often work outside the confines of my desk is because of ergonomics. I've never been a fan of looking down at a laptop for any prolonged period of time and often find working at a table a semi-painful experience. What can I say, I probably played too many handheld games as a kid or something.
Image 1 of 2
But that's why I love the Cyboss so much. At 8.5 inches tall, the cushions raise the laptop up several inches higher than any standard lap desk I've ever used. On top of that, the design works well with the natural cushion of a couch meaning I can actually slouch a bit since the desk isn't actually sitting on my lap. It's sitting on the cushions stationed on either side of my hips.
That further reduces the distance between the laptop's display and my head, so I'm only looking down at a slight angle. That, combined with my overall posture, is a huge improvement to long-term comfort when working from a couch all day.
My one comfort complaint is with the straight edges of the desk where the laptop's keyboard sits. I really wish these were beveled and sloped the way the arm wrest portions of the desk surface are. It doesn't bother me every day but I'll notice that my wrists are a little uncomfortable some days because I was holding them against the flat edge too long while typing.
I found that gaming on the Couchmaster Cyboss is equally as enjoyable as working. My wife was enamored to start using it for gaming sessions on her laptop as it was a huge upgrade from the lap desk we have.
There's an absolute ton of space here and that makes it easy to set up a big old mousepad without it feeling like it's taking up too much space. Couchmaster includes a nice woven mousepad in the box, including adhesive padding if you want to semi-permanently stick the pad on your working surface.
I think the pad has enough grip without the adhesive to work just fine while gaming. Plus, I move things around too much to want to stick a mousepad to the surface. I like the flexibility.
If you've got a honking big gaming laptop that needs a lot of airflow, don't worry. The Cyboss has several big ventilation grilles that should be more than enough for any machine, no matter its size, type, or configuration of the vents.
These are very well laid out and thought about ahead of time, and I really appreciate that they're not just centered on the desk, but also wide enough to allow horizontal movement of a laptop while still allowing enough room for ventilation.
All in all, this is as close to perfect as I've yet seen from a couch desk. If I could just get that front edge beveled I'm not sure I could think of a single thing to improve. It's really the ideal mix of being modular and, yet, heavy enough to be stable while working.
Get a lap desk that's got plenty of space for all your working needs and never leave the couch again!
Get the Android Central Newsletter
Instant access to breaking news, the hottest reviews, great deals and helpful tips.
Senior Content Producer — Smartphones & VR
Nick started with DOS and NES and uses those fond memories of floppy disks and cartridges to fuel his opinions on modern tech. Whether it's VR, smart home gadgets, or something else that beeps and boops, he's been writing about it since 2011. Reach him on Twitter or Instagram @Gwanatu