5 reasons to get the Pixel 6 Pro instead of the regular Pixel 6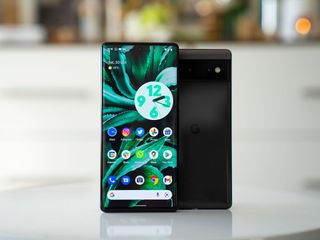 (Image credit: Alex Dobie / Android Central)
Everyone's smartphone needs are different. Not everyone likes big phones. Not everyone needs the very best camera or multi-day battery life or quick charging. But depending on your situation and your priorities, there are plenty of reasons why upgrading to the Google Pixel 6 Pro instead of the base model Pixel 6 might make sense.
There's a reason Google calls this model its "first flagship phone" — the Pixel 6 Pro is more advanced and more high-end than any previous Pixel model, and that includes its little brother.
1. That telephoto camera
The single most extensive upgrade in the Pixel 6 Pro is the rear camera system. While the smaller Pixel 6 packs the same main and ultrawide shooter as the more expensive model, only the Pro offers Google's 4X 48-megapixel telephoto camera. Compared to hybrid zoom from the main sensor on the standard Pixel 6, there's simply no comparison. The standard camera is good for up to around 2 to 3X, but for longer telephoto captures, you'll want to take advantage of the folded periscope camera of the Pro.
The vanilla Pixel 5 maxes out at a 7X hybrid zoom level from the primary sensor, whereas the Pro lets you zoom up to 20X through its dedicated telephoto.
The added versatility of a true telephoto camera with a decent zoom level will change how you think about smartphone photography. Scenes that were impossible to capture with a reasonable level of clarity are suddenly just a tap away. And the relatively large sensor size of the telephoto camera also allows for a subtle bokeh effect that works well in zoomed portrait shots.
2. A superior display
The Pixel 6 Pro's screen is a step above the standard model in just about every way. Although the increase in refresh rate, from 90Hz to 120Hz, isn't especially noticeable to everyone, you'll appreciate the bump up to a Quad HD+ resolution in addition to the larger overall size of the panel.
The larger canvas and increased resolution of the Pro's 6.7-inch screen mean you'll see more of your content, and it'll look better. Of course, not everyone is a fan of curved screens, and the waterfall display of the Pixel 6 Pro has a more pronounced curve than some competitors. Still, there's no denying that this approach helps to reduce the appearance of bezels on a phone that already has fairly small screen borders.
3. More RAM = better futureproofing
Right now, 8GB of RAM is more than enough for anything you're going to be doing on a smartphone. But the Pixel 6 series will be supported for Android security updates until late 2026. By that time, it's likely Android, and the apps that run on it, will be weightier and more memory-hungry.
The Pixel 6 Pro's 12GB of RAM gives it an extra level of future-proofing if you plan on keeping your phone for several years. Perhaps it won't be a major factor if you plan on trading in your phone for a Pixel 7 in 12 months. But if you're purchasing for the long term, it's worth considering.
4. Better (and wider) selfies
The other significant hardware upgrade in the Pro is its selfie camera. With a 94-degree field of view, it's almost as wide as the Pixel 3's famous ultrawide front-facer, allowing you to fit more friends or scenery (or both) into your shots. It's like having a built-in selfie stick, and it means you won't have to crane your arm anytime you want to capture a wider view of what's around you.
Meanwhile, the Pixel 6 Pro selfie camera's higher resolution — 11.1 megapixels compared to 8 megapixels — means you can still punch in for a slightly tighter shot with the same level of detail as the regular Pixel 6 selfie camera. And the larger pixel size on the sensor — 1.22μm versus 1.12μm will allow for brighter captures in low light.
5. Those colors!
OK, this is a matter of personal taste. But if you want what are, in my opinion, the two best Pixel 6 colors, you'll need to opt for the Pro. The "sorta sunny" and "cloudy white" hues are only available for the Pixel 6 Pro, complete with glossy sidewalls for added flair. It's a welcome respite from the past 12 months of reasonably dull Google Pixel colors.
And while there may be more vibrant hues with the smaller Pixel 6, the Pro definitely has a classier look, in part thanks to its color palette.
The Google flagship
(opens in new tab)

The Pixel 6 Pro is Google's first no-compromise high-end phone. From the display to the camera setup and the promised five years of security updates, this is a serious flagship phone that's worthy of your attention.
Alex was with Android Central for over a decade, producing written and video content for the site, and served as global Executive Editor from 2016 to 2022.
Do people really base a decision on the Selfie camera?

Of course. Everything counts on a 1k phone.

"Future proofing" leads to people paying today for features they may never use. It's a tricky concept that doesn't apply to everyone.

Nothing applies to everyone, even the need to have phone doesn't apply to everyone. The idea of future proofing definitely applies to anyone who buys a phone that will actually get software updates (like the Pixels will) and plans to keep the device for more than a year. I've generally held onto phones much longer than most. My most recent transition from Pixel 3 to Galaxy S21 was by far the most abrupt and strictly driven by the Pixel 3 device simply failing me in multiple ways: bad as a phone, battery started failing/expanding. Prior to the Pixel 3 I was on a Nexus 6 that still works, and prior to that I was on a Samsung Galaxy Nexus that ironically also still works. Those devices were definitely future proofed from the get-go, IMO more than these Pixel 6s coming out now. That being said, "future proofing" on phones like the Pixels, or iPhones, is hugely important to many people who fork out money for these devices.

The Samsung Galaxy Nexus was the worse phone I have ever owned! Was pretty good the first few months, but oh what a mess it became.

Correct me if I'm wrong but don't all versions of the Pro have mmwave 5G while only select carrier versions of the regular 6 have it. (That seems like a better reason to choose the Pro version than colors)

I know the standard line tends to be that most consumers may never use mmWave, but then my purchasing decision went by the old axiom of having it and not needing it rather than the reverse.
Android Central Newsletter
Get the best of Android Central in in your inbox, every day!
Thank you for signing up to Android Central. You will receive a verification email shortly.
There was a problem. Please refresh the page and try again.