5 great silicone bands for the ZenWatch 2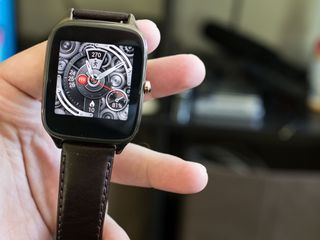 While the ZenWatch 2 comes in two different sizes – 18mm and 22mm – any watch band with an extra set of pins, regardless of its size, should work with the ZenWatch 2.
While there are plenty of customizable, fun options for the watch face itself, what about picking out a band that works seamlessly for you and the watch? Here are a five great silicone bands and straps for the ZenWatch 2 that are worth checking out!
Barton watch band
Bright, durable, and modern, Barton's watchbands are made from a high-quality silicone rubber that work flawlessly with your ZenWatch 2 in either size. You have the option to pick from 18mm or 22mm bands on the Amazon page.
This waterproof watchband is perfect for people who like to wear their watch as they're doing some physical activity, and if your Barton band gets dirty at all, it's designed to be super simple to clean.
The watchband comes with two stainless steel bars to secure your watch to the band, and is eight inches long; there's quite a bit of room to adjust no matter the size of your wrist. The watchband comes in five vibrant colors, including orange, white, bright blue, green, and black, so there are plenty of colorful options to pick from!
See at Amazon (opens in new tab)
Benchmark band with stitching
A classic approach to the traditional watchband, Benchmark's navy silicone rubber strap with sharp, white stitching is not only stylish and nice to look at, it's practical, waterproof, and a great accessory for the ZenWatch 2.
Made with a soft silicone rubber and a stainless steel buckle, the Benchmark strap comes with a spring bar tool that lets you change and customize your watch bands day-to-day, so if you get sick of one style, you can easily switch to another.
The watch strap is eight inches long, but works for people with smaller wrists as it can be adjusted accordingly. The classic white stitching along the band makes this strap a beautiful accessory to pair with almost any outfit or sense of style.
See at Amazon (opens in new tab)
TRUMiRR silicone buckle band
Though not as flashy and eye-catching as some of the other bands on our list, the TRUMiRR silicone buckle band is a distinct minimalist accessory for your ZenWatch 2. Sometimes, less is more!
This watchband comes in two different styles: a jet black, more patterned, raised silicone that imitates the style of traditional stainless steel watchbands and a smoother, more modern looking black band with horizontal lines running its entirety. You can pick from either option in the link below.
The TRUMiRR is made from a flexible, comfortable, water-resistant silicone rubber and can be easily adjusted with the stainless steel buckle to fit all wrist types.
See at Amazon (opens in new tab)
Clockwork Synergy silicone watchband
Made from a high quality, thick, and durable silicone with removable pins for quick-change, customizable access, Clockwork Synergy's purple silicone watchband is a comfortable and slick looking accessory to pair with your ZenWatch 2.
This watch band is very simple and minimalist, so you won't have to worry about extra patterns or logos junking up your wrist. The same watchband also comes in a few different colors, including black, grey, brown, royal blue, and hunter green. You can even choose the buckle color and pick from stainless steel, brushed steel, yellow gold, rose gold, or PVD black.
The Clockwork Synergy strap is easily adjustable with eight sizes, so whether you have a tiny or enormous wrist there's bound to be a comfortable option for you.
See at Amazon (opens in new tab)
MODE b&nd by Hadley Roma
Bright, bold, and beautiful: MODE's b&nd by Hadley Roma in seafoam green is bound to make a statement once it's paired with your ZenWatch 2!
The MODE band is easy to clean and is moisture-resistant, so you don't have to worry about dirtying it up if you're doing some physical activity. The entire band is also 100% hypo-allergenic, so if you have severe skin sensitivity issues, it may be a good option to look at.
While most smartwatches are changed with pins, the MODE band comes with a slide button that easily attaches the strap directly to your ZenWatch 2 without any additional tools or fiddling. All you have to do to change to the MODE is snap your band into place using only your hands and you're good to go!
See at Amazon (opens in new tab)
What's your favorite?
Is there a silicone watchband that you just can't get enough of? Let us know which ones are your favorites to wear with the ZenWatch and why in the comments below!
Android Central Newsletter
Get instant access to breaking news, the hottest reviews, great deals and helpful tips
I use the Barton ones. They were easy to install, inexpensive, and seem to be a decent quality. Just be sure to check off the right size when ordering. My first one's ended up being 20 mm instead of 22. Posted via Nexus 6P snitches

I have the Barton ones. They feel great and the "Smokey grey" looks really nice with the stainless steel case. From my Platinum Gold Note 5

Is it true? That you can use 22mm band with zenwatch 2 smaller version? Posted via the Android Central App

Anybody know where in europe i can buy stainless steel band for moto 360? And that will not crack bottom cover. I dont see any adapters on amazon or ebay.
Android Central Newsletter
Get instant access to breaking news, the hottest reviews, great deals and helpful tips
Thank you for signing up to Android Central. You will receive a verification email shortly.
There was a problem. Please refresh the page and try again.